Save money Home Appliance Whirlpool Troubleshooting Replacement Parts – Whirlpool Refrigerator Control Board W10589837 Parts. Please check your appliance number. For MFT2776DEH00 WRX988SIBE01 MFT2976AEM02 59672389410 WRX988SIBW00 MFT2776DEM00 models and others. Secure Shopping on eBay!
Whirlpool Refrigerator Control Board W10589837 Parts
Item: Whirlpool W10589837 Refrigerator Electronic Control Board Genuine Original Equip
Part No: W10589837
Replaces Parts: W10589837 AP5788938 3023008 PS8746495 EAP8746495
Fits Brands: Maytag KitchenAid Whirlpool Kenmore
Item Type: Fridge Refrigerator Electronic Main Circuit Control Board Assembly Replacement Parts
Item Location: Miami, Florida, United States
Ship To: United States
Policy: Free 30 day returns
Item Condition: New
Item Price: US $366.72
See more information and Compare Prices Below.
Fits Refrigerator Models:
The W10589837 can be used for the following Maytag, KitchenAid, Whirlpool, and Kenmore models. Press Ctrl-F to check your specific model listed below.
WRX988SIBW00 WRF989SDAE02 MFT2776DEM00 WRF989SDAW02 7MF2976AEM02 MFT2976AEW02 KFIV29PCMS03 WRF989SDAH03 WRF989SDAM02 WRF990SLAM03 WRF989SDAE03 MFT2976AEM03 MFT2976AEM02 MFT2976AEW03 WRX988SIBH01 KFIS29BBMS02 KFIS29BBMS03 WRX988SIBW01 MFT2976AEB03 MFT2776DEH00
MFT2776DEE00 KFIS29PBMS02 59672389411 WRF989SDAW03 7MF2976AEM03 59672383411 WRF989SDAM03 WRX988SIBM01 59672389410 59672383410 59672382410 KFIS29BBWH02 WRX988SIBB01 MFT2976AEW02 WRF989SDAB03 WRX988SIBE01 KFIV29PCMS02 WRF989SDAF03 WRF989SDAB02 WRF989SDAH02 MFT2976AEB02 WRF990SLAM02 KFIS29BBBL02 MFT2776DEE00 WRF989SDAF02 WRX988SIBM00 59672382411
Compare Best Prices
Check the Best Deals! View features more electronic board W10589837 product description, term and conditions (new, used, or refurbished), shipping & handling information, parts warranty, and payment options. Many sellers promote this part at the store online. You can view the lowest prices below.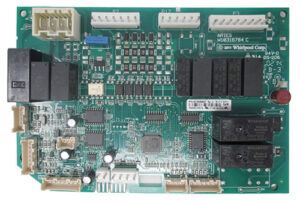 ==> Click Here to Compare the Lowest Prices on eBay Today! <==
Other Information
In the market online, there are many sellers offering a variety of home appliance replacement parts, such as oven control board, fridge door handle, washing machine electronic control board, oven door hinge, washer control panel, and range cooktop griddle, also including the Whirlpool Refrigerator Control Board W10589837 Parts.
For other main home appliance brands, e.g. Kenmore, you are able to view its products, accessories, and services on the store online.
Other Whirlpool Refrigerator Control Board Replacement Parts:
More Whirlpool Refrigerator Parts:
Don't give up! Please feel free to write your information in the comment section if you have any problems with searching for the correct item for your appliance model. We will check the part and get back to you soon. Fix-It Today!