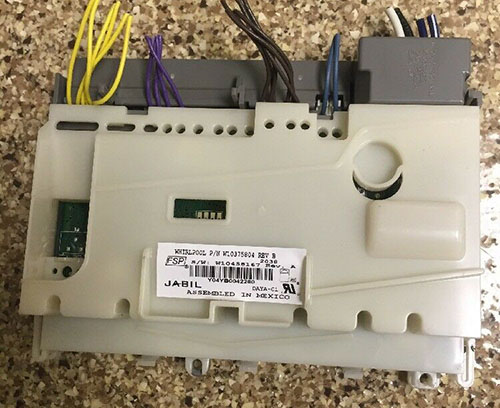 Genuine OEM Whirlpool Electronic Control PCB Board W10375804 W10458170 W10375803
Product: Dishwasher Electronic Main Control Board PCB Assembly
Part Number: W10375804
Replaces Parts: 4266591 AP5985192 EAP11722935 PS11722935 W10375804 W10479765 W10540250 W10588602 W10608630 W10635097 W10671914 W10711374 W10752855 W10756242
Compatible Brands: Whirlpool
Price: US$ 59.94
Item Location: Jasper, Indiana, United States
Suits Whirlpool Models:
This part suits the following Whirlpool dishwasher models. Use Ctrl+F to search for your model listed below.
WDF310PAAB0 WDF310PAAB1 WDF310PAAB2 WDF310PAAB3 WDF310PAAB4 WDF310PAAB5 WDF310PAAD0 WDF310PAAD1 WDF310PAAD2 WDF310PAAD3 WDF310PAAD4 WDF310PAAD5 WDF310PAAS0 WDF310PAAS1 WDF310PAAS2 WDF310PAAS3 WDF310PAAS4 WDF310PAAS5 WDF310PAAT0 WDF310PAAT1 WDF310PAAT2 WDF310PAAT3 WDF310PAAT4 WDF310PAAT5 WDF310PAAW0 WDF310PAAW1 WDF310PAAW2 WDF310PAAW3 WDF310PAAW4 WDF310PAAW5 WDF310PCAB0 WDF310PCAB1 WDF310PCAD0 WDF310PCAD1 WDF310PCAS0 WDF310PCAS1 WDF310PCAT0 WDF310PCAT1 WDF310PCAW1 WDF310PLAB0 WDF310PLAB1 WDF310PLAB2 WDF310PLAB3 WDF310PLAD2 WDF310PLAD3 WDF310PLAT2 WDF310PLAT3 WDF310PLAT5 WDF310PLAW0 WDF310PLAW1 WDF310PLAW2 WDF310PLAW3 WDF310PLAW4 WDF310PLAW5 WDP350PAAB0 WDP350PAAB1 WDP350PAAB2 WDP350PAAB3 WDP350PAAB4 WDP350PAAB5 WDP350PAAW0 WDP350PAAW1 WDP350PAAW2 WDP350PAAW3 WDP350PAAW4 WDP350PAAW5
Compare Lowest Prices
View more details, shipping & handling, return & warranty and Check Price on eBay HERE! If you have any problem please do not hesitate to contact us at any time.