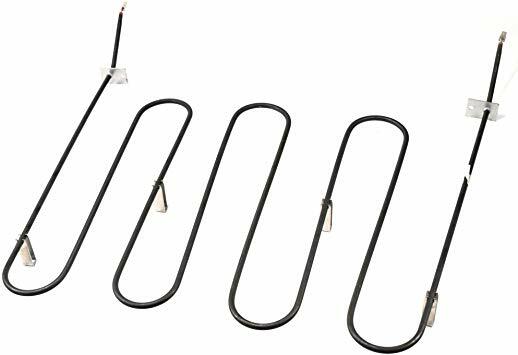 Whirlpool Oven Stove Cooktop Element WP7406P411-60
Product: Whirlpool Range Bake Element WP7406P411-60 (see description)
Type: Stove Heating Element
Fits Brands: Amana, Whirlpool, Jenn-Air, Maytag
Item Location: Pompano Beach, Florida, United States
Return Policy: Free 30 day returns
Condition: New
Price: US $108.81
Fits Stove Models:
This Oven Electric Element Assembly WP7406P411-60 item fits the following Amana, Whirlpool, Jenn-Air, and Maytag models. Use Ctrl+F to find your particular model below.
AES5730BAB AES5730BAF AES5730BAN AES5730BAS GY399LXUB0 GY399LXUB02 GY399LXUB03 GY399LXUB04 GY399LXUQ0 GY399LXUQ04 GY399LXUQ05 GY399LXUS0 GY399LXUS02 GY399LXUS03 GY399LXUS04 GY399LXUT0
JDS8850BDB JDS8850BDS JDS8850BDS19 JDS8850BDW JDS8850BDW18 JDS8850CDB00 JDS8850CDB01 JDS8850CDR00 JDS8850CDS00 JDS8850CDS01 JDS8850CDW00 JDS8850CDW01 JDS8860BDP JDS8860BDP16 JDS8860BDP17
JES8750BAB JES8750BAB16 JES8750BAF JES8750BAF16 JES8750BAS JES8750BAS17 JES8750CAB00 JES8750CAS00 JES8750CAS01 JES8850BAB JES8850BAB19 JES8850BAF JES8850BAF19 JES8850BAQ JES8850BAS JES8850BAS20 JES8850BCB JES8850BCB20 JES8850BCS JES8850BCS21 JES8850BCW JES8850CAB00 JES8850CAB01 JES8850CAF00 JES8850CAF01 JES8850CAS00 JES8850CAS01 JES8850CAS02 JES8860CAB00 JES8860CAS00 JES8860CAW00 JES8860CCB00 JES8860CCS00 JES8860CCS01 JES8860CCS02 JES8860CCW00 JESS8860CCS01
MES5775BAB MES5775BAB19 MES5775BAF MES5775BAF19 MES5775BAN MES5775BAN20 MES5775BAS MES5775BAS19 MES5775BCB MES5775BCB20 MES5775BCF MES5775BCW MES5775BCW20 MES5875BAB MES5875BAB19 MES5875BAF MES5875BAF19 MES5875BAN MES5875BAN20 MES5875BAS MES5875BAS20 MES5875BAS21 MES5875BCB MES5875BCB20 MES5875BCF MES5875BCF20 MES5875BCS MES5875BCS20 MES5875BCW MES5875BCW20
YGY399LXUB03 YGY399LXUB04 YGY399LXUB10 YGY399LXUQ05 YGY399LXUQ06 YGY399LXUQ10 YGY399LXUS03 YGY399LXUS04 YGY399LXUS10
Compare Lowest Price
Read more Range Bake Element part details, return & warranty policy, and Compare Best Price on eBay HERE!

Related Oven Heating Element Parts: