Find Oven Stove Circuit Board for Crosley Frigidaire Kenmore Tappan CRG3140GQQF CRG3160GQQB FFGF3049LSK FGF337EUC FLF337AWD Fast Shipping!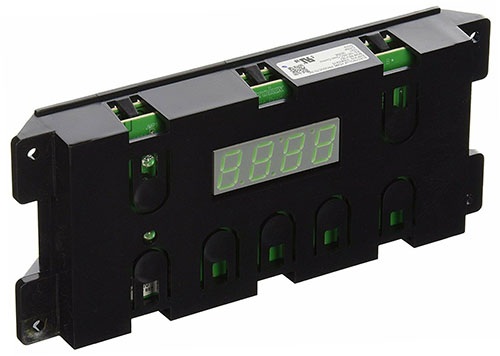 Oven Control Board Replacement
Product: Oven Range Stove Circuit Main Control Board
Part Number: 316455410
Replace Parts: 316222800 316222802 316222802R 316455410 5304427745
Fits Brands: Crosley Frigidaire Kenmore Tappan White-Westinghouse
Fits Oven Models:
The part 316455410 fits the following Crosley Frigidaire Kenmore Tappan White-Westinghouse oven range models. Use Ctrl+F to find your appliance model listed below.
CRG3140GWBA CRG3140GWBF CRG3150LBD CRG3150LQD CRG3150LWE CRG3160GBBA CRG3160GWWC CRG3180PWA CRP3160GWWB CRP3160GWWD CFGF337GSA FFGF3011LBA FFGF3011LWD FFGF3012TBC FFGF3013LBD FFGF3013ZWB FFGF3015LMA FFGF3015LWB FFGF3016TWB FFGF3017LWA FFGF3019LBB FFGF3019LWG FFGF3047LSC FFGF3052TBA FFGF3052TSC FFLF3047LSB FFLF3052USA FGF326ASD FGF326AUE FGF326KBA FGF326KSC FGF328GBE FGF328GSF FGF337ABA FGF337ABE FGF337AUD FGF337AUJ FGF337AWJ FGF337ECA FGF337EWA FGF337GCA FGF337GSC FGF337GWD FGF348KCB FGF348KCD FGF348KMB FGF348KSH FGFS36FUA FGFS36FWH FLF337AUH FLF337ECC FLF337ECN FLF337EUJ LFGF3014LBC LFGF3052TFB 79071411403 79071412404 79071421401 79071452600 79071511403 79071514404 79071521403 79071523400 79071529403 79071549600 TGF320DWA TGF328GSH TGF336ASC TGF336AWE TGF336AWJ TGF351RBC TGFS26CQC and more.
Compare Lowest Price
Please Check! The correct part number is 316455410. Read more Oven 33003028 Circuit Board product details, shipping & payment options, return & refund services, and Compare Best Prices on eBay HERE!