Low Price Oven Range Control Board Replacement for Crosley Frigidaire Kenmore Tappan CRG3140GBBC CFGF337ESE FFGF3016TBA FGF328GSE 79071411404 Shop Online Here!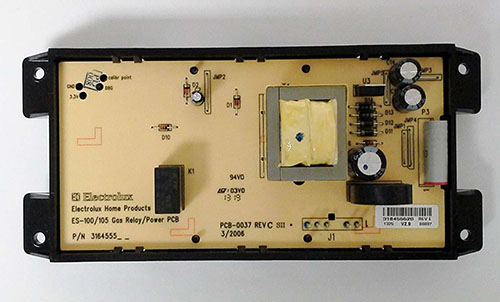 Oven Electronic Circuit Board
Product: Oven Range Stove Circuit Control Board
Part Number: 316455410
Replace Parts: 316222800 316222802 316222802R 316455410 5304427745
Fits Brands: Crosley Frigidaire Kenmore Tappan White-Westinghouse
Fits Oven Models:
The Electronic Control Board 316455410 fits the following Crosley Frigidaire Kenmore Tappan White-Westinghouse oven stove models. Use Ctrl+F to find your particular model listed below.
CRG3140GWBA CRG3140GWBD CRG3150LQB CRG3150LSA CRG3150LWE CRG3160GBBA CRG3160GWWB CRG3160GWWE CRP3160GQQA FFLF3052USB CFGF337ESE FFGF3011LBB FFGF3011LWF FFGF3011LWH FFGF3013LWA FFGF3015LBF FFGF3015LMF FFGF3016TMA FFGF3017LBE FFGF3017LSD FFGF3017LWF FFGF3019LWC FFGF3047LSC FFGF3049LSK FFGF3052TSA FFLF3047LSD FGF318GCA FGF326ASG FGF326AUA FGF326FWA FGF328FMA FGF328GMB FGF328GSC FGF337ABD FGF337AUA FGF337AWF FGF337BCG FGF337ESC FGF337EUD FGF337GCG FGF337GSE FGF337GWD FGF348KBB FGF348KCH FGF348KSA FGFB337GCC FGFS36FUA FGFS36FWH FLF337AWA FLF337ECJ FLF337EUE FLF337EWJ FLF345HSA LFGF3052TFB 79071410404 79071420402 79071421403 79071452600 79071512404 79071514404 79071519403 79071523401 79071529400 79071544600 TGF320DWB TGF328GSB TGF336ASF TGF336AWE TGF336AWG TGFS26CBB and more.
Compare Lowest Price
Please Check! The correct part number is 316455410. View more Oven 33003028 Main Control Board item description, and Compare Best Prices on eBay HERE!