Best Deals Oven Range Control Board for Crosley Frigidaire Kenmore Tappan CRG3140GBBB FFGF3011RSC FGF326FWA FGF337ASJ FLF337AUG Buy Online Now!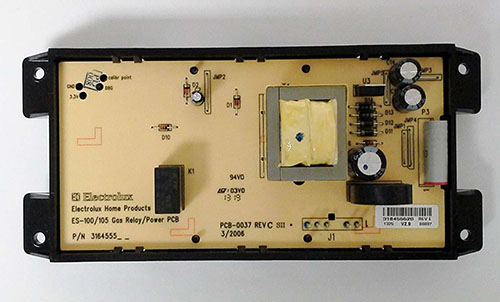 Oven Range Electronic Control Board
Product: Oven Range Stove Circuit Control Board
Part Number: 316455410
Replace Parts: 316222800 316222802 316222802R 316455410 5304427745
Fits Brands: Crosley Frigidaire Kenmore Tappan White-Westinghouse
Fits Oven Models:
This Main Control Board 316455410 fits the following Crosley Frigidaire Kenmore Tappan oven models. Use Ctrl+F to find your specific model listed below.
CRG3140GBBF CRG3140GQQC CRG3140GWBD CRG3150LBB CRG3150LWB CRG3150PWA CRG3160GBBC CRG3160GWWC CRGE3455TWA CRP3160GWWB LFGF3052TFC CFGF337GSA FFGF3011LBE FFGF3011LBH FFGF3012TBC FFGF3013LBA FFGF3015LBB FFGF3015LBG FFGF3015LWF FFGF3016TWA FFGF3017LBG FFGF3019LBB FFGF3019LWH FFGF3047LSJ FFGF3051TSA FFGF3052TSC FFLF3017LWD FGF318GCB FGF326ASB FGF326AUE FGF326FSA FGF328FSB FGF328GBH FGF328GSB FGF328GSH FGF337ABE FGF337ASH FGF337AUE FGF337AWJ FGF337EBD FGF337GBC FGF337GBE FGF337GSA FGF337GWD FGF345GSB FGF348KCM FGF348KSF FGFB337GCD FGFB337GCF FGFS36FWJ FLF337AWE FLF337AWH FLF337ECP FLF337EWJ FLF337EWM 79071410401 79071411401 79071414401 79071421403 79071441600 79071512400 79071514401 79071519403 79071521404 79071524401 79071542600 79071559600 TGF328GSG TGF336ASF TGF336AUG TGF336AWF TGF351RBB TGFS26CSC and more.
Compare Lowest Price
BEST DEALS! Your correct part number is 316455410. See more Range Oven 33003028 Electronic Control Board product information, return & refund services, and Compare Prices on eBay HERE!