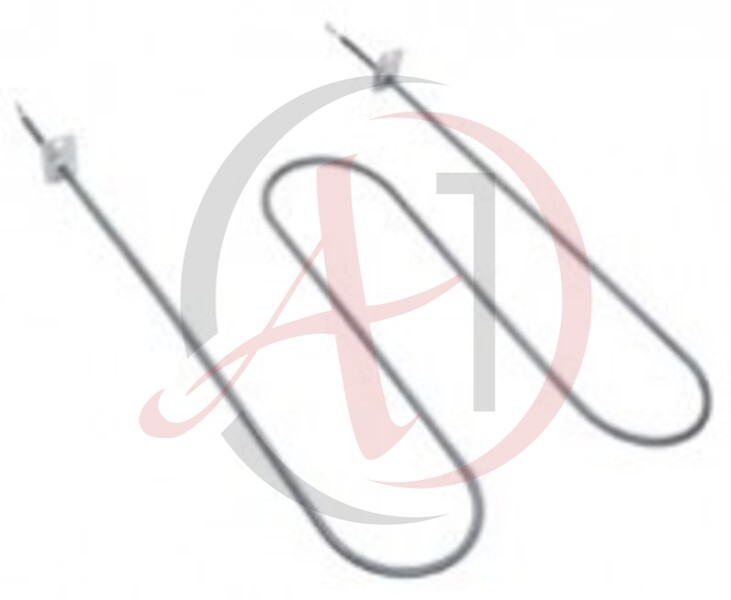 Frigidaire Oven Surface Element 316203200
Product: For Tappan Oven Range Stove Broil Element # OA5936212TP800
Type: Stove Grill Element
Item Location: Multiple, United States
Return Policy: 30 day returns. Buyer pays for return shipping
Condition: New
Price: US $148.69
Fits Frigidaire Range Models:
This Oven Heater Element Assembly 316203200 item fits the following Frigidaire range models. Use Ctrl+F to find your particular model below.
Frigidaire CFEF3005LWB CFEF3005LWC CFEF3005LWD CFEF3005LWE CFEF3007LBA CFEF3007LBB CFEF3007LBC CFEF3007LBD CFEF3007LBE CFEF3007LWA CFEF3007LWB CFEF3007LWC CFEF3007LWD CFEF3007LWE CFEF3007LWF CFEF3011TSA CFEF3011TWA CFEF3012LWA CFEF3012LWB CFEF3012LWC CFEF3012LWD CFEF3012PBA CFEF3012PBB CFEF3012PBC CFEF3012PBD CFEF3012PBE CFEF3012PWA CFEF3012PWB CFEF3012PWC CFEF3012PWD CFEF3012PWE CFEF3012TWA CFEF3014LSA CFEF3014LSB CFEF3014LSC CFEF3014LWB CFEF3014LWD CFEF3014LWF CFEF3014TWA CFEF3014TWB CFEF3014TWC CFEF3016LBA CFEF3016LBB CFEF3016LBE CFEF3016LBF CFEF3016LBG CFEF3016LWF CFEF3016LWG CFEF3016LWH CFEF3016LWJ CFEF3016LWK CFEF3016TSA CFEF3016TSB CFEF3016TSC CFEF3016TWA CFEF3016TWB CFEF3018LBA CFEF3018LBB CFEF3018LBC CFEF3018LBD CFEF3018LBE CFEF3018LBF CFEF3018LBG CFEF3018LBK CFEF3018LMA CFEF3018LMB CFEF3018LMC CFEF3018LME CFEF3018LMF CFEF3018LMG CFEF3018LMH CFEF3018LMM CFEF3018LWA CFEF3018LWB CFEF3018LWC CFEF3018LWD CFEF3018LWE CFEF3018LWF CFEF3018LWG CFEF3018LWK CFEF3043RSA CFEF3043RSB CFEF3043RSC CFEF3043RSD CFEF3046LSA CFEF3046LSB CFEF3046LSC CFEF3046LSD CFEF3046LSE CFEF3046LSF CFEF3046LSG CFEF3046LSH CFEF3046LSJ CFEF3046LSK CFEF3046LSM CFEF3046LSN CFEF3048LSA CFEF3048LSB CFEF3048LSC CFEF3048LSD CFEF3048LSE CFEF3048LSF CFEF3048LSG CFEF3048LSH CFEF3048LSJ CFEF3048LSK CFEF3048LSM CFEF3048LSP CFEF3048LSR CFEF3051TSA CFEF3051TSB CFEF3051TWA CFEF3051TWB CFEF3052TSA CFEF3052TWA CFEF3053TBA CFEF3053TBB CFEF3053TBC CFEF3053TSA CFEF3053TSB CFEF3053TSC CFEF3053TSD CFEF3053TWA CFEF3053TWB CFEF3053TWC CFEF3054TDA CFEF3055TBA CFEF3055TBD CFEF3055TSA CFEF3055TSB CFEF3055TSC CFEF3055TWA CFEF3055TWB CFEF3055TWC CFEF3055TWD CFEF3056TSA CFEF3056TSC CFEF3056TSD CFEF3056TSE CFEF3056TWA CFEF3056TWB CFEF311FSA CFEF311GSA CFEF311GSB CFEF311GSC CFEF312FBA CFEF312FBB CFEF312FQA CFEF312FQB CFEF312FSA CFEF312GBA CFEF312GBC CFEF312GQA CFEF312GQB CFEF312GSB CFEF312GSC CFEF316FSA CFEF317GSA CFEF317GSB CFEF317GSC CFEF320GSA CFEF320GSB CFEF320GSC CFEF325GSA CFEF355FBA CFEF355FBB CFEF355FBC CFEF355FBD CFEF355FCB CFEF355FCC CFEF355FCD CFEF355FCE CFEF355FCF CFEF355FCG CFEF355FSA CFEF355FSB CFEF355FSC CFEF355FSD CFEF355FSE CFEF364HSA CFEF364HSB CFEF364HSC CFEF364HSD CFEF364HSE CFEF366EMB CFEF366EMC CFEF366EMD CFEF366EME CFEF366EMF CFEF366EMG CFEF366EMH CFEF366EMJ CFEF366EMK CFEF366GBA CFEF366GBB CFEF366GBE CFEF366GCA CFEF366GCB CFEF366GCC CFEF366GCD CFEF366GCE CFEF366GCF CFEF366GCG CFEF366GCH CFEF366GSA CFEF366GSB CFEF366GSD CFEF366GSE CFEF368JCA CFEF368JCB CFEF368JCC CFEF368JCD CFEF376GBA CFEF376GBB CFEF376GBC CFEF376GBD CFEF376GBE CFEF376GCA CFEF376GCB CFEF376GCC CFEF376GCD CFEF376GCE CFEF376GCF CFEF376GCG CFEF376GSA CFEF376GSB CFEF376GSC CFEF376GSD CFEF376GSE CFIF3054TSA CFIF3054TSB CWEF3007TWA CWEF3007TWB FEF303BWA FEF303CWA
FEF303CWC FEF303CWD FEF303CWE FEF303CWF FEF303CWG FEF303CWH FEF303CWJ FEF303HWA FEF303HWB FEF303KWA FEF303KWB FEF312ASA FEF312BSA FEF312BSB FEF312BSC FEF312BSD FEF312BSE FEF312BSF FEF312BSG FEF312BSH FEF314AUA FEF314AUB FEF314AWA FEF314AWB FEF314BUA FEF314BUB FEF314BWA FEF314BWB FEF316AQA FEF316AQB FEF316ASA FEF316ASB FEF316BQA FEF316BQC FEF316BQD FEF316BQE FEF316BQF FEF316BQG FEF316BQX FEF316BSA FEF316BSC FEF316BSD FEF316BSF FEF316BSG FEF316BSH FEF316BSJ FEF317HBA FEF317HSA FEF322BXAWA FEF326ABA FEF326ABB FEF326ABC FEF326ABE FEF326ABF FEF326ABG FEF326ABH FEF326ABK FEF326ABL FEF326ABM FEF326AQA FEF326AQB FEF326AQC FEF326AQD FEF326AQE FEF326AQF FEF326AQG FEF326AQH FEF326AQK FEF326AQL FEF326AQM FEF326ASA FEF326ASB FEF326ASC FEF326ASD FEF326ASE FEF326ASF FEF326ASG FEF326ASH FEF326ASJ FEF326ASK FEF326ASL FEF326ASM FEF326AUA FEF326AUB FEF326AUC FEF326AUE FEF326AUF FEF326AUG FEF326AUH FEF326AUJ FEF326AWA FEF326AWB FEF326AWC FEF326AWE FEF326AWF FEF326AWG FEF326AWH FEF326AWJ FEF326AWL FEF326AWM FEF326FBA FEF326FBB FEF326FBC FEF326FBD FEF326FBE FEF326FBF FEF326FQA FEF326FQB FEF326FQC FEF326FQD FEF326FQE FEF326FQF FEF326FSA FEF326FSB FEF326FSC FEF326FSD FEF326FSE FEF326FSF FEF326FWA FEF326FWB FEF326FWC FEF326FWD FEF329DBA FEF329DBB FEF329DQA FEF329DQB FEF329DQC FEF329DSA FEF329DSB FEF329DSC FEF329EBB FEF329EBC FEF329EBD FEF329EQB FEF329EQC FEF329EQD FEF329ESB FEF329ESC FEF329ESD FEF336ASA FEF336ASB FEF336ASC FEF336ASD FEF336ASE FEF336ASF FEF336ASH FEF336ASJ FEF336ASK FEF336ASL FEF336ASN FEF336ASP FEF336BCA FEF336BCB FEF336BCC FEF336BCD FEF336BCE FEF336BCF FEF336BCG FEF336BCH FEF336BCJ FEF336BCK FEF336BCL FEF336BCM FEF336ECA FEF336ECB FEF336ECC FEF336ECD FEF336ECE FEF336ECF FEF336ECG FEF336ECH FEF336ECJ FEF336ECK FEF336ECM FEF336ECX FEF336ESA FEF336ESB FEF336ESC FEF336ESD FEF336FMA FEF336FMB FEF336FMC FEF336FMD FEF336FME FEF336FMF FEF339ESA FEF339ESB FEF339ESC FEF339FSA FEF339FSB FEF339FSC FEF339FSD FEF339FSE FEF339LCA FEF339LCB FEF351CSA FEF351CSB FEF351CSC FEF351CUA FEF351CUB FEF351CUC FEF351CWA FEF351CWB FEF351CWC FEF352ASA FEF352ASB FEF352ASC FEF352ASD FEF352ASE FEF352ASF FEF352ASG FEF352ASH FEF352AUA FEF352AUC FEF352AUD FEF352AUE FEF352AUF FEF352AUG FEF352AUH FEF352AWA FEF352AWC FEF352AWD FEF352AWE FEF352AWF FEF352AWG FEF352AWH FEF352DSA FEF352DSB FEF352DSC FEF352DSD FEF352DUA FEF352DUB FEF352DUC FEF352DUD FEF352DWA FEF352DWB FEF352DWD FEF352DWE FEF352FBA FEF352FBB FEF352FBC FEF352FBD FEF352FBE FEF352FSA FEF352FSB FEF352FSC FEF352FSD FEF352FSE FEF352FUA FEF352FUB FEF352FUC FEF352FUD FEF352FWA FEF352FWB FEF352FWC FEF352FWD FEF352GMA FEF352GMB FEF352GMC FEF352GMD FEF352GMF FEF352GMG FEF352HCA FEF352HCB FEF352HCC FEF352HCD FEF352HCE FEF354GBA FEF354GBB FEF354GBC FEF354GBD FEF354GBE FEF354GSA FEF354GSB FEF354GSC FEF354GSD FEF355ABA FEF355ABB FEF355ABC FEF355ABD FEF355ABF FEF355ABG FEF355ABH FEF355ABJ FEF355ABK FEF355AQA FEF355AQB FEF355AQC FEF355AQD FEF355AQE FEF355AQF FEF355AQG FEF355AQH FEF355AQJ FEF355AQK FEF355ASA FEF355ASB FEF355ASC FEF355ASD FEF355ASE FEF355ASF FEF355ASG FEF355ASH FEF355ASJ FEF355ASK FEF355AUA FEF355AUC FEF355AUD FEF355AWA FEF355AWC FEF355AWD FEF355AWF FEF355AWG FEF355AWH FEF355AWJ FEF355AWK FEF355DBA FEF355DBB FEF355DBC FEF355DBD FEF355DBE FEF355DQA FEF355DQB FEF355DQC FEF355DQD FEF355DQE FEF355DSA FEF355DSB FEF355DSC FEF355DSD FEF355DSE FEF355EBA FEF355EBB FEF355EQA FEF355EQB FEF355EQC FEF355ESA FEF355ESB FEF355ESC FEF356GBA FEF356GBB FEF356GQA FEF356GQB FEF356GSA FEF356GSB FEF361AWA FEF361AWB FEF361AWD FEF361AWE FEF361AWF FEF361AWG FEF362BXAWA FEF362BXAWB FEF362BXAWC FEF362BXAWD FEF362MXAWA FEF362MXESA FEF362MXESB FEF362MXESC FEF362MXESD FEF363BXAWA FEF363BXAWB FEF364BXAWA FEF364DQA FEF364DQB FEF364DSA FEF364DSB FEF364DSD FEF364DSE FEF364DUA FEF364DUB FEF364DWA FEF364DWB FEF364DWD FEF364DWE FEF364FSA FEF364FSB FEF364FSC FEF364FWA FEF364FWB FEF364FWC FEF365AQA FEF365AQB FEF365AQC FEF365AQD FEF365AQE FEF365AQF FEF365ASA FEF365ASB FEF365ASC FEF365ASD FEF365ASE FEF365ASF FEF365ASG FEF365ASH FEF365ASJ FEF365ASK FEF365ASL FEF365BUA FEF365BUB FEF365BUC FEF365BUD FEF365BUE FEF365BUF FEF365BUG FEF365BUH FEF365BWA FEF365BWB FEF365BWC FEF365BWD FEF365BWE FEF365BWF FEF365BWG FEF365BWH FEF365BXCWA FEF365MXFCA FEF365MXFCB FEF365XESA FEF365XESB FEF366ABA FEF366ABB FEF366ABD FEF366ABE FEF366ABF FEF366AQA FEF366ASA FEF366ASB FEF366ASC FEF366ASD FEF366ASE FEF366ASF FEF366ASG FEF366ASH FEF366ASJ FEF366ASK FEF366AUA FEF366AUD FEF366AWA FEF366AWD FEF366AWE FEF366AWF FEF366AWG FEF366AWH FEF366AWJ FEF366AWK FEF366BCA FEF366BCB FEF366BCC FEF366CBA FEF366CBB FEF366CBC FEF366CBD FEF366CBE FEF366CBF FEF366CBG FEF366CCA FEF366CCB FEF366CCC FEF366CCD FEF366CCE FEF366CCF FEF366CQA FEF366CQB FEF366CQC FEF366CQD FEF366CQE FEF366CQF FEF366CQG FEF366CSA FEF366CSB FEF366CSC FEF366CSD FEF366CSE FEF366CSF FEF366CSG FEF366DBA FEF366DBB FEF366DBE FEF366DBH FEF366DCA FEF366DCB FEF366DCC FEF366DCD FEF366DCE FEF366DCF FEF366DCH FEF366DQA FEF366DQB FEF366DQE FEF366DQH FEF366DSA FEF366DSB FEF366DSE FEF366DSF FEF366DSH FEF366EBA FEF366EBB FEF366EBC FEF366EBD FEF366EBE FEF366EBF FEF366EBH FEF366EBJ FEF366EBK FEF366ECA FEF366ECB FEF366ECC FEF366ECD FEF366ECE FEF366ECF FEF366ECG FEF366ECH FEF366ECJ FEF366ECK FEF366ECM FEF366ECN FEF366ECP FEF366ECR FEF366EMB FEF366EMC FEF366EMD FEF366EME FEF366EMF FEF366EMJ FEF366EMK FEF366EMM FEF366EQA FEF366EQB FEF366EQC FEF366EQD FEF366EQE FEF366ESA FEF366ESB FEF366ESC FEF366ESD FEF366ESE FEF366ESF FEF366ESH FEF366ESN FEF366LSA FEF366LSB FEF366LSC FEF366MXHCA FEF366MXHCB FEF366XESA FEF366XESB FEF368GBA FEF368GBB FEF368GBC FEF368GBD FEF368GCA FEF368GCB FEF368GCC FEF368GCD FEF368GCE FEF368GCF FEF368GCG FEF368GCH FEF368GCJ FEF368GMA FEF368GMB FEF368GMD FEF368GME FEF368GMF FEF368GMG FEF368GQA FEF368GQB FEF368GQC FEF368GQD FEF368GSA FEF368GSB FEF368GSC FEF368GSD FEF369HCA FEF369HCB FEF369HSA FEF375EBA FEF375EBB FEF375EBC FEF375EQA FEF375EQB FEF375EQC FEF375ESA FEF375ESB FEF375ESC FEF375FBA FEF375FBB FEF375FBC FEF375FCA FEF375FCB FEF375FQA FEF375FQB FEF375FQC FEF375FSA FEF375FSB FEF375FSC FEF375GCA FEF375GCB FEF375GCC FEF375GCE FEF375GCF FEF375XEQA FEF375XESA FEFB65ASA FEFB65ASB FEFB65ASC FEFB65ASD FEFB66ECB FEFB66ECC FEFB66ECE FEFB66ECF FEFB66ECG FEFB66ECH FEFB66ECJ FEFB66ECK FEFB66ECM FEFB68CBA FEFB68CBB FEFB68CBC FEFB68CQA FEFB68CQB FEFB68CQC FEFB68CQD FEFB68CSA FEFB68CSB FEFB68CSC FEFB68CSD FEFL58ESA FEFL58GSA
FEFL58GSB FEFL58GSC FEFL63FSA FEFL63FSB FEFL63HSA FEFL63HSB FEFL63HSC FEFL63HSD FEFL63HSE FEFL63HSF FEFL64DSA FEFL64DSB FEFL64DSC FEFL64DSF FEFL64DSG FEFL64FSA FEFL64FSB FEFL64FSC FEFL64FSD FEFL67DCA FEFL67DCB FEFL67DCC FEFL67DCD FEFL67DCE FEFL67DCG FEFL67DCH FEFL67DCJ FEFL67DCK FEFL67DCL FEFL67GCA FEFL67GCB FEFL67HCA FEFL67HCB FEFL67HCC FEFL67HCD FEFL67HCE FEFL67HCF FEFL67HCG FEFL67HCH FEFL67HCJ FEFL67HCK FEFL68GMA FEFL68GMB FEFL68GMC FEFL68GMD FEFL68GME FEFL68GMF FEFL68GMG FEFL68GMH FEFL68GMJ FEFL68GMK FEFLM66EBA FEFLM66EBB FEFLM66ESA FEFLM66ESB FEFLM66ESC FEFS52DQA FEFS52DQB FEFS52DQC FEFS52DQD FEFS52DSA FEFS52DSB FEFS52DSC FEFS52DSD FEFS66DQA FEFS66DQB FEFS66DQC FEFS66DQD FEFS66DQF FEFS66DQG FEFS66DQH FEFS66DQJ FEFS66DSA FEFS66DSB FEFS66DSC FEFS66DSD FEFS66DSF FEFS66DSG FEFS66DSH FEFS66DSJ FFEF3000MWA FFEF3000MWB
FFEF3003NWA FFEF3003NWB FFEF3003NWC FFEF3003NWD FFEF3003RBA FFEF3003RBB FFEF3005MBA FFEF3005MBB FFEF3005MBC FFEF3005MBD FFEF3005MBE FFEF3005MBF FFEF3005MQA FFEF3005MQB FFEF3005MQC FFEF3005MQD FFEF3005MQE FFEF3005MQF FFEF3005MWA FFEF3005MWB FFEF3005MWC FFEF3005MWD FFEF3005MWE FFEF3005MWF FFEF3005MWG FFEF3005XWA FFEF3009PBA FFEF3009PBB FFEF3009PBC FFEF3009PBD FFEF3009PBE FFEF3009PBF FFEF3009PWA FFEF3009PWB FFEF3009PWC FFEF3009PWD FFEF3009PWE FFEF3009PWF FFEF3010LBA FFEF3010LBB FFEF3010LBC FFEF3010LBD FFEF3010LWA FFEF3010LWB FFEF3010LWC FFEF3010LWD FFEF3010TBA FFEF3010TWA FFEF3011LBA FFEF3011LBB FFEF3011LBC FFEF3011LBD FFEF3011LBE FFEF3011LBF FFEF3011LBG FFEF3011LBH FFEF3011LWA FFEF3011LWB FFEF3011LWD FFEF3011LWE FFEF3011LWF FFEF3011LWG FFEF3011LWH FFEF3011RSA FFEF3011RSB FFEF3012LSA FFEF3012LSB FFEF3012LSC FFEF3012LSD FFEF3012LSE FFEF3012LSF FFEF3012LSG FFEF3012LWA FFEF3012LWB FFEF3012LWC FFEF3012LWD FFEF3012TBA FFEF3012TWA FFEF3012TWB FFEF3012XSA FFEF3012XSB FFEF3013LBA FFEF3013LBB FFEF3013LBC FFEF3013LBD FFEF3013LBE FFEF3013LBF FFEF3013LBG FFEF3013LBH FFEF3013LBJ FFEF3013LBK FFEF3013LMB FFEF3013LMC FFEF3013LMD FFEF3013LME FFEF3013LMF FFEF3013LMG FFEF3013LWA FFEF3013LWB FFEF3013LWC FFEF3013LWD FFEF3013LWE FFEF3013LWF FFEF3013LWG FFEF3013LWH FFEF3013LWJ FFEF3013LWK FFEF3013XWA FFEF3015LBA FFEF3015LBB FFEF3015LBC FFEF3015LBD FFEF3015LBE FFEF3015LMA FFEF3015LMD FFEF3015LME FFEF3015LMF FFEF3015LMG FFEF3015LMH FFEF3015LMJ FFEF3015LSA FFEF3015LSB FFEF3015LSC FFEF3015LSD FFEF3015LSE FFEF3015LSF FFEF3015LSG FFEF3015LSH FFEF3015LSJ FFEF3015LSK FFEF3015LSM FFEF3015LSP FFEF3015LWA FFEF3015LWB FFEF3015LWC FFEF3015LWD FFEF3015LWE FFEF3015LWF FFEF3015PBA FFEF3015PBB FFEF3015PBC FFEF3015PBD FFEF3015PWA FFEF3015PWB FFEF3015PWC FFEF3015PWD FFEF3015ZWA FFEF3015ZWB FFEF3015ZWC FFEF3016LBA FFEF3016LBB FFEF3016LBC FFEF3016LBD FFEF3016LBE FFEF3016LBF FFEF3016LWA FFEF3016LWB FFEF3016LWC FFEF3016LWD FFEF3016LWE FFEF3016LWF FFEF3016TBA FFEF3016TBB FFEF3016TBC FFEF3016TMA FFEF3016TMB FFEF3016TMC FFEF3016TSA FFEF3016TSC FFEF3016TSD FFEF3016TWA FFEF3016TWB FFEF3016TWC FFEF3017LBA FFEF3017LBB FFEF3017LBC FFEF3017LBD FFEF3017LSA FFEF3017LSB FFEF3017LSC FFEF3017LSD FFEF3017LSE FFEF3017LSF FFEF3017LSG FFEF3017LSH FFEF3017LSJ FFEF3017LSK FFEF3017LWB FFEF3017LWC FFEF3017LWD FFEF3017LWE FFEF3017XSA FFEF3017XSB FFEF3017XWA FFEF3017ZWA FFEF3017ZWB FFEF3017ZWC FFEF3017ZWD FFEF3017ZWE FFEF3018LBC FFEF3018LBD FFEF3018LBE FFEF3018LBF FFEF3018LBG FFEF3018LBJ FFEF3018LBK FFEF3018LMA FFEF3018LMB FFEF3018LMC FFEF3018LMF FFEF3018LMG FFEF3018LMH FFEF3018LMK FFEF3018LMM FFEF3018LQA FFEF3018LQB FFEF3018LQC FFEF3018LQD FFEF3018LQE FFEF3018LQF FFEF3018LQG FFEF3018LQH FFEF3018LQJ FFEF3018LSC FFEF3018LSD FFEF3018LSF FFEF3018LSG FFEF3018LWA FFEF3018LWB FFEF3018LWC FFEF3018LWD FFEF3018LWE FFEF3018LWF FFEF3018LWG FFEF3018LWH FFEF3018LWJ FFEF3043LSA FFEF3043LSB FFEF3043LSC FFEF3043LSD FFEF3043LSE FFEF3043LSF FFEF3043LSG FFEF3043LSH FFEF3043LSJ FFEF3043LSK FFEF3043LSN FFEF3043LSP FFEF3043LSR FFEF3048LSA FFEF3048LSB FFEF3048LSC FFEF3048LSD FFEF3048LSE FFEF3048LSF FFEF3048LSG FFEF3048LSH FFEF3048LSJ FFEF3048LSK FFEF3048LSM FFEF3048LSN FFEF3048LSR FFEF3051TBA FFEF3051TBB FFEF3051TBC FFEF3051TSA FFEF3051TSB FFEF3051TSC FFEF3051TWA FFEF3051TWC FFEF3052TDA FFEF3052TSA FFEF3052TSB FFEF3052TSC FFEF3052TSD FFEF3052TWA FFEF3054TBA FFEF3054TBB FFEF3054TDA FFEF3054TDC FFEF3054TSA FFEF3054TSC FFEF3054TSE FFEF3054TWA FFEF3054TWB FFEF3054TWC FFEF3054TWD FFF318AWA FFF335ESF FFIF3054TDA FFIF3054TSA FFIF3054TSB
LFEF3017LBC LFEF3017LMC LFEF3017LSC LFEF3017LSD LFEF3017LSE LFEF3017LWC LFEF3017LWD LFEF3018TBA LFEF3018TBB LFEF3018TBC LFEF3018TBD LFEF3018TWA LFEF3018TWC LFEF3018TWD LFEF3048QFB LFEF3048QFC LFEF3052TFA LFEF3052TFB LFEF3052TFC MFF3015RWC MFF312BSF MFF312HSC
Compare Lowest Price
View more Oven Burner Element part information, return & refund policy, and Check Lowest Price on eBay HERE!