Great Price Oven Control Board for Crosley Frigidaire Kenmore Tappan CRG3140GBBD CRG3150PBD FGF326AUF FGFB337GCD 79071412404 Order Now!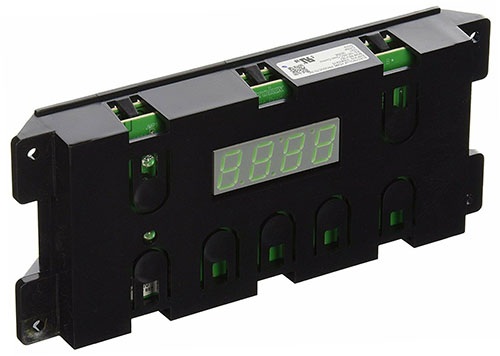 Oven Stove Control Board Replacement
Product: Oven Range Stove Circuit Main Control Board
Part Number: 316455410
Replace Parts: 316222800 316222802 316222802R 316455410 5304427745
Fits Brands: Crosley Frigidaire Kenmore Tappan White-Westinghouse
Fits Oven Models:
This item 316455410 fits the following Crosley Frigidaire Kenmore Tappan White-Westinghouse oven models. Use Ctrl+F to find your appliance model listed below.
CRG3140GQQD CRG3140GWWE CRG3150LBB CRG3150LSA CRG3150PSB CRG3160GBBC CRG3160GQQD CRG3180PBA CRP3160GWWA FFGF3052TWD CFGF337ESC FFGF3011LBC FFGF3011LWD FFGF3012TBC FFGF3013LBD FFGF3015LBC FFGF3015LBG FFGF3015LWC FFGF3016TSB FFGF3017LSB FFGF3019LBB FFGF3019LWF FFGF3047LSD FFGF3051TWA FFGF3052TSA FFLF3047LSD FFLF3052USA FGF326ASJ FGF326AUF FGF326KBB FGF328GBA FGF328GMB FGF328GSC FGF328GSH FGF337ABD FGF337ASH FGF337AUE FGF337BCF FGF337ESC FGF337GBB FGF337GCD FGF337GSC FGF337GUF FGF337GWF FGF348KCD FGF348KSF FGFB337GCB FGFB337GCG FGFS36FWE FLF337AWC FLF337ECE FLF337ECK FLF337EUM FLF337EWK 79071410400 79071411404 79071420400 79071420404 79071442600 79071511400 79071514401 79071519404 79071523403 79071524403 79071544600 79071553600 TGF328GSG TGF336ASG TGF336AWD TGF336FSB TGF351RBB and more.
Compare Lowest Price
The correct part number is 316455410. See more Oven 33003028 Main Control Board product details, and Compare Lowest Prices on eBay HERE!