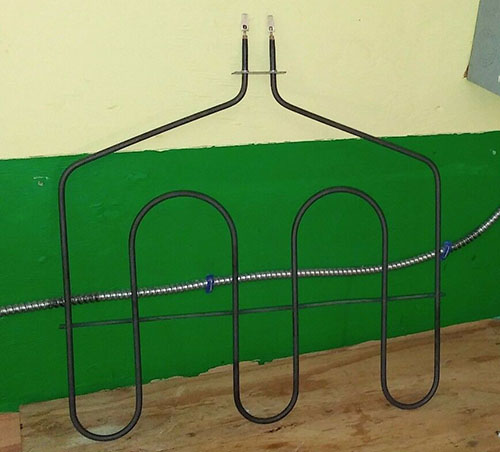 GE Range Heat Element Broiler WB44K5017
Product: WB44K5017
Type: Oven Burner Element
Item Location: South Sutton, New Hampshire, United States
Return Policy: Free 30 day returns
Condition: Used
Price: US $23.25
Fits GE Oven Models:
This Range Radiant Element Assembly WB44K5017 item fits the following GE built-in oven models. Use Ctrl+F to find your appliance model listed below.
GE JCP17WV2WW JCT910SA1SS JCT910SA2SS JCT910SA3SS JCT910SY1SS JCTP16GV1BB JCTP16GV2BB JCTP16GV3BB JCTP17BW1BB JCTP17BW2BB JCTP17WV1WW JCTP17WV2WW JCTP17WV3WW JCTP17WW1WW JCTP17WW2WW JCTP18BA1BB JCTP18BA2BB JCTP18BA3BB JCTP18WA1WW JCTP18WA2WW JCTP18WA3WW JT910AA1AA JT910AA2AA JT910AA3AA JT910BA1BB JT910BA2BB JT910BA3BB JT910CA1CC JT910CA2CC JT910CA3CC JT910SA1SS JT910SA2SS JT910SA3SS JT910SY1SS JT910WA1WW JT910WA2WW JT910WA3WW JT950AA1AA JT950AA2AA JT950AA3AA JT950BA1BB JT950BA2BB JT950BA3BB JT950CA1CC JT950CA2CC JT950CA3CC JT950SA1SS JT950SA2SS JT950SA3SS JT950SY1SS JT950WA1WW JT950WA2WW JT950WA3WW JTP13GT1BB JTP13GV1BB JTP13GV2BB
JTP14WT1WW JTP14WV1WW JTP14WV2WW JTP15AA2AA JTP15AA3AA JTP15BA1BB JTP15BA2BB JTP15BA3BB JTP15BW1BB JTP15BW2BB JTP15BW3BB JTP15WA1WW JTP15WA2WW JTP15WA3WW JTP15WW1WW JTP15WW2WW JTP15WW3WW JTP16GT1BB JTP16GV1BB JTP16GV2BB JTP17SC1SS JTP17WT1WW JTP17WV1WW JTP17WV2WW JTP18AA1AA JTP18AA2AA JTP18AA3AA JTP18AT1AA JTP18AT2AA JTP18AV1AA JTP18AV2AA JTP18AW1AA JTP18BA1BB JTP18BA2BB JTP18BA3BB JTP18BW1BB JTP18WA1WW JTP18WA2WW JTP18WA3WW JTP18WW1WW JTP26GV1BB JTP26GV2BB JTP27BA1BB JTP27BA2BB JTP27BA3BB JTP27BW1BB JTP27BW2BB JTP27BW3BB JTP27WA1WW JTP27WA2WW JTP27WA3WW JTP27WV1WW JTP27WV2WW JTP27WW1WW JTP27WW2WW JTP27WW3WW JTP44GV1BB JTP44GV2BB
JTP45BA1BB JTP45BA2BB JTP45BA3BB JTP45BW1BB JTP45BW2BB JTP45BW3BB JTP45WA1WW JTP45WA2WW JTP45WA3WW JTP45WV1WW JTP45WV2WW JTP45WW1WW JTP45WW2WW JTP45WW3WW JTP47SC1SS JTP54GV1BB JTP54GV2BB JTP55WV1WW JTP55WV2WW JTP56AA1AA JTP56AA2AA JTP56AA3AA JTP56AV1AA JTP56AV2AA JTP56AW1AA JTP56AW2AA JTP56BA1BB JTP56BA2BB JTP56BA3BB JTP56BW1BB JTP56BW2BB JTP56WA1WW JTP56WA2WW JTP56WA3WW JTP56WW1WW JTP56WW2WW JTP85BA1BB JTP85BA2BB JTP85BA3BB JTP85BW1BB JTP85BW2BB JTP85WA1WW JTP85WA2WW JTP85WA3WW JTP85WW2WW JTP95BA1BB JTP95BA2BB JTP95BA3BB JTP95BW2BB JTP95WA2WW JTP95WA3WW JTP95WW1WW JTP95WW2WW ZET736GV1BB ZET737WV1WW ZET756GV1BB ZET757WV1WW
Compare Lowest Price
Read more Range Electric Element part description, shipping & payment options, return & refund services, and Compare Updated Price on eBay HERE!