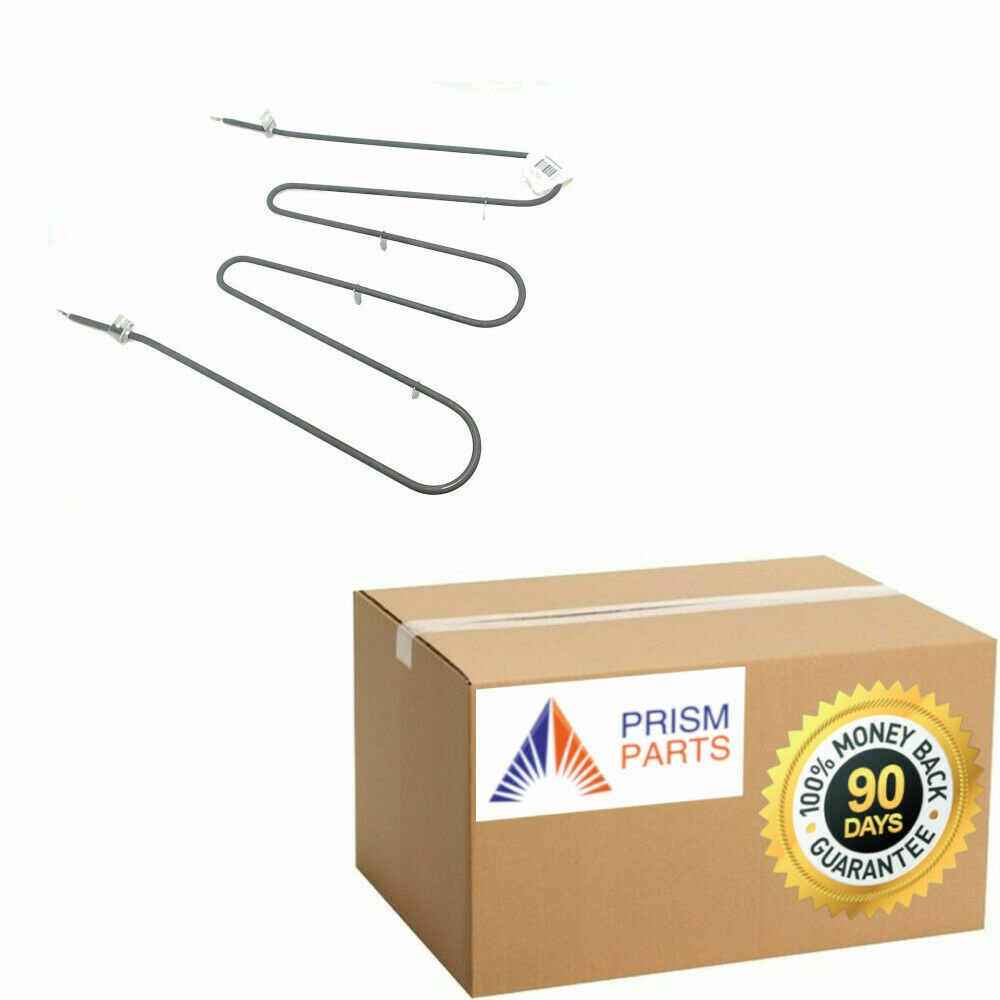 Frigidaire Oven Heat Element Assembly 316202200
Product: For Frigidaire Kenmore Oven Range Stove Bake Element YA-316202200 YA-AP2126365
Type: Oven Bake Element
Item Location: Multiple, United States
Return Policy: 30-day returns. Buyer pays for return shipping
Condition: New
Price: US $91.95
Fits Frigidaire Oven Models:
This Stove Bake Element 316202200 item fits the following Frigidaire electric range models. Use Ctrl+F to find your specific model listed below.
FEF357AQA FEF357AQB FEF357ASA FEF357ASB FEF357BBA FEF357BBB FEF357BBC FEF357BBD FEF357BBE FEF357BSA FEF357BSB FEF357BSC FEF357BSD FEF357BSE FEF357BSF FEF376AQA FEF376AQB FEF376AQC FEF376AQE FEF376AQF FEF376AQG FEF376AQH FEF376AQJ FEF376AQK FEF376AQL FEF376ASA FEF376ASB FEF376ASC FEF376ASE FEF376ASF FEF376ASG FEF376ASH FEF376ASJ FEF376ASK FEF376ASL FEF377XEQA FEF379ACA FEF379ACB FEF379ACC FEF379ACD FEF379ACE FEF379ACF FEF379ACG FEF379ACH FEF379ACJ FEF379ACK FEF379ACL FEF380MXDCA FEF380MXDCB FEF387XECA FEF387XECB FEFL78CBB FEFL78CBC FEFL78CBD FEFL78CQA FEFL78CQB FEFL78CQC FEFL78CQD FEFL78CSA FEFL78CSB FEFL78CSC FEFL78CSD FEFL88ABA FEFL88ABB FEFL88ABC FEFL88ACA FEFL88ACB FEFL88ACC FEFL88ASA FEFL88ASB FEFL88ASC FEFL89CCA FEFL89CCB GLEF376ABA GLEF376ABC GLEF376AQA GLEF376AQB GLEF376AQD GLEF376AQE GLEF376ASA GLEF376ASB GLEF376ASC GLEF376ASD GLEF376ASE GLEF378ABA GLEF378ABB GLEF378ABC GLEF378ABD GLEF378ABE GLEF378ABF GLEF378ABG GLEF378AQA GLEF378AQB GLEF378AQC GLEF378AQD GLEF378AQE GLEF378AQF GLEF378AQG GLEF378ASA GLEF378ASB GLEF378ASC GLEF378ASD GLEF378ASE GLEF378ASF GLEF378ASG GLEF378CBA GLEF378CBB GLEF378CBC GLEF378CBD GLEF378CBE GLEF378CBF GLEF378CQA GLEF378CQB GLEF378CQC GLEF378CQD GLEF378CQE GLEF378CQF GLEF378CSA GLEF378CSB GLEF378CSC GLEF378CSD GLEF378CSE GLEF378CSF GLEF396ABA GLEF396ABB GLEF396ABC GLEF396AQA GLEF396AQB GLEF396AQC GLEF396AQD GLEF396ASA GLEF396ASB GLEF396ASC GLEF396ASD GLEF396CQA GLEF396CQB GLEF396CQC GLEF396CQD GLEF396CSA GLEF396CSB GLEF396CSC GLEF396CSD GLEFS77CBA GLEFS77CBB GLEFS77CBC GLEFS77CBD GLEFS77CQA GLEFS77CQB GLEFS77CQC GLEFS77CQD GLEFS77CSA GLEFS77CSB GLEFS77CSC GLEFS77CSD GSE3WZBBA GSE3WZBBB GSE3WZBCA GSE3WZBCB GSE3WZBQA GSE3WZBQB GSE3WZBSA GSE3WZBSB GSE3WZCBA GSE3WZCBB GSE3WZCBC GSE3WZCBD GSE3WZCBE GSE3WZCCA GSE3WZCCB GSE3WZCCC GSE3WZCCD GSE3WZCQA GSE3WZCQB GSE3WZCQC GSE3WZCQD GSE3WZCQE GSE3WZCSA GSE3WZCSB GSE3WZCSC GSE3WZCSD GSE3WZCSE NGSE3WZABA NGSE3WZABC NGSE3WZABD NGSE3WZABE NGSE3WZAQA NGSE3WZAQC NGSE3WZAQD NGSE3WZAQE NGSE3WZASA NGSE3WZASC NGSE3WZASD NGSE3WZASE PLEF398ACA PLEF398ACB PLEF398ACC PLEF398CCA PLEF398CCB PLEF398CCC PLEF398CCD PLEF398CCE
Compare Lowest Price
View more Range Cooktop Element product details, return & warranty services, and Compare Today Price on eBay HERE!