Cheap Price LG 5859EA1004F Washer Drain Pump Assembly Parts. Replaces 79631463411 WT5480CW WT1701CV/00 79631423410 79631433710 WT7200CW WT7200CV/00 WT1801HWA 79631462411 79631513211 parts and more. Shop Today!
LG 5859EA1004F Washer Drain Pump
Part No: 5859EA1004F
Replacement Part Number: 2650695 5859EA1004X EAP7785505 AHA74333301 AP5672257 PS7785505 5859EA1004Q
Compatible Brands: LG, Kenmore
Type: Washing Machine Replacement Parts, LG Washer Drain Pump, LG Washer Replacement Parts, Kenmore Washer Drain Pump Assembly Parts
Item Price: View more information and Check the Latest Price Below.
==> Click Here to Check Best Prices on eBay! <==
Fits Models:
The LG 5859EA1004F Washer Drain Pump suits the following models. Use Ctrl-F to search your appliance model as you see.
WT5480CW 79631423411 79631402410 WT7200CW 79631462410 WT4970CW WT1101CW 79631463411 WT7500CW WT5680HVA-T1743HDFSP5 WT7600HKA WT1801HWA WT7050CV/00 WT1901CW WT1001CW 79631553610 79631422410 WT1901CK WT1101CW/00 WT5680HVA-T1743ADFSP5 79631522211 79631462411 79631423410 WT1801HVA 79631513211 79631403410 79631552610 WT901CW 79631433710 WT1701CV WT7200CW/00 WT1701CV/00 79631463410 WT1701CV/01 WT7200CV/00
Compare Lowest Prices
Learn how to check and change a repair part for your home appliance. View features more product descriptions, customer reviews, item conditions (new, used, or refurbished), shipping & handling options, parts warranty, and payment options. There are a number of sellers promoting this part on the market. You can view the best prices below.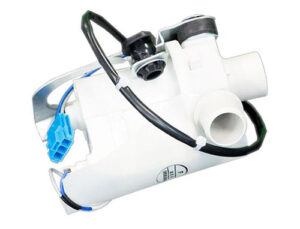 ==> Click Here to Check Prices TODAY! <==
Other Information
In the market online, many sellers promote a variety of home appliance parts, e.g. How to Change A Oven Fan Motor, How to Replace Refrigerator Circuit Board, Dishwasher Pump Replacement, and LG Dishwasher Repair Parts, also including the LG 5859EA1004F Washer Drain Pump assembly parts.
For more big appliance brands, for example, Maytag, you are able to search for its products, parts, accessories, and services on the store online.
More Replacement Parts:
Do you need support? Besides the LG 5859EA1004F Washer Drain Pump, if you have any problem with finding the right part for your appliance model, please leave your content in the comment section below. We will search for the part and respond to you ASAP. Fix it and save your money today!