Check Best Deals for KitchenAid Refrigerator Control Board WPW10769076 Replacement Parts. For KitchenAid fridge models. Replaces PS11757397 4449493 AP6024047 EAP11757397 models.
KitchenAid Refrigerator Control Board WPW10769076
Parts Number: Whirlpool WPW10769076
Replaces: PS11757397 4449493 AP6024047 EAP11757397
Type: Fridge Replacement Parts, Refrigerator Control Board Control Panel Assembly Parts
Fits Brands: Whirlpool, KitchenAid
Fits Models: KRMF706EBS00 KRMF706ESS02 KRMF606ESS00 KRMF706ESS01 KRMF606ESS00 KRMF606ESS01 KRMF706EBS01 KRMF706ESS00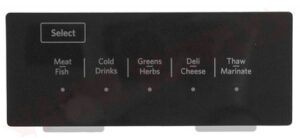 ==> Compare Lowest Prices and Order HERE! <==
More Appliance Parts:
You can search other replacement parts, such as Whirlpool Oven Control Panel Problems, Kenmore Range Control Board Replacement, Maytag Washing Machine Drive Motor, Maytag Washer Drive Motor Replacement, and Circuit Board for GE Refrigerator. Also includes:
If you need any help, please feel free to leave your message in the comment box below. We will get back to you very soon. Thank you very much.