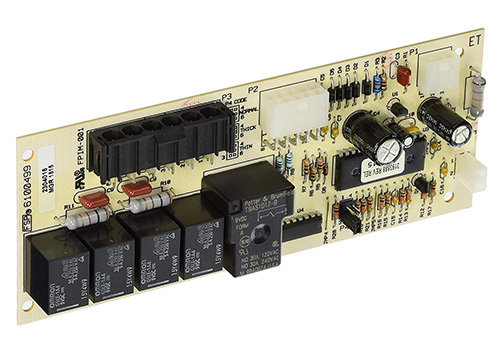 This is a new appliance replacement part for ice machines, KitchenAid Ice Machine Control Board WP2304016. If your unit stops working, then replacing the main electronic board could solve the problem. Check your model, part, and compare lowest prices here!
KitchenAid Ice Machine Control Board WP2304016
Product: Main Control Board for Ice Machine
Appliance Part: Ice Machine Electronic Replacement Parts
Part Number: WP2304016
Compatible Brands: GE Kenmore KitchenAid Whirlpool
Compatible Part Numbers: 2185621 2185947 2304016R 6100499 6100529 2304016 1055218 AP3772424 PS969709 EAP969709
Fits Kitchen-Aid Ice Machine Models:
This part fits KitchenAid ice cube makers and freestanding icemakers. Use Ctrl+F to find your specific model listed below.
8198549 8198922 KUIA15NLHS4 KUIA15NLHS5 KUIA15NLHS6 KUIA15NLHS7 KUIA15NLHS8 KUIA15NLHS9 KUIA15NRHS4 KUIA15NRHS5 KUIA15NRHS6 KUIA15NRHS8 KUIA15NRHS9 KUIA15PLLS0 KUIA15PLLS1 KUIA15PLLS2 KUIA15PLLS3 KUIA15PLLS4 KUIA15PLLS5 KUIA15PRLS0 KUIA15PRLS1 KUIA15PRLS2 KUIA15PRLS3 KUIA15PRLS4 KUIA15PRLS5
KUIA18NNJS3 KUIA18NNJS4 KUIA18NNJS5 KUIA18NNJS6 KUIA18NNJS7 KUIA18NNJS8 KUIA18PNLS0 KUIA18PNLS1 KUIA18PNLS2 KUIA18PNLS3 KUIA18PNLS4 KUIA18PNLS5
KUIC15NLSS0 KUIC15NRSS0 KUIC18NNSS0 KUIS155HBL1 KUIS155HBL2 KUIS155HBL3 KUIS155HBL4 KUIS155HBS0 KUIS155HBS1 KUIS155HBS2 KUIS155HBS3 KUIS155HBS4 KUIS155HBT0 KUIS155HBT1 KUIS155HBT2 KUIS155HBT3 KUIS155HBT4 KUIS155HLS0 KUIS155HLS2 KUIS155HLS3 KUIS155HLS4 KUIS155HPB0 KUIS155HPB2 KUIS155HPB3 KUIS155HPB4 KUIS155HPW0 KUIS155HPW2 KUIS155HPW3 KUIS155HPW4 KUIS155HRS0 KUIS155HRS2 KUIS155HRS3 KUIS155HRS4 KUIS155HWH0 KUIS155HWH1 KUIS155HWH2 KUIS155HWH3 KUIS155HWH4
KUIS15NRHB4 KUIS15NRHB5 KUIS15NRHB6 KUIS15NRHB7 KUIS15NRHB8 KUIS15NRHB9 KUIS15NRHS4 KUIS15NRHS5 KUIS15NRHS6 KUIS15NRHS7 KUIS15NRHS8 KUIS15NRHS9 KUIS15NRHT4 KUIS15NRHT5 KUIS15NRHT6 KUIS15NRHT7 KUIS15NRHT8 KUIS15NRHT9 KUIS15NRHW4 KUIS15NRHW5 KUIS15NRHW6 KUIS15NRHW7 KUIS15NRHW8 KUIS15NRHW9 KUIS15PRHB4 KUIS15PRHB5 KUIS15PRHB6 KUIS15PRHB7 KUIS15PRHB8 KUIS15PRHW4 KUIS15PRHW5 KUIS15PRHW6 KUIS15PRHW7 KUIS15PRHW8
KUIS185JBL0 KUIS185JBL1 KUIS185JBL2 KUIS185JBL3 KUIS185JBS0 KUIS185JBS1 KUIS185JBS2 KUIS185JBS3 KUIS185JBT0 KUIS185JBT1 KUIS185JBT2 KUIS185JBT3 KUIS185JPB0 KUIS185JPB1 KUIS185JPB2 KUIS185JPB3 KUIS185JPW0 KUIS185JPW1 KUIS185JPW2 KUIS185JPW3 KUIS185JSS0 KUIS185JSS1 KUIS185JSS2 KUIS185JSS3 KUIS185JWH0 KUIS185JWH1 KUIS185JWH2 KUIS185JWH3
KUIS18NNJB3 KUIS18NNJB4 KUIS18NNJB5 KUIS18NNJB6 KUIS18NNJB7 KUIS18NNJB8 KUIS18NNJS3 KUIS18NNJS4 KUIS18NNJS5 KUIS18NNJS6 KUIS18NNJS7 KUIS18NNJS8 KUIS18NNJT3 KUIS18NNJT4 KUIS18NNJT5 KUIS18NNJT6 KUIS18NNJT7 KUIS18NNJT8 KUIS18NNJW3 KUIS18NNJW4 KUIS18NNJW5 KUIS18NNJW6 KUIS18NNJW7 KUIS18NNJW8
KUIS18PNJB3 KUIS18PNJB4 KUIS18PNJB5 KUIS18PNJB6 KUIS18PNJB7 KUIS18PNJB8 KUIS18PNJW3 KUIS18PNJW4 KUIS18PNJW5 KUIS18PNJW6 KUIS18PNJW7 KUIS18PNJW8 KUIV18NNMM0 KUIV18NNMM1 KUIV18NNMM2 KUIV18NNMM3 KUIV18NNMM4 KUIV18NNMS0 KUIV18NNMS1 KUIV18NNMS2 KUIV18NNMS3 KUIV18NNMS4 KUSS185JSS3
Compare Lowest Prices
Read more product details of the Control Board WP2304016 for KitchenAid. Check shipping information and warranty & return policy. Compare lowest prices on eBay here!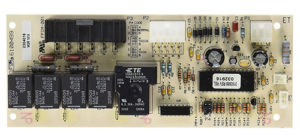 More Information
As well as the KitchenAid Ice Machine Control Board WP2304016, you can search for other main control boards for ice machines, KitchenAid icemachine part, and KitchenAid electronic board parts. Please feel free to contact us if you can not find the right part for your appliance model.