This is a new HV board replacement part, Jenn-Air Refrigerator Control Board WPW10312695. This part fits Amana, Jenn-Air, Kenmore, KitchenAid, Maytag, and Whirlpool models.
If your fridge is too warm or too cold, then replacing the main control board could solve the problem. Check your model, find the right part, and compare lowest prices here!
Jenn Air Refrigerator Control Board WPW10312695
Product: High Voltage HV Control Board
Appliance Part: Refrigerator Main Electronic Replacement Parts
Part Number: WPW10312695
Compatible Brands: Amana Jenn-Air Kenmore KitchenAid Maytag Whirlpool
Compatible Part Numbers:1876388 PS11752593 EAP11752593 AP6019287 W10312695
Fits Jenn-Air Refrigerator Models:
Note: Use Ctrl+F to find your specific model listed below.
JFI2089AEP12 JFI2089AEP13 JFI2089AEP14 JFI2089AEP6 JFI2089AEP7 JFI2089AEP8 JFI2089AEP9 JFI2089WES10 JFI2089WES2 JFI2089WES3 JFI2089WES4 JFI2089WES5 JFI2089WES6 JFI2089WES8 JFI2089WES9 JFI2089WTS1 JFI2089WTS2 JFI2089WTS3 JFI2089WTS4 JFI2089WTS6 JFI2089WTS7
How To Replace High Voltage Control Board
Watch this video, created by AppliancePartsPros. Follow these simple step-by-step instructions to replace the High Voltage Control Board on a refrigerator.
Tools needed:
1/4″ nut driver
Flathead screwdriver
Compare Lowest Prices
Read more product details of the Control Board WPW10312695 for Jenn-Air fridges. View shipping information, customer service details, return & warranty policy, and compare lowest prices on eBay here.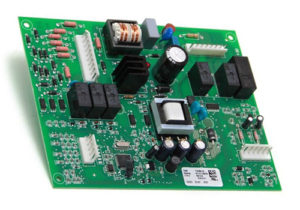 More Information
In addition to the Jenn-Air Refrigerator Control Board WPW10312695, you can find more parts for other appliances, including control boards for washers, dryer main control boards, electronic control boards for dishwashers, and freezer replacement parts.
If you need any help in finding the correct part for your model, please do not hesitate to contact us at any time.