Buy genuine refrigerator fresh meat drawer works for GE Hotpoint Americana RCA A4425GDTABB GSL22JFBBLB GSS22KGPDWW GSH25JFPDCC GSS25JEPJCC PSG22MIPCFBB HSS25GFTCWW and more.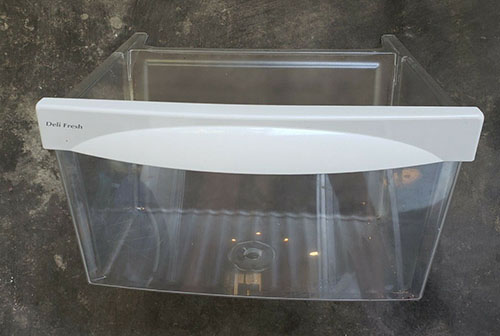 Refrigerator Meat Drawer
Product: Refrigerator Fresh Meat Drawer Pan
Part Number: WR32X10835
Replace Parts: WR32X10131 1812381 AP4981597
Fits Brands: GE Hotpoint Americana RCA
Fits Refrigerator Models
This refrigerator meat drawer product fits the following GE Hotpoint Americana RCA models.
A4425GDTAWW BSS25GFPDWW BSS25JSTJSS ESS25XGMABB ESS25XGMDWW GSE22KETAFWW GSE22KEWAFSS GSF25JGDDWW GSG22KEPHFBB GSG25MIPCFWW GSH22JFPCWW GSH22JFXMCC GSH22KGMABB GSH22KGPCCC GSH25JFXAWW GSH25VGPACC GSS22IBPCCC GSS22IFPCBB GSS22JEPACC GSS22JETGBB GSS22KGMAAA GSS22QGPCWW GSS22QGPHCC GSS22VFPHWW GSS22WGPABB GST22IBMCWW GST22KGPCBB ESL25JFWABS GSL25IGZBLS GSH22SGPBSS GSH25ISXLSS GSH25JSXLSS GSL25IGREBS GSS25GFXABB GSS25IFREWW GSS25JEPJCC GSS25JETHCC GSS25JFPKWW GSS25KGMDWW GSS25QFMCCC GSS25SGMABS GSS25UFPCWW GSS25VGMDWW PSA25MIPHFBB PSG22MISAFBB HSS25IFMBWW HSM25IFTESA HSS25GFTECC HSS25IFPCCC HST22IFMDCC RSG25KEPHFWW and more.
Compare Best Prices
Your part number is WR32X10835. View the refrigerator meat drawer part information, and shop the product on eBay here.