Looking for refrigerator crisper drawer works for GE Hotpoint RCA DSE26JGEBCWW GCG23YESAFBB GSHF5MGXBEBB GSS25GGHKCBB PSHF9PGZBCWW PSS28KSHKCSS
and more.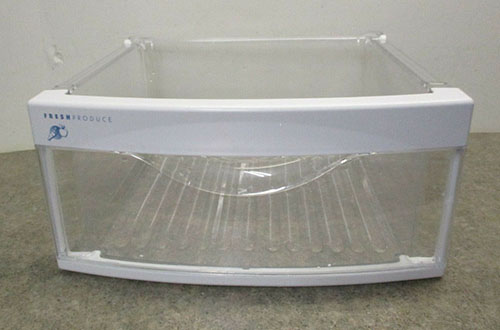 Refrigerator Crisper Drawer Pan
Product: Refrigerator Vegetable Middle Crisper Drawer Pan
Part Number: WR32X22927
Replace Parts: WR32X10343 WR32X10370 WR32X10574 4454554 AP6027007
Fits Brands: GE Hotpoint RCA
Fits Refrigerator Models
This refrigerator crisper pan product fits the following GE Hotpoint RCA models.
DSE25JGHKCWW DSE25JSHECSS DSS25KGRABB DSS25KGRDWW ESF25LGRDCC ESHS5MGXGESS ESS25LGPACC ESS25XGSBWW GCG21YESBFWW GCG23YESAFBB GSE23GGKECWW GSE25GGHKCBB GSE25HMHEHES GSE25MGYACWW GSE29KGYACWW GSF25XGRAWW GSHF3KGXCCCC GSHF3KGXGCBB GSHF5MGXBEWW GSHF6LGBCHWW GSHS3KGXGCSS GSHS6NGBBHSS GSK25LHWACCC GSS23GGKECWW GSS23HMHKCES GSS23KGSBCC GSS23VGSABB GSS23WGTLWW GSS25CGHKCBB GSS25GMHKCES GSS25KGSAWW GSS25LSLKCSS GSS25QGTKBB GSS25TGMFBB GSS25TGPEWW GSS25WGSBWW GSS25WSSASS GSS25XGNAWW GSS26KHWASS LSS25XGTEWW PSE26KSEGESS PSHS6RGXBDSS PSR26LGPABB PSR26UHPBBB PSR26UHPCWW PSS26MGPBBB PSS27NGPACC PSSS3RGXCSS PST29NHPCWW HSK29MGMKCCC HSS25ATHECWW
and more.
Compare Lowest Prices
Order Here! The right item number is WR32X22927. Read the refrigerator crisper pan item details, return services & refund policy, and shop the item on eBay.