Best Deals refrigerator crisper drawer fits GE Hotpoint RCA ESHF6PGYCEWW GSE26GGEBCBB GSHF5PGXAEWW GSS25LGPAWW PSK27MHWGCCC PSR26UHPBSS
and more.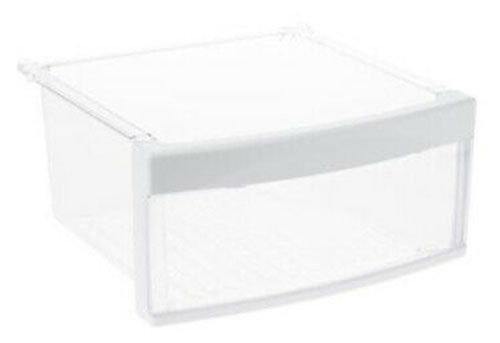 Refrigerator Crisper Drawer
Product: Refrigerator Vegetable Middle Crisper Drawer Pan
Part Number: WR32X22927
Replace Parts: WR32X10343 WR32X10370 WR32X10574 4454554
Fits Brands: GE Hotpoint RCA
Fits Refrigerator Models
This refrigerator crisper drawer part works for the following GE Hotpoint RCA models.
DSE25JMHKCES DSHF5PGXAEBB DSS25KGRBWW DSS25KSTBSS ESF25KGTACC ESHS5MGXCESS ESS23XGSACC GCE23YBTAFBB GCG21YESBFNS GCG23YHSAFWW GSE23GGKJCBB GSE25GGHECWW GSE25METACBB GSE26GGEBCBB GSF25KGWABB GSF25XGRAWW GSF25XGREWW GSHF3KGZBCCC GSHF5MGXCEWW GSHF6LGBBHBB GSHL5MGXGELS GSHS6KGZCCSS GSK25LASBCCC GSS23GGKECBB GSS23GMKGCES GSS23HSHJCSS GSS23QSWASS GSS23WSTLSS GSS25CGHKCBB GSS25GSHECSS GSS25KSTBSS GSS25PGMFCC GSS25QGTGWW GSS25TGMFBB GSS25TGPCWW GSS25WGSBWW GSS25WGTMCC GSS25XGPDCC LSHF5MGXBEBB PSE25KSHKHSS PSHF6RGXBDCC PSK25MGWICCC PSK27MGWACCC PSR26UHPBSS PSS23MSSASS PSS26MGSBWW PSS27NGPCCC PSSF3RGZBBB PST29NHPBWW XSS25GGHBCWW HSK29MGSECCC
and more.
Compare Best Prices
Shop Here! Your product number is WR32X22927. Read the refrigerator crisper pan drawer item details, shipping & payment options, return & warranty services, and compare best prices on eBay below.