Compare Lowest Prices new refrigerator meat pan drawer works for GE Hotpoint Americana RCA BSS25JSTPSS GSL22JGCBLB GSS22KGPJCC ESL25XGRBBS GSS25KGPDBB HST22IFPHCC HSS25GFPEWW and more.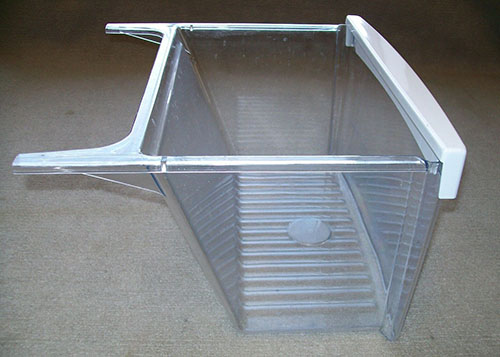 Refrigerator Meat Pan Drawer
Product: Refrigerator Fresh Meat Drawer Pan
Part Number: WR32X10835
Replace Parts: WR32X10131 1812381 AP4981597 PS3487933 EAP3487933
Fits Brands: GE Hotpoint Americana RCA
Fits Refrigerator Models
This refrigerator fresh meat drawer pan product fits the following GE Hotpoint Americana RCA models.
GSH25JGDDCC BSS25GFPEWW BSS25JSTHSS DSS25JFPMCC ESS25XGMDWW GSE22ETHCCC GSE22KETGFSS GSG22KBMCFBB GSG22KEPDFWW GSG25MIPAFBB GSH22JFRIWW GSH22JFXMCC GSH22JSXLSS GSH25JFTCWW GSH25JFXLCC GSL22JGCBLB GSL22QGPDBS GSS22IFREBB GSS22JERFWW GSS22JETNWW GSS22KGMCAA GSS22QFMAWW GSS22QGPJCC GSS22VGMCWW GSS22WGPDCC GST22IFPHCC GST22KGMBCC GST25IFPECC GSL25JFTBBS GSH22KGMCCC GSH25JFRFWW GSH25KGRBBB GSS22JEPCBB GSS25GFXNWW GSS25JEPACC GSS25JEPDWW GSS25JETEWW GSS25JFPBCC GSS25KGMCCC GSS25QGPHBB GSS25SGPEBS GSS25UFPHBB GSS25VGMAWW PSG22MIMCFWW PSG22MIPHFBB HSH25GFBBBB HSM25IFTESA HSS22IFPAWW HST22IFMAWW HST25IFMBWW RSG22IBMCFWW and more.
Compare Lowest Prices
Great Deals! Your right part number is WR32X10835. Read the refrigerator meat drawer pan item description, delivery & checkout methods, return & warranty services, and shop the item on eBay here.