Buy genuine refrigerator crisper drawer pan works for GE Hotpoint RCA ESF25QGWACC GSF25TGWABB GSHF6PHXBEWW GSS25KGTEWW PSHF6PGZBEWW PSSS7RGXACSS
and more.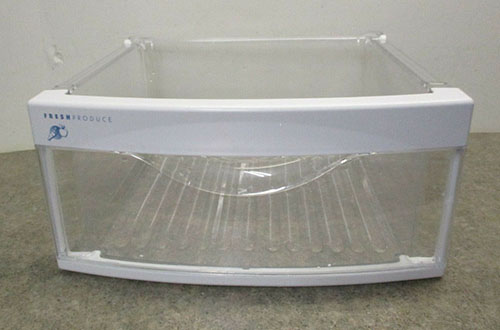 Refrigerator Crisper Drawer Pan
Product: Refrigerator Vegetable Middle Crisper Drawer Pan
Part Number: WR32X22927
Replace Parts: WR32X10343 WR32X10370 WR32X10574 4454554 AP6027007 PS11759183
Fits Brands: GE Hotpoint RCA
Fits Refrigerator Models
This refrigerator crisper drawer item works for the following GE Hotpoint RCA models.
DSE25JGHECBB DSE26JSEDCSS DSL26DHWASS DSS25LGPABB ESF25LGRCBB ESHS6PGYCESS ESL25XGSCBS GCE21YETAFBB GCG21ZESAFBB GCG23YESBFCC GSE23GGKECCC GSE25HBLJHTS GSE25HGHEHWW GSE25MGTJCWW GSE27NGBACSS GSF25TGTAWW GSHF3KGXCCWW GSHF3KGXGCBB GSHF6HGDBCBB GSHF6NGBBHBB GSHS3KGXGCSS GSHS6HGDECSS GSK25LGTBCCC GSR23WSSASS GSS23HGHECWW GSS23QGTACC GSS23WGSBCC GSS23WGTABB GSS25CGHHCBB GSS25GMHJCES GSS25KSWASS GSS25QGSBWW GSS25QSTBSS GSS25RGMFBB GSS25TSTBSS GSS25WGSCCC GSS25WGTICC GSS25XSRCSS LSHF5MGXBEWW PSE25KSHKHSS PSE26KGEGEWW PSK25MGWHCCC PSR26LGPCBB PSR26MSPASS PSR26UHPECC PSS26MGPBBB PSS27NGPACC PSS29NHSBWW PST29NHPCWW HSK27MGMJCCC RSK25LHSACCC
and more.
Compare Lowest Prices
Order Here! Your product number is WR32X22927. View the refrigerator crisper drawer item description, and buy the part on eBay below.