Great Price refrigerator crisper drawer works for GE Hotpoint RCA ESF25LGRAWW GCG23YESAFCC GSHF5MGXCEBB GSS25GGHFCWW GSS25VGSCCC PSS23MSSASS
and more.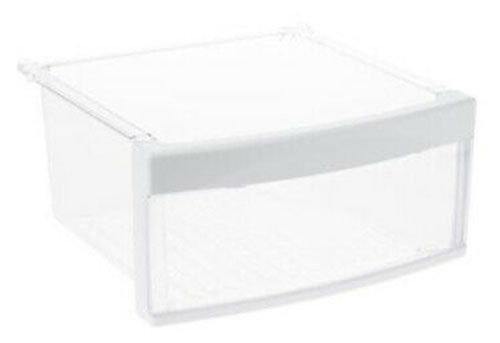 Refrigerator Crisper Pan
Product: Refrigerator Vegetable Middle Crisper Drawer Pan
Part Number: WR32X22927
Replace Parts: WR32X10343 WR32X10370 WR32X10574 4454554 PS11759183
Fits Brands: GE Hotpoint RCA
Fits Refrigerator Models
This refrigerator crisper pan drawer product works for the following GE Hotpoint RCA models.
DSE25JEMKCDS DSE26JMEBCES DSHF6VGBCCBB DSS25KSRCSS ESF25LGRBCC ESHF5MGXCEBB ESL25XGSBBS ESS25QSWASS GCG23MISBFBB GCG23YBSBFWW GSE23GGKJCWW GSE25GSHECSS GSE25HGHJHWW GSE25MGYCCSS GSE26HMEBHES GSF25TGWCWW GSHF3KGXCCWW GSHF5KGXBCWW GSHF5MGXGEBB GSHF6KGZBCWW GSHL6PHXIELS GSHS5MGXBESS GSHS9NGYACSS GSL23WGSABS GSS23HGHBCBB GSS23QGSBBB GSS23QSWASS GSS23WGSCBB GSS25CGHECBB GSS25GMHBCES GSS25KSTBSS GSS25QGSABB GSS25QGTKBB GSS25TGPAWW GSS25TGPCWW GSS25VGSCWW GSS25WGTIBB GSS25XGNAWW GSX25YBSBCWW LSS25XSTASS PSE26KSEGESS PSK27MGSBCCC PSR26LGPCBB PSR26UHPABB PSR26UHRESS PSS25MGNACC PSS26MSRASS PSSF3RGXCCC SSL27RGRABS HSK27MGWJCCC RSK25LCSDCCC
and more.
Compare Lowest Prices
Your item number is WR32X22927. View the refrigerator crisper pan product details, return services & refund policy, and compare best prices on eBay.