Search for refrigerator fresh meat drawer for GE Hotpoint Americana RCA GSF25IGXLWW GSH22JFPHWW GSS22QFMBCC GST25IFPAWW GSS25JEMBCC HSS25GDPCWW HSS25IFMDCC and more.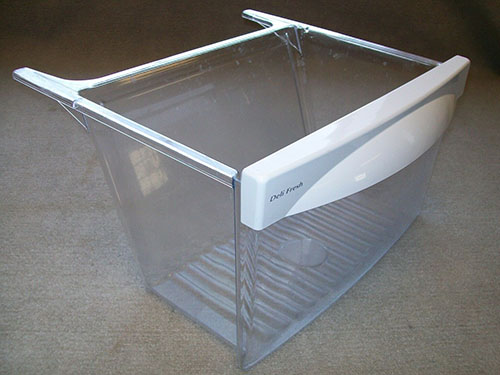 Refrigerator Meat Drawer
Product: Refrigerator Fresh Meat Drawer Pan
Part Number: WR32X10835
Replace Parts: WR32X10131 1812381 AP4981597
Fits Brands: GE Hotpoint Americana RCA
Fits Refrigerator Models
This refrigerator fresh meat drawer pan part works for the following GE Hotpoint Americana RCA models.
A4425GDTAWW BSS25GFPACC GSH25KGPCWW ESL22XGPCBS GSA22KBPHFBB GSE22KEBCFWW GSE25ETHDBB GSF25JGDCWW GSG22KEPDFWW GSG25MIPDFWW GSH22JFPCWW GSH22JFXKWW GSH22JSTASS GSH25JFTEWW GSH25JGCBBB GSL22JFXMLB GSL22QGPDBS GSS22IFPDBB GSS22JEPAWW GSS22JFMDWW GSS22KGPJWW GSS22QGPAWW GSS22SGMCBS GSS22UFPDWW GST22IBMACC GST22IBMDWW GST22KGPHBB GST25IFPHWW GSH22JFZBBB GSH22UFRECC GSH25IGRECC GSH25JFXNWW GSL25IGXBLS GSS25GFXJWW GSS25JEMBBB GSS25JETBWW GSS25JETIWW GSS25JFPHWW GSS25KGPEBB GSS25QFMDCC GSS25UFMCWW GSS25UFPJCC GSS25VGMCCC PSA22SIPAFSS PSG22SIPCFBS HSH22IFTCBB HSM25IFTESA HSS25GDPEWW HST22IFMACC HST22IFMDWW HSS22GFTEWW and more.
Compare Best Prices
Shop Here! The product number is WR32X10835. View the refrigerator fresh meat drawer pan item information, and compare lowest prices on eBay here.