Buy refrigerator meat drawer fits GE Hotpoint Americana RCA GSF25JGDSWW GSH25KGMCWW GSS22KGPDWW GST22JEPHWW GSS25SGPCSS HSH25IFTFBB RSG22IBPAFWW and more.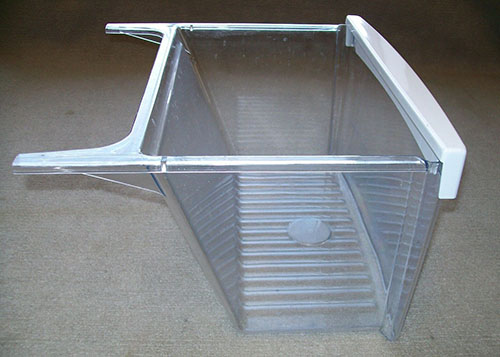 Refrigerator Meat Drawer
Product: Refrigerator Fresh Meat Drawer Pan
Part Number: WR32X10835
Replace Parts: WR32X10131 1812381 AP4981597 PS3487933 EAP3487933
Fits Brands: GE Hotpoint Americana RCA
Fits Refrigerator Models
This refrigerator meat drawer part fits the following GE Hotpoint Americana RCA models.
GSH25JSDDSS GSH25JFXJWW BSS25JFTGWW ESS22XGMDBB GSA22KEMDFWW GSE22KETCFBB GSF25IGXBBB GSF25IGZBBB GSG22KBPDFWW GSH22IFTECC GSH22JFPDCC GSH22JGBBCC GSH22JSXJSS GSH25JFXABB GSH25JGCBCC GSL22JFZCLB GSL22QGPHBS GSS22IBTGCC GSS22JEPACC GSS22JFPCWW GSS22KGPHWW GSS22QGPBCC GSS22SGMFBS GSS22WGMABB GSS22WGMCBB GST22IFPDCC GST22KGPABB GST25IFPHCC ESS22XGMCCC GSH22KGREWW GSH25JFPDCC GSH25JSTASS GSL25QGPHBS GSS22SGRFSS GSS25IFPDCC GSS25JEREBB GSS25JETEWW GSS25JFPAWW GSS25QFMABB GSS25QGMDBB GSS25UFMBBB GSS25VFPEWW PSA22MIPDFBB PSA22SIPAFSS SSS25KFMDWW SSS25SGPDSS HSS22GFTFWW HSS25GFTGWW HSS25GFTJCC HST22IFPCCC RSG22IBPHFWW and more.
Compare Lowest Prices
The right part number is WR32X10835. View the refrigerator fresh meat pan drawer part information, and buy the product on eBay below.