This is a GENUINE washing machine replacement part, Frigidaire Washer Door Boot Seal 134515300. It fits Frigidaire 970L48022A0, ATF6500FG0, FAFS4073NA0, FFFS5115PW0, GLTF2940ES1, LTF2140ES3, and more.
Frigidaire Washer Door Boot Seal 134515300
Product: Washer Door Boot Seal Rubber Gasket Bellow
Appliance Part: Washing Machine Washer Replacement Part
Part Number: 134515300
Compatible Brands: Crosley Frigidaire Kenmore White Westinghouse
Compatible Part Numbers: 1156861 AP3869103 PS1148773 EAP1148773 134365200 134551400 134740900 134741400 5304450475 P134551400
Fits Frigidaire Models:
This part fits the following Frigidaire front load washer, affinity washing machine, residential washers washing machine model. Use Ctrl+F to find your specific model below.
970L48022A0, ATF6000ES0, ATF6000ES1, ATF6000FS0, ATF6000FS1, ATF6000FS2, ATF6500FG0, ATF6500GG0, ATF6500GG1, ATF6500GS0, ATF6700FE0, ATF6700FE1, ATF6700FE2, ATF6700FS0, ATF6700FS1, ATF6700FS2, ATFB6000ES0, ATFB6000ES1, ATFB6000FS0, ATFB6700FS0, BAFW3574KW0, BKFW3517KT1, BKFW4271MT0, BLTF2940ES0, BLTF2940ES1, BLTF2940ES2, BLTF2940ES3, BLTF2940FS0, BLTF2940FS1, BLTF6100FS0, BLTF6100FS1
FAFS4073NA0, FAFS4073NR0, FAFS4073NW0, FAFS4272LA0, FAFS4272LN0, FAFS4272LR0, FAFS4272LW0, FAFW3001LW0, FAFW3001LW1, FAFW3001LW2, FAFW3511KB0, FAFW3511KR0, FAFW3511KW0, FAFW3511KW1, FAFW3514KA0, FAFW3514KA1, FAFW3514KN0, FAFW3514KN1, FAFW3517KA1, FAFW3517KB0, FAFW3517KB1, FAFW3517KN0, FAFW3517KN1, FAFW3517KR0, FAFW3517KR1, FAFW3517KT1, FAFW3517KW0, FAFW3517KW1, FAFW3574KA0, FAFW3574KB0, FAFW3574KN0, FAFW3574KR0, FAFW3574KW0, FAFW3801LB0, FAFW3801LB2, FAFW3801LW0, FAFW3801LW2, FAFW3801LW3, FAFW3801LW4, FAFW3801LW5, FAFW3921NW0, FAFW4011LB0, FAFW4011LW0, FAFW4221LB0, FAFW4221LW0
FFFS5115PA0, FFFS5115PW0, FFFW5100PW0, FRFW3700LW0, FTF2140ES0, FTF2140ES1, FTF2140ES2, FTF2140ES3, FTF2140FE0, FTF2140FE1, FTF2140FS0, FTF2140FS1, FTF2140FS2, FTF5000HS0, FTFB2940FE0, FTFB2940FE1, FTFB4000FS0, FTFB4000FS1, FTFB4000GS0, FTFB4000GS1, FWFB9100ES0, FWFB9100ES1, FWFB9200ES0, FWFB9200ES1, FWFB9200ES2
GLTF2940EE0, GLTF2940ES0, GLTF2940ES1, GLTF2940ES2, GLTF2940ES3, GLTF2940FA2, GLTF2940FE0, GLTF2940FE1, GLTF2940FE2, GLTF2940FS0, GLTF2940FS1, GLTF2940FS2
LAFW3511KB0, LAFW3511KW0, LAFW6000LW0, LAFW7000LW0, LTF2140ES0, LTF2140ES1, LTF2140ES2, LTF2140ES3, LTF2140FS0, LTF2140FS1, LTF2140FS2, LTF2940EE0, LTF2940ES0, LTF2940ES1, LTF2940ES2, LTF2940ES3, LTF2940FE0, LTF2940FE1, LTF2940FS1, LTF6000ES0, LTF6000ES1, LTF6000FS0, LTF6700FS0
How To Replace Washer Door Boot Seal
Watch this video, created by AppliancePartsPros, showing easy and simple step-by-step instructions on how to replace the washing machine door boot seal.
Tools Required: Phillips screwdriver, 5/16" nut driver, pair of pliers, and pair of needle nose pliers.
Compare Lowest Prices
Read more product details – Frigidaire Washer Door Boot Seal 134515300, view shipping information, return & warranty policy, and compare lowest price on eBay HERE!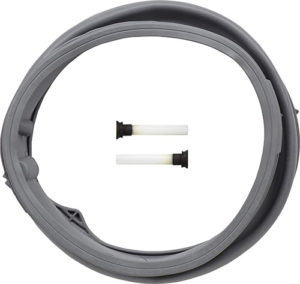 More Information
In addition to the GENUINE Frigidaire Washer Door Boot Seal 134515300, you can find more related information, such as Kenmore elite he5t washer door boot seal, Samsung washing machine door seal spring, Frigidaire affinity boot seal replacement, Frigidaire affinity washer bellow, and Frigidaire front load washer rubber seal mold.
If you need any help please feel free to contact us at any time.