Fix it Today! Home Circuit Control Board Repair Service – Frigidaire Oven Control Board Repair Service 316418735. This part replaces 1163608 AP3874704 PS1149757 B005BA397U parts and compatible with CGLES389FB1 GLES389EBB GLES389FQB GLES389EBA GLES389EQE CGLES389FS1 GLES389EQD GLES389EBD Frigidaire, Electrolux range/oven/stove models.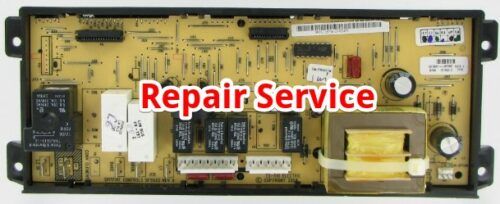 Frigidaire Oven Control Board Repair Service 316418735
Part No: 316418735
Replacement Parts: 1163608 AP3874704 PS1149757 B005BA397U
Fits Brands: Frigidaire, Electrolux
Service Type: Appliance Circuit Control Board Rebuild Services
Price: View more service details and Compare the Best Prices Below.
Fits Frigidaire Models:
This main control board part fits the following Frigidaire and Electrolux range/stove/oven models. Use Ctrl-F to find your appliance model as indicated.
CGLES389EB1 CGLES389EB2 CGLES389EB3 CGLES389EB4 CGLES389EB5 CGLES389ES1 CGLES389ES2 CGLES389ES3 CGLES389ES4 CGLES389ES5 CGLES389FB1 CGLES389FB2 CGLES389FB3 CGLES389FS1 CGLES389FS2 CGLES389FS3 CPLES399EC2 CPLES399EC3 CPLES399EC4 CPLES399EC5 CPLES399EC6 CPLES399EC7 GLES389EBA GLES389EBB GLES389EBC GLES389EBD GLES389EBE GLES389EQA GLES389EQB GLES389EQC GLES389EQD GLES389EQE GLES389ESA GLES389ESB GLES389ESC GLES389ESD GLES389ESE GLES389FBA GLES389FBB GLES389FBC GLES389FQA GLES389FQB GLES389FSA GLES389FSB GLES389FSC PLES389ECB PLES389ECC PLES389ECD PLES389ECE PLES389ECF PLES389ECG PLES389ECH PLES399ECB PLES399ECC PLES399ECD PLES399ECE PLES399ECF PLES399ECG
Compare Lowest Prices
To repair this board, please click the link below for more details.
>> Check Prices HERE! <<
Related Items: