Looking for genuine refrigerator crisper pan fits Frigidaire FFHI1817LS2 FFHT1816PS3 LFHT1817LB0 LFHT1817LW8 FRT18L4JW5 FRT18KP5DQ0 FRT18KG3DW4 and more.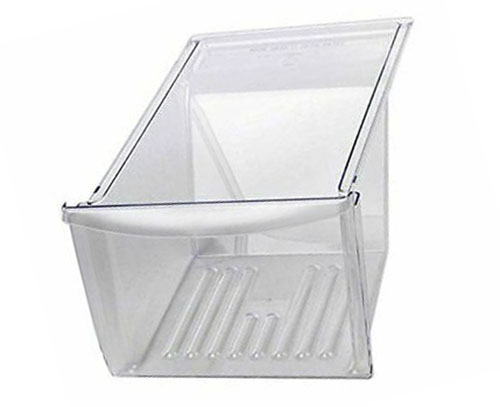 Refrigerator Crisper Drawer
Product: Refrigerator Vegetable Crisper Drawer Pan
Part Number: 240337103
Replace Parts: 240337105 240337107 240337108 240337109 AH429854
Fits Brands: Frigidaire Gibson Kenmore White-Westinghouse Crosley
Fits Frigidaire Refrigerator Models
This refrigerator crisper drawer pan part works for the following Frigidaire models.
FFHI1817LB4 FFHI1817LBB FFHI1817LS6 FFHI1817LW1 FFHI1817LW2 FFHI1826LB2 FFHI1826LB4 FFHI1826LK1 FFHI1826LS0 FFHI1826LS2 FFHI1826LW6 FFHI1826PS0 FFHI1826PS4 FFHT1814LB1 FFHT1814LB3 FFHT1814LBA FFHT1814LM1 FFHT1814LM8 FFHT1814LW3 FFHT1814LW9 FFHT1814LZ5 FFHT1816LK6 FFHT1816LS1 FFHT1816PS3 FFHT1817LB0 FFHT1817LBB FFHT1817LS0 FFHT1817LS9 FFHT1817LW2 FFHT1817LW6 FFHT1817LWC FFHT1826LB1 FFHT1826LB4 FFHT1826LBA FFHT1826LK6 FFHT1826LM0 FFHT1826LM5 FFHT1826LQ2 FFHT1826LQ8 FFHT1826LS0 FFHT1826LS7 FFHT1826LW2
FFHT1826LW8 FFHT1826LWD FFHT1831QM0 FFHT1831QP0 FRT18G5AW7 LFHT1817LB8 LFHT1817LF0 LFHT1817LF6 LFHT1817LFB LFHT1817LR8 LFHT1817LRB LFHT1817LW8 GLRT182SAW4 NFTR18X4LB4 NFTR18X4LBC NFTR18X4LS5 NFTR18X4LS7 NFTR18X4LW6 NFTR18X4LWB NFTR18X4PS0 NFTR18X4QW0 LFTR1814LWG CFHT1826LP1 CFHT1826LP6 CFHT1842LS6 CFHT1843LS1 CFHT1843LS5 CFHT1843LW3 CFHT1843PS0 FRT18IL6DMN GLRT83TESE FRT18L4JB0 FRT18L4JB9 FRT18L4JBE FRT18L4JBJ FRT18L4JBN FRT18L4JM6
FRT18L4JME FRT18L4JMJ FRT18L4JW3 FRT18L4JW7 FRT18L4JWE FRT18L4JWJ FFTR1814LB2 FFTR1814LB9 FFTR1814LBG FFTR1814LBN FFTR1814QW0 LGHT1837LP4 LFTR1814LB8 LFTR1814LBD LFTR1814LW5 LFTR1814LWA LFTR1814LWH LFTR1814NM4 FFTR1814LWK LFTR1814LW3 LGHT1837LP9 FFTR1814LW5 FRT18G5AQH FRT18KG3DSB FRT18KG3DW8 GLRT183TDQ8 GLRT183TDQB GLRT183TDQH GLRT183TDWD GLRT83TEK2 GLRT83TES4 GLRT83TES8 and more.
Compare Best Prices
The right product number is 240337103. View the refrigerator crisper pan drawer product details, return & refund policy, and shop the product on eBay below.
>> Compare Prices Here! <<
Other Appliance Replacement Parts: