Best Price new refrigerator crisper pan for Frigidaire FFHI1817LS1 FFHT1817LB2 FFHT1826LWD LFHT1817LW9 CFHT1843PS1 LFTR1814LW5 GLRT183TDW8 and more.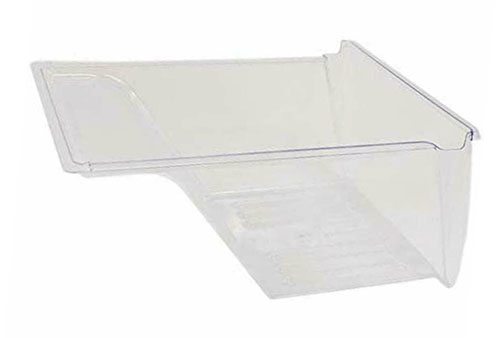 Refrigerator Crisper Pan Drawer
Product: Refrigerator Vegetable Crisper Drawer Pan
Part Number: 240337103
Replace Parts: 240337102 240337105 240337107 240337109 AH429854
Fits Brands: Frigidaire Gibson Kenmore White-Westinghouse Crosley
Fits Frigidaire Refrigerator Models
This refrigerator crisper pan item fits the following Frigidaire models.
FFHI1817LB2 FFHI1817LBB FFHI1817LS2 FFHI1817LW1 FFHI1817LW6 FFHI1826LB1 FFHI1826LB8 FFHI1826LBB FFHI1826LK6 FFHI1826LS2 FFHI1826LW4 FFHI1826LWB FFHI1826PS1 FFHT1814LB0 FFHT1814LB2 FFHT1814LBB FFHT1814LM6 FFHT1814LM9 FFHT1814LW2 FFHT1814LWA FFHT1814LZ5 FFHT1816LK5 FFHT1816LS0 FFHT1816PS0 FFHT1817LB0 FFHT1817LB8 FFHT1817LBC FFHT1817LSA FFHT1817LW0 FFHT1817LW8 FFHT1817LWB FFHT1821QB0 FFHT1826LB5 FFHT1826LK0 FFHT1826LK3 FFHT1826LKA FFHT1826LM7 FFHT1826LQ1 FFHT1826LQ4 FFHT1826LS0 FFHT1826LS7 FFHT1826LW3 FFHT1826LW7 FFHT1826PS1 FFHT1831QE1 FFHT1842LS0 LFHT1817LB1 LFHT1817LB6 LFHT1817LBA LFHT1817LF9 LFHT1817LR4 LFHT1817LR6 LFHT1817LW2 LFHT1817LWA FRT18HS6JW4 NFTR18X4LB7 NFTR18X4LBC NFTR18X4LS4 NFTR18X4LW0 NFTR18X4LWA NFTR18X4LWD NFTR18X4PS3 NFTR18X4QW0 CFHT1814LZ0 CFHT1826LP1 CFHT1826LP4 CFHT1842PS0 CFHT1843LS2 CFHT1843LW0 CFHT1843LW2 CFHT1843PS2 GLRT83TEKF GLRT83TESE FRT18L4JB0 FRT18L4JB8 FRT18L4JBD FRT18L4JBH FRT18L4JBR FRT18L4JM8 FRT18L4JMA FRT18L4JMG FRT18L4JW3 FRT18L4JW7 FRT18L4JWE FRT18L4JWM FRT18L4JWN FFTR1814LB5 FFTR1814LBB FFTR1814LBN FRT8G6FW4 FRT18HS6JQ4 LFTR1814LB1 LFTR1814LBE LFTR1814LBH LFTR1814LWE LFTR1814LWH LFTR1814NM3 FFTR1814LWK FRT18S6AWA FRT18S6AWE BRT18HP7GW0 FRT18G4AWD FRT18KG3DW6 FRT18KG3DW7 GLRT183TDQ4 GLRT183TDQD GLRT183TDW6 GLRT183TDWG GLRT83TEKA GLRT83TES2 GLRT83TES8 and more.
Compare Lowest Prices
The right product number is 240337103. View the refrigerator crisper drawer part description, return services & refund services, and compare best prices on eBay below.