Get Cheap Price Frigidaire 5304509493 Oven Control Board Replacement Parts. For AP6248375 316557115 PS12114577 4547461 316418200 EAP12114577 models and others. Shop Today.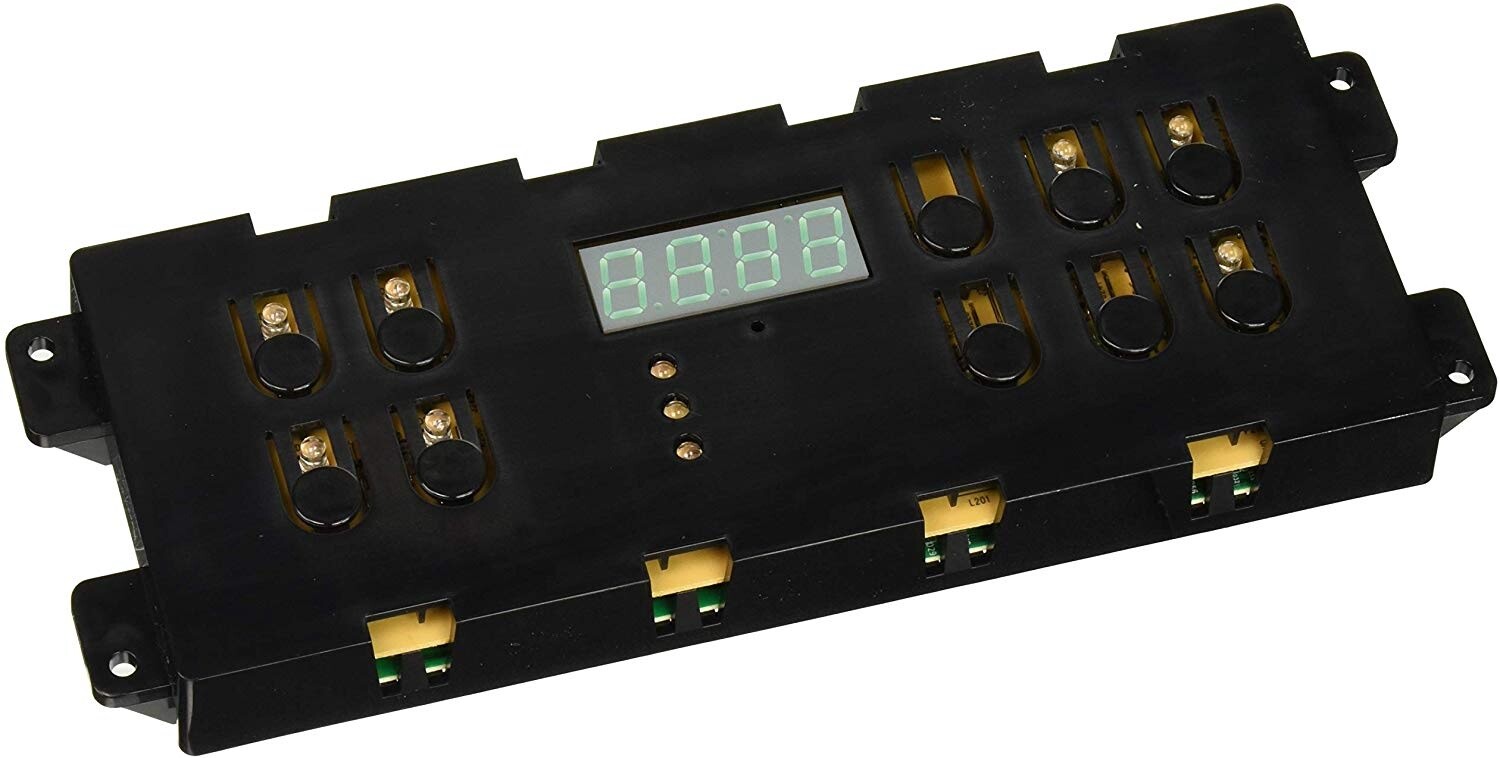 Frigidaire 5304509493 Oven Control Board Replacement Parts
Item: 2-3 Days DeliveryGenuine OEM Frigidaire 5304509493 Oven Control Board 316557115
Part No: Frigidaire 5304509493
Replaces Parts: 316418200 316557115 EAP12114577 4547461 PS12114577 AP6248375
Compatible Brands: Kelvinator Frigidaire Tappan Crosley
Item Type: Stove Range Oven Replacement Parts, Range Oven Control Board
Item Location: SAME-DAY-SHIP-12-Warehouse in, United States
Ship To: United States, Canada
Return Policy: Free 60 day returns
Condition: New
Product Price: US $190.26
See more details and Compare Prices Below.
==> Click Here to Check the Lowest Prices TODAY! <==
Fits Models:
This Frigidaire 5304509493 suits the following models. Press Ctrl-F to find your appliance model listed as follows.
FFEF3018LBA CRE3875SSC FFEF3018LMD CFEF3050LSM LFEF3017LMC LFEF3017LQB CFEF366GSA CFEF366GCE FEF366LSC FFEF3050LSR FFEF3050LSD CFEF3046LSM FFEF3018LBJ CFEF3048LSJ CFEF3018LMB CFEF3016LBA CFEF3018LWE CFEF3050LSE FFEF3018LBB CFEF355FCF FFEF3018LQD LFEF3048QFC CFEF3016LWG CFEF366EMG FFEF3018LWE CRE3880LSC CFEF355FBB CFEF366GSE CFEF368JCA FFEF3017LSH FFEF3017ZWD FFEF3017ZWA FFEF3048LSR BKEF3048LSC CFEF3018LME LFEF3018LWB CFEF3050LSK LFEF3017LMA CFEF3014LSA FFEF3016LBE CFEF376GCC FFEF3018LSF CFEF376GCF CCRE3880LSB CRE3860QWA FFEF3018LWG CFEF364HSD CFEF355FSA CFEF3048LSE FFEF3020LWE FFEF3016LBA CRE3880LWA CRE3880LSJ FEFL68GMK
FFEF3020LWG FFEF3016LWF CFEF3018LMM CFEF3052LSD CRE3880LSE BKEF3048LSM LFEF3017LMD FFEF3017LBB CFEF3050LSF CFEF355FCG FFEF3016LWA FFEF3016LBB CFEF3014LSB FFEF3016LWB FFEF3048LSE FFEF3017LBD FFEF3017LSD CFEF366GCH FFEF3017LSB FFEF3018LMK CFEF3014TWC CRE3860QBB CFEF3016LBE CRE3875SSD FFEF3018LME FFEF3016LBC FFEF3050LSC FFEF3048LSM FFEF3017LWC CRE3880LSD FFEF3018LBH FFEF3018LMB FFEF3018LSG FFEF3018LQH CFEF3050LSH LFEF3018LWD FFEF3017ZWE CFEF366GCA CFEF3014TWA CFEF3052LSC FFEF3018LBE LFEF3017LSB FFEF3017LSA FFEF3018LQE CFEF3050LSC CRE3860QWC FFEF3017LSE CFEF3016LBF
CFEF368JCB CFEF3052LSF FFEF3018LBD CFEF3020LWA CFEF3020LWF FFEF3048LSD CRE3860QBC KEF355ESM FFEF3018LQB CFEF366GCG FFEF3050LSH CFEF3046LSA FFEF3020LBA CFEF366EMF CFEF355FSB CFEF376GBA CFEF3022LWB FFEF3048LSF CFEF3022LWC LFEF3017LSD CFEF376GBD FEF366ESN CFEF376GSE FFEF3018LQA FFEF3050LSJ CFEF3046LSC KEF355XSA FFEF3020LBB CRE3875SSA FFEF3018LWC CFEF3048LSM CCRE3880LWB CFEF3050LSD CFEF3018LMH LFEF3018LWA CFEF355FSD CCRE3880LWF FFEF3048LSJ CFEF364HSB FFEF3048LSB FFEF3017LSK CFEF3048LSC
CFEF3046LSD FFEF3018LBC FFEF3017LBA CFEF3052LSG FFEF3018LMH FFEF3018LSD CFEF3016LBB CFEF3018LBE FFEF3017ZWB FFEF3020LBF CFEF3020LWE CFEF355FSE CFEF3014LWF FFEF3016LBF CFEF3048LSG CFEF364HSA FFEF3050LSF CFEF3016LWE KEF355XSB FFEF3017LSG LFEF3017LWD CCRE3880LWA LFEF3016LWA FFEF3048LSG LFEF3017LSC FFEF3018LQJ WWEF3008TWC CFEF355FBD FFEF3020LWF FFEF3017LSC FFEF3017LWE FFEF3050LSB CFEF355FCD FFEF3048LSA CRE3880LWE FFEF3048LSN FFEF3018LBF CFEF3016LWD CFEF3048LSP LFEF3017LSE CFEF3016LBG FFEF3017XSA
CRE3880LSM LFEF3018LWF CFEF3050LSN FFEF3050LSE CFEF376GCG LFEF3018LWC CFEF366GSB CFEF3048LSR CFEF376GCD FFEF3018LMM CFEF376GSB FFEF3018LMC CFEF3018LMC LFEF3048QFA WWEF3008TWA FFEF3017XSB CFEF3014TWB BKEF3048LSK FFEF3050LSM CFEF3046LSJ CFEF368JCC CFEF3018LWB CFEF355FCC CFEF3048LSK CFEF3018LWF LFEF3018LWG FFEF3018LWA CFEF3022LWA FFEF3017LWB CFEF376GSA LFEF3017LBC FFEF3018LBK CFEF3014LWC CFEF3046LSH KEF355ESJ FFEF3020LWB LFEF3017LWC CFEF3046LSF KEF355XSC FFEF3016LWD FFEF3017LBC CRE3880LWG CFEF366GCB FFEF3050LSK BKEF3048LSE CFEF3016LBD CRE3860QBA CFEF3016LWH
CFEF3018LWK LFEF3017LMB CFEF3016LWJ CFEF376GBE CFEF3020LBC CFEF355FBC CRE3880LSG FFEF3018LWJ FFEF3018LQC FFEF3017LSJ CFEF3016LWK CFEF355FCB CFEF366GBB LFEF3017LBD CRE3880LWC FFEF3018LMA CCRE3880LSC CFEF376GBC FFEF3017XWA CFEF3020LWC FFEF3018LWB FFEF3048LSH CFEF366GCF CFEF3014LWD CFEF366GCD FFEF3016LBD CFEF3048LSA CFEF3048LSH CFEF3046LSK CFEF376GCB CFEF3050LSA CFEF3018LBK FFEF3016LWC CFEF366EMB CFEF3018LMG CFEF376GBB LFEF3017LBA FFEF3018LQG FFEF3018LWH CFEF3020LWG CFEF3046LSG CRE3860QWB
CFEF3050LSJ CFEF3046LSN KEF355XSD FFEF3018LMF FFEF3048LSK FFEF3050LSX FEFL67HCK CFEF366GBA CFEF3020LWD CFEF3048LSF FEF366LSB CFEF3020LBD TEF351EWS LFEF3016LWB CFEF366EMK CRE3880LSA CFEF3018LBF FFEF3018LWD LFEF3017LBB CFEF3050LSG CFEF355FSC BKEF3048LSF CFEF376GCE CFEF3046LSB CFEF376GSD BKEF3048LSD LFEF3018LWE CFEF3020LBA FFEF3048LSC BKEF3048LSB CFEF3016LWB CFEF3016LWA CFEF366EMJ FFEF3050LSN CFEF3014LWB CFEF3018LMA
CFEF3016LWC KEF355ESK CFEF376GCA LFEF3017LWB CFEF366GCC BKEF3048LSJ CFEF3018LMF BKEF3048LSH CFEF3018LWC CFEF376GSC CFEF364HSC CFEF366EMC CFEF3048LSD CFEF3018LBA CFEF3016LWF FFEF3020LWD CRE3880LWB CFEF3018LWG CFEF368JCD CFEF3020LBE LFEF3017LSA TEF351EWR CFEF366GSD CFEF3018LWA FFEF3050LSA FFEF3017ZWC FFEF3018LBG CFEF355FBA FFEF3020LBC FFEF3020LBE
CFEF3048LSB LFEF3048QFB TEF351EWP FFEF3018LSC FFEF3018LQF CRE3880LSK CFEF3018LBD CCRE3880LWC BKEF3048LSG CFEF3018LBG CFEF3020LWH CRE3880LWJ CFEF366GBE CFEF366EMH FFEF3017LSF CFEF3046LSE LFEF3017LQA FFEF3018LWF CFEF3018LBC FFEF3020LWA FFEF3050LSP LFEF3017LWA FFEF3020LWC CFEF3018LBB CFEF366EME FFEF3018LMG CFEF3014LSC CRE3880LWF CFEF3018LWD FFEF3017LWD CFEF364HSE FFEF3020LBD CFEF366EMD FFEF3016LWE CFEF355FCE
Compare Best Prices
Get the Best Deals! View more Frigidaire 5304509493 product details, item conditions, shipping information, parts warranty, and payment methods. Many sellers promote this pre-owned part at the store online. You can check the best prices below.
==> Click Here to Compare Prices Today! <==
Other Information
On the Internet, many sellers offer a variety of home appliance replacement parts, like Kitchenaid Dishwasher Pump And Motor Assembly, LG Refrigerator Defrost Control Assembly, Whirlpool Refrigerator Control Board Repair, and GE Dishwasher Control Board, also covering the Frigidaire 5304509493 Oven Control Board Replacement Parts.
For other top appliance brands, such as Frigidaire, you can find its products, parts, and services on the store online.
More Home Appliance Parts:
Need support now? If you can not find the correct part for your appliance model or have any message, please leave a message in the comment box down below. We will find the part and respond to you ASAP. Repair It Now!