Cheap Price Samsung Refrigerator Freezer Fridge Door Handle Assembly DA64-03945D. Suits for RF28HFEDBBC/AA-07 RF28HMEDBBC/AA-07 RF263TEAEBC/AA-04 RF28HDEDPBC/AA-06 RF263BEAEBC/AA-03 RF28HFEDTBC/AA-04 RF263TEAEBC/AA-00 RF28HDEDPBC/AA-07 models and more. Fast Delivery!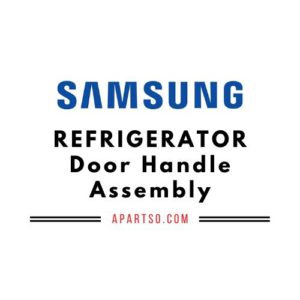 Samsung Refrigerator Freezer Fridge Door Handle DA64-03945D
Product: Samsung DA64-03945D HANDLE BAR – FRE AW1 – 12 AW NEW ORIGINAL
Item Location: US, United States
Ship To: United States
Policy: 60 day returns. Buyer pays for return shipping
Condition: New
Price: US $69.03
See more details and Check Latest on eBay or Get Best Price Below.
Fits Samsung Refrigerator Models:
The Refrigerator Door Handle DA64-03945D part fits the following Samsung models. Use Ctrl-F to find your specific model below.
RF23HCEDBBC/AA-00 RF23HCEDBBCAA0000 RF260BEAEBC/AA-01 RF260BEAEBC/AA-02 RF261BEAEBC/AA-01 RF263BEAEBC/AA-01 RF263BEAEBC/AA-02 RF263BEAEBC/AA-03 RF263TEAEBC/AA-00 RF263TEAEBC/AA-01 RF263TEAEBC/AA-02 RF263TEAEBC/AA-04 RF26HFENDBC/AA-00 RF28HDEDPBC/AA-00 RF28HDEDPBC/AA-01 RF28HDEDPBC/AA-02 RF28HDEDPBC/AA-03 RF28HDEDPBC/AA-04 RF28HDEDPBC/AA-05 RF28HDEDPBC/AA-06 RF28HDEDPBC/AA-07 RF28HDEDPBC/AA-08 RF28HFEDBBC/AA-00 RF28HFEDBBC/AA-01 RF28HFEDBBC/AA-02 RF28HFEDBBC/AA-03 RF28HFEDBBC/AA-04 RF28HFEDBBC/AA-05 RF28HFEDBBC/AA-06 RF28HFEDBBC/AA-07 RF28HFEDBBC/AA-08 RF28HFEDBBC/AA-09 RF28HFEDTBC/AA-00 RF28HFEDTBC/AA-01 RF28HFEDTBC/AA-02 RF28HFEDTBC/AA-03 RF28HFEDTBC/AA-04 RF28HFEDTBC/AA-05 RF28HFEDTBC/AA-06 RF28HFEDTBC/AA-07 RF28HFEDTBC/AA-08 RF28HFEDTBC/AA-09 RF28HFEDTBCAA0000 RF28HFEDTBCAA0001 RF28HFEDTBCAA0002 RF28HFEDTBCAA0003 RF28HMEDBBC/AA-00 RF28HMEDBBC/AA-01 RF28HMEDBBC/AA-02 RF28HMEDBBC/AA-03 RF28HMEDBBC/AA-04 RF28HMEDBBC/AA-05 RF28HMEDBBC/AA-06 RF28HMEDBBC/AA-07 RF28HMEDBBC/AA-08 RF28HMEDBBCAA0000 RF31FMEDBBC/AA-01 RF31FMEDBBC/AA-02 RF31FMEDBBC/AA-03 RF31FMEDBBC/AA-04 RF31FMEDBBC/AA-05 RF31FMEDBBC/AA-06 RF323TEDBBC/AA-01 RF323TEDBBC/AA-02 RF323TEDBBC/AA-03 RF323TEDBBC/AA-04
Compare Lowest Prices
Get more Refrigerator Door Handle DA64-03945D product details, item conditions, shipping information, return & refund policy, and get the best on eBay HERE!

Contact Us: If you need any help with finding the correct part for your specific appliance model or have any message, please write your message at the comment box below. We will search the part and get back to you soon. Thank you.