Great Price Oven Control Board Replacement for Crosley Frigidaire Kenmore Tappan CRG3140GBBB CRG3160GBBA FFGF3015LBD FGF337AUF LFGF3052TFB Fast Shipping!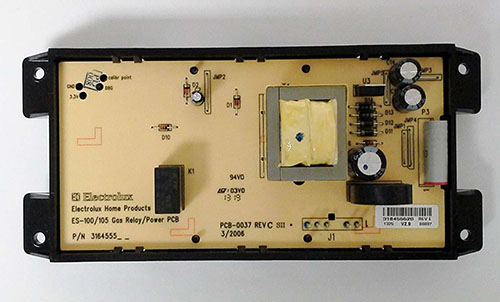 Oven Electronic Circuit Board
Product: Oven Electronic Circuit Control Board PCB Assembly
Part Number: 316455410
Replace Parts: 316222800 316222802 316222802R 316455410 5304427745
Fits Brands: Crosley Frigidaire Kenmore Tappan White-Westinghouse
Fits Oven Models:
This Main Control Board 316455410 fits the following Crosley Frigidaire Kenmore Tappan oven models. Use Ctrl+F to find your particular model listed below.
CRG3140GBBD CRG3140GQQG CRG3150LQA CRG3150LWD CRG3150PSC CRG3160GWWB CRG3160GWWF CRP3160GWWB CFGF3017LWB FFGF3011LBB FFGF3011RSB FFGF3012TWA FFGF3015LBC FFGF3015LWF FFGF3016TMA FFGF3017LSG FFGF3017LWF FFGF3047LSG FFGF3051TSA FFLF3047LSA FFLF3049SSA FGF326AUD FGF326AUJ FGF328FSA FGF328GBX
FGF328GSH FGF337ABJ FGF337AUD FGF337AWD FGF337BCF FGF337GBE FGF337GSA FGF337GUB FGF348KCA FGF348KCJ FGFB337GCB FGFS36FWB FLF337AUD FLF337AWE FLF337EUJ LFGF3014LBC 79071410401 79071410403 79071420402 79071452600 79071511401 79071513403 79071521400 79071541600 79071552600 TGF328GSE TGF336ASD TGF336AWD TGFS26CBB WWGF3008TWB and more.
Compare Lowest Price
Your part number is 316455410. View more Oven 33003028 PCB Control Board part description, item condition, shipping & payment methods, and Compare Best Prices on eBay HERE!
Other Appliance Replacement Parts: