Looking for Oven Range Control Board Repair for Crosley Frigidaire Kenmore Tappan CRG3150LQA CRG3160GWWC FFGF3015LWE FGF348KCE TGFS26CBA Free Shipping!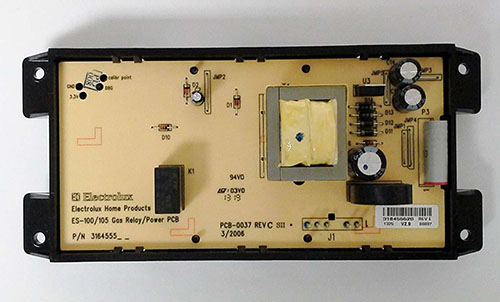 Oven Stove Electronic Control Board
Product: Oven Range Stove Circuit Main Control Board
Part Number: 316455410
Replace Parts: 316222800 316222802 316222802R 316455410 5304427745
Fits Brands: Crosley Frigidaire Kenmore Tappan White-Westinghouse
Fits Oven Models:
This item 316455410 fits the following Crosley Frigidaire Kenmore Tappan oven range models. Use Ctrl+F to find your appliance model below.
CRG3140GQQF CRG3140GWWD CRG3150LQA CRG3150LSA CRG3150PBC CRG3160GBBC CRG3160GQQA CRG3180PWA CRP3160GQQB CRP3160GWWC CFGF337GSA FFGF3011LBC FFGF3011LWE FFGF3012TBB FFGF3012TWC FFGF3015LBB FFGF3015LMB FFGF3015LWG FFGF3017LBE FFGF3017LSD FFGF3017LWH FFGF3019LWF FFGF3019LWJ FFGF3049LSK FFLF3015LMA FFLF3047LSB FGF319KSB FGF326ASB FGF326AUE FGF326KBC FGF328FBA FGF328GMB FGF328GSD FGF328GSH FGF337ABE FGF337ASD FGF337AWF FGF337BCD FGF337ECD FGF337EWC FGF337GCE FGF337GSD FGF337GUC FGF345GSC FGF348KCE FGF348KMB FGFB337GCE FGFS36FUD FLF337AUB FLF337AWD FLF337AWH FLF337ECS FLF337EWD FLF337EWM 79071410400 79071411401 79071420400 79071422401 79071441600 79071512404 79071514400 79071521401 79071523402 79071524403 79071552600 79071553600 TGF328GSD TGF336AUA TGF336AWC TGF336AWG TGF351RBA TGFS26CSA and more.
Compare Lowest Price
Please Check! Your part number is 316455410. Read more Oven 33003028 Electronic Control Board item description, return & refund policy, and Compare Prices on eBay HERE!