Fast and Free Shipping! Refrigerator Display Control Board – Genuine Samsung DA92-00368B Fridge Control Board. For EAP4168054 3969897 AP5620842 PS4168054 models and others. Shop online!
GENUINE Samsung Refrigerator Electronic Control Board DA92-00368B
Product: Samsung DA92-00368B Refrigerator Dispenser Control Board Genuine OEM part
Part Number: DA92-00368B
Replacement Part Number: EAP4168054 3969897 AP5620842 PS4168054
Fits Brands: Samsung
Product or Service Type: Fridge Circuit Board Replacement Parts
Item Location: United States, United States
Ship To: United States
Policy: Free 30 day returns
Condition: New
Price: US $117.32
See more item details and Check Price Below.
==> Click Here to Compare Prices on eBay TODAY! <==
Fits Fridge Models:
Find the correct replacement part. This Samsung Fridge Parts DA92-00368B Main Board can be used for the following models. Hit Ctrl-F to search your specific model as shown.
RF263BEAEBC/AA-01 RF263BEAESR/AA-02 RF263BEAEBC/AA-02 RF263TEAEWW/AA-03 RF263BEAESG/AA-03 RF263BEAEBC/AA-07 RF263BEAESG/AA-01 RF263BEAEWW/AA-00 RF263BEAESR/AA-04 RF263BEAESR/AA-07 RF263BEAESG/AA-00 RF263BEAEBC/AA-05 RF263BEAEBC/AA-06 RF263BEAEWW/AA-06 RF263BEAESP/AA-01 RF263BEAEWW/AA-04 RF263BEAESP/AA-04 RF263BEAESR/AA-06 RF263BEAESR/AA-05 RF263TEAESG/AA-01
RF263BEAEWW/AA-02 RF263BEAESR/AA-01 RF263BEAESR/AA-03 RF263BEAESG/AA-02 RF263BEAEWW/AA-01 RF263BEAESP/AA-02 RF263TEAEWW/AA-02 RF263BEAESR/AA-00 RF263BEAEBC/AA-00 RF263BEAEWW/AA-05 RF263BEAESG/AA-04 RF263BEAEWW/AA-07 RF263BEAESP/AA-03 RF263BEAEBC/AA-04 RF263BEAEWW/AA-03 RF263BEAEBC/AA-03 RF263BEAESPAA0001
Compare Best Prices
Get the Best Price! Get more DA92-00368B product details, item conditions, shipping information, return & money-back policy, and other useful details. Many sellers offer this part on the market. Please view the best prices below.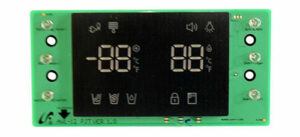 ==> Click Here to Compare the Lowest Prices on eBay! <==
More Information
Moreover the Samsung Refrigerator Main Board DA92-00368B, there are many home appliance parts offered on the market, for instance, oven control board, washer replacement parts, oven thermostat, oven door glass, affinity washer control board, and range cooktop griddle. For other popular home appliance brands, e.g. Electrolux, you are able to see its products, parts, accessories, and services on the Internet.
More Samsung Fridge Replacement Parts:
Do not wait! Please do not hesitate to contact us if you can not find the compatible part for your appliance model. We will search for the part and respond to you as soon as possible. Thank you so much.