Check Price refrigerator crisper drawer pan for Crosley CRT182HQB1 CRT182QW1 CRT185HPB1 CRT185LW2 CRT188HLW0 CRTE183AW8 and more.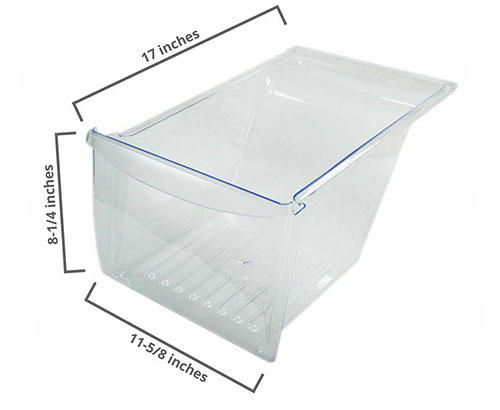 Refrigerator Crisper Pan
Product: Refrigerator Vegetable Crisper Drawer Pan
Part Number: 240337103
Replace Parts: 240337102 240337105 240337107 240337108 240337109 AP2115849
Fits Brands: Crosley Frigidaire Gibson Kenmore White-Westinghouse
Fits Crosley Refrigerator Models
This refrigerator crisper pan drawer part works for the following Crosley models.
CRT181LW0 CRT181LW9 CRT181LWB CRT181LWF CRT182HNB4 CRT182HNB6 CRT182HNW3 CRT182HNW6 CRT182IPB2 CRT182IPW2 CRT182IQW1 CRT182NB5 CRT182NB6 CRT182NBA CRT182NW5 CRT182NW7 CRT182QB3 CRT182QW1 CRT185HLB2 CRT185HLQ1 CRT185HLQ7 CRT185HLS3 CRT185HLS4 CRT185HLW4 CRT185HPB3 CRT185HPW2 CRT185ILB3 CRT185ILB5 CRT185ILS2 CRT185ILW1 CRT185ILW2 CRT185ILW8 CRT185IPW4 CRT185LB3 CRT185LB8 CRT185LS1 CRT185LS4 CRT185LW1 CRT185LW4 CRT185LW8 CRT185PB6 CRT185PS2 CRT185PS6 CRT185PW5 CRT188HLB4 CRT188HLS0 CRT188HLS1 CRT188HLW3 CRT18CDMB0 CRTE181AW1 CRTE181AW7 CRTE183ABK CRTE183AQK CRTE183ASM CRTE183IAS2 CRTE183IAW0 CRTE183AQB CRTE183AW8 CRTE183AWE CRTE187EB2 CRTE187EQ0 CRTE187EW2 and more.
Compare Lowest Prices
Great Price! Your product number is 240337103. View the refrigerator crisper drawer pan part information, return services & warranty policy, and compare lowest prices on eBay here.