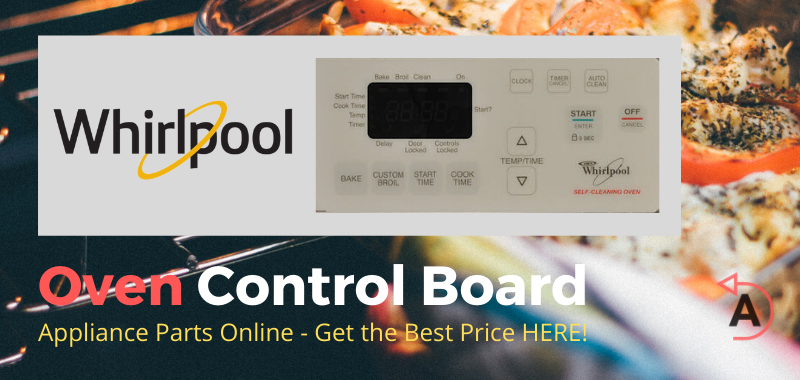 Find GENUINE appliance replacement parts for the top appliance parts store online, Whirlpool oven parts, electronic main control board (white) here. Get the best price & fast shipping.
The oven electronic main control board controls the oven burners and houses the digital display. If your oven does not work properly, some common problems related to the control board are:
The Oven shows F1 or other error codes.
The Oven's bake or broil element doesn't heat or reach temperature.
The oven doesn't turn off.
So, replacing the main control board could solve those problems.
Below is the list of Whirlpool oven control board replacement parts. Check your appliance models, find the right replacement part (use Ctrl+F), compare the best price, learn how to replace the oven control board. Repair it yourself – Save Time & Save Money!
List of Whirlpool Oven Parts – Main Control Board (White)
Whirlpool Oven Control Board WPW10734611
Whirlpool Oven Control Board WP6610457
Whirlpool Oven Control Board WPW10476680
Whirlpool Oven Control Board W11122557
Whirlpool Oven Control Board 6610157
Whirlpool Oven Control Board WP6610450
Whirlpool Oven Control Board W11113908
Whirlpool Oven Control Board W11122546
Whirlpool Oven Control Board WPW10476684
Whirlpool Oven Control Board WP8300428
---
Whirlpool Oven Control Board WPW10734611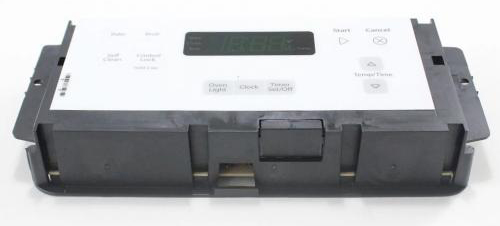 Part No: WPW10734611
Replacement Parts: W10734611 W10348623 AP6023973 4449417 EAP11757322 PS11757322
Fits Brands: Whirlpool
Fits Types: 30″ Electric Freestanding Range
Fits Models: WFE510S0AS0 YWFE510S0EB0 WFE510S0AW0 YWFE510S0EW0 WFE510S0AT0 YWFE510S0AS0 WFE510S0AD0 YWFE510S0AW0 YWFE510S0ES0 YWFE510S0AB0
---
Whirlpool Oven Control Board WP6610457
Part No: WP6610457
Replacement Parts: 9755982 6610309 PS985982 8524327 EAP985982 6610452R 9761115 1176496 6610312 8522488 9760304 8522473 9760299 9761120 6610457 8522491 6610452 6610383 8522476 6610406 8524292 6610309R 8524318 6610397 8524277 8524303 6610312R AP3851122
Fits Brands: Whirlpool, Roper, Magic-Chef, Estate
Fits Types: 30″ Electric Freestanding Range
Fits Models:
RF369LXPQ1 RF368LXPB1 RF196LXMQ1 TES355MQ1 RF364PXKQ0 RF365PXKW0 RF364PXKV1 RF196LXMB3 FES325RQ2 RF367LXMV0 TES355TQ0 RF380LXPS0 FES355RQ0 RF198LXMB0 RF369LXPT0 RF198LXMC0 RF365PXMW1 RF198LXMS0 RF365PXMW2 TES355MT0 RF378LXMT0 FES355TQ1 RF378LXPQ3 WERP3000PQ0 RF365PXMT3 RF367LXKQ0 RF378LXPB3 TES355MT2 RF378LXPS3 RF380LXMQ0 RF364PXKW1 RF370LXPQ2 RF364PXMW0 RF368LXPB3 RF364PXKW0 RF380LXPQ2 FES325RQ1
RF362BXKV1 RF369LXPQ3 RF365PXMQ3 RF364PXPQ3 RF364LXMQ0 RF367LXMW0 RF378LXPT0 RF365PXKT0 RF364PXKT0 RF196LXMT2 RF370LXPQ0 RF368LXPQ1 RF364PXPB0 TES355TB0 RF370LXPT3 RF378LXPS0 RF196LXMB4 RF378LXMB0 RF370LXPT1 RF196LXMQ3 RF367LXMT0 RF380LXPQ0 RF365PXMV0 RF364LXKT1 RF364PXKQ1 RF380LXPT3 IES355RQ1 RF380LXPB3 RF368LXPB2 IMP33802 RF378LXPS2 RF362BXMV0 RF378LXPT2 FES355TQ0 RF378LXMS0 RF368LXKS1 RF362BXKQ1
RF196LXMT3 RF367LXKT0 RF370LXPT0 RF369LXPB1 RF378LXPB2 RF369LXPT2 RF368LXKQ0 RF368LXPS3 RF368LXKW0 IES355RQ2 RF364PXPB3 WERP3000PQ4 RF196LXMB1 TES355MQ5 RF365PXMT2 TES355MB4 TES355MB5 RF364PXPW0 RF196LXMB2 RF368LXKT0 RF364PXPQ2 RF364PXPW3 RF364LXKT0 RF196LXMS4 RF368LXKQ1 RF368LXKP0 RF365PXMV2 IMP85800 RF365PXMW0 RF362BXMT0 FES355RQ1 RF368LXPT1 RF378LXPB0 RF370LXPQ1 RF365PXMQ2 RF364PXKT1 RF368LXMS0 RF365PXMT1
RF370LXPS3 RF365PXMQ0 RF196LXMB0 RF379LXMT0 TES355MQ0 RF362BXKV0 RF367LXMQ0 RF362BXKQ0 RF362BXMQ0 RF370LXPS0 RF196LXMT0 RF365PXKV0 RF365PXMT0 RF364PXPT3 RF198LXMP0 RF368LXMT0 RF368LXPT2 RF380LXPT0 RF196LXMT4 RF362BXKT0 TES355MQ2 RF379LXMQ0 RF364PXPT1 FES325RQ0 RF370LXPS1 RF365PXMW3 RF364LXMT0 RF370LXPB1 RF368LXPT3 IMP85801 RF368LXPQ0 RF196LXMQ2 CERS858TCD0 RF368LXPQ3 RF365PXMQ1 RF364PXPW2 RF380LXPB2
FES355RQ2 RF364LXKQ0 RF364PXPB2 RF364LXKQ1 WERP3000PQ1 RF370LXPQ3 WERP3000PB4 IES355RQ0 RF364PXMT0 RF364PXPQ1 RF380LXMT0 RF380LXPQ3 RF368LXPS1 RF364PXPT0 RF365PXKQ0 RF196LXMQ0 RF378LXPQ0 RF368LXKV0 RF196LXMQ4 RF380LXPB0 IMP33801 RF370LXPB0 RF368LXKT1 RF369LXPB2 RF196LXMT1 RF368LXPT0 RF364PXPT2 RF364LXMB0 RF362BXKW1 TES355MT1 TES355MQ4 RF367LXMB0 TES355MQ3 RF380LXPT2 RF368LXPB0 RF362BXKW0 RF369LXPB0
RF370LXPT2 RF369LXPQ0 RF368LXPS0 FES355TB1 RF369LXPT1 RF378LXMQ0 RF368LXPQ2 RF364PXPB1 WERP3000PQ3 RF368LXKB0 RF378LXPQ2 RF362BXKT1 RF368LXMB0 RF365PXMV1 RF364PXPQ0 RF368LXKB1 RF370LXPS2 RF364PXKV0 RF368LXMQ0 RF367LXKV0 RF364PXPW1 RF364PXMQ0 RF364PXMV0 RF367LXKW0 RF368LXPS2 IMP85802 RF369LXPB3 FES355TB0 RF380LXPS2 CERS858TCW0 WERP3000PQ2 RF369LXPQ2 RF367LXKB0 RF362BXMW0
---
Whirlpool Oven Control Board WPW10476680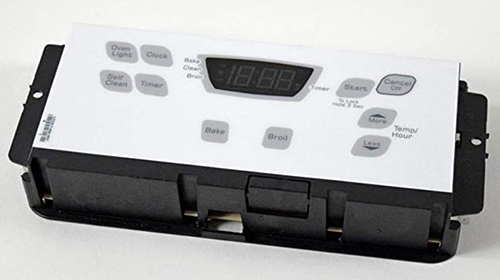 Part No: WPW10476680
Replacement Parts: 4447452 W10476680 W10108220 EAP11755375 AP6022046 W10363663 W10271729 PS11755375
Fits Brands: Whirlpool, Amana
Fits Types: 30″ Electric Freestanding Range
Fits Models: RF262LXSQ2 RF262LXST4 AER5523XAB0 RF262LXSQ3 AER5523XAW0 AER5523XAW1 AER5522VCS1 AER5522VCW1 RF262LXSB2 AER5523XAQ0 RF262LXSB4 AER5523XAB1 RF262LXSQ4 RF262LXST2 RF262LXSB3 RF262LXST3
Price: Compare the Best Price.
---
Whirlpool Oven Control Board W11122557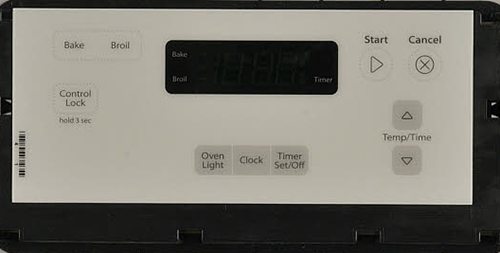 Part No: W11122557
Replacement Parts: WPW10348616 W10834015 EAP12114372 W10734614 W10887899 W10348616 AP6261073 W11032181 4547157 PS12114372
Fits Brands: Whirlpool
Fits Types: 30″ Electric Freestanding Range
Fits Models:
WFE320M0ES1 YWFC150M0AB0 YWFC150M0EB2 WFE320M0EW1 WFE320M0ES0 WFE320M0EB2 YWFC150M0EB1 WFC130M0AW0 WFE320M0AS0 WFC150M0EW4 YWFC150M0EW0 WFC150M0EW2 WFC130M0AB0 WFC150M0EB2 WFE320M0EB1
YWFC150M0EB0 WFC150M0EW3 WFC150M0EB1 WFE320M0AW0 YWFC150M0AW0 YWFC150M0AS0 WFC150M0EB3 WFC150M0EW1 YWFC150M0EW2 WFE320M0EW0 WFE320M0AB0 WFC150M0EW0 WFC150MLAW0 WFC150MLAB0 YWFC150M0EW1 WFE320M0EW2
---
Whirlpool Oven Control Board 6610157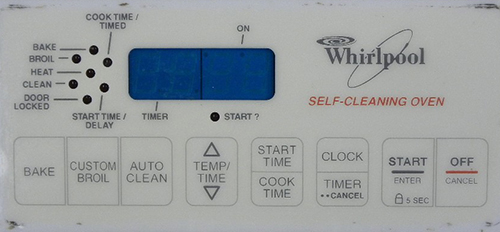 Part No: 6610157
Replacement Parts: 8053194 8053158 6610157R PS382273 8053158EXCR AP2990044 675671 6610157REXCR 6610157EXCR
Fits Brands: Whirlpool
Fits Types: Range / Stove / Oven
Fits Models: RF378PXGN0 RF377PXGT1 RF377PXGZ0 RF378PXGW0 RF378PXGT1 RF377PXGN0 RF377PXGW1 RF377PXGQ0 RF377PXGB5 RF377PXGQ5 RF378PXGB1 RF378PXGQ0 RF377PXGB0 RF377PXGQ1 RF377PXGZ5 RF378PXGW1 RF377PXGZ1 RF378PXGQ1 RF377PXGN1 RF377PXGW0 RF377PXGB1 RF377PXGW5 RF378PXGZ0 RF378PXGB0 RF377PXGN5 RF377PXGV1 RF378PXGN1
---
Whirlpool Oven Control Board WP6610450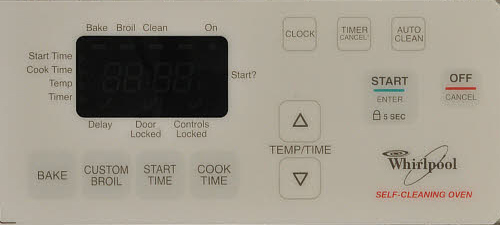 Part No: WP6610450
Replacement Parts: 6610450R 8522506 PS11743400 8524295 6610386 8053161 9760297 6610160 8053197 6610318 6610318R 8524280 8273748 AP6010223 6610395 EAP11743400 6610450 6610272 4435380 8522497 9761113 8524301 8524316
Fits Brands: Whirlpool
Fits Types: Gas Freestanding Range
Fits Models:
SF377PEGB1 SF369LEPQ0 SF367LEMT1 SF369LEMQ0 SF367LEMQ1 SF368LEPS2 SF357PEMB0 SF368LEPS0 SF369LEKQ0 SF378LEPT1 SF380LEPB0 SF196LEMB0 SF377PEGN6 SF357PEKT1 SF196LEPB0 SF368LEPT0 SF377PEGV6 SF369LEMT0 SF196LEPT2 SF380LEPQ2 SF196LEPB1 SF369LEPB1 SF368LEPT1 SF377PEGZ5 SF367LEMQ0 SF196LEPT1 SF377PEGN0 SF378LEPQ0 SF357PEKW0 SF379LEMS0 YSF379LEMQ1 SF356BEKV0 SF369LEPT1 SF369LEPQ1 SF377PEGW6 SF368LEPW3 SF377PEGT5 SF368LEPQ3 SF380LEPQ3
SF196LEPT3 SF368LEPW0 YSF379LEMQ0 SF357PEMQ0 SF380LEPS2 SF379LEMT0 SF368LEPQ2 SF377PEGB5 SF196LEMQ0 SF377PEGW7 SF357PEKW1 SF377PEGT7 SF380LEPT0 SF377PEGQ6 SF356BEKW0 SF357PEKB1 SF196LEPQ0 SF380LEPT2 SF377PEGQ0 SF380LEPQ0 SF196LEMT0 SF380LEPT3 SF378LEPQ3 SF368LEPB1 YSF379LEMB1 SF378LEPS2 SF378LEPS0 SF369LEPS2 SF369LEPS1 SF379LEMB0 SF357PEMT0 SF357PEMW0 SF377PEGN5 SF196LEPB3 SF196LEMQ1 SF377PEGQ7 SF378LEPB3 SF378LEPB2 SF368LEPT3
SF196LEPT0 SF367LEMB0 SF196LEPB2 SF368LEPB2 SF377PEGW5 SF369LEPT2 SF378LEPQ2 SGS375HQ0 SF367LEMW1 SF367LEMB1 SF357PEKV1 SF368LEPB3 SF368LEPQ0 SF369LEPQ3 SF377PEGN7 SF380LEPS0 SF380LEMT1 SF368LEPW2 SF377PEGZ7 YSF379LEMB0 SF380LEPS3 SF367LEKW3 SF377PEGB0 SF368LEPS1 SF196LEMT1 SF377PEGZ6 SF369LEMT1 SF368LEPW1 SF357PEKT0 SF367LEKB3 SF369LEPT3 SF378LEPT2 SF369LEMQ1 SF369LEPQ2 SF377PEGT6 SF196LEPQ3 SF377PEGQ5 SF368LEPS3 SF380LEMQ1 SF378LEPQ1 SF377PEGQ1
SF357PEKQ1 SF380LEPB2 SF378LEPS3 SF378LEPT0 SF377PEGB6 SF368LEPB0 SF377PEGW0 SF196LEPQ2 SF377PEGB7 SF378LEPB1 SF378LEPB0 SF367LEMW0 SF369LEPS3 SF357PEKQ0 SF369LEKT0 SF368LEPQ1 SF377PEGZ0 SF380LEPB3 SF368LEPT2 SF356BEKB0 SF380LEMT0 SF196LEPQ1 SF357PEMV0 SF380LEMQ0 SF356BEKQ0 SF377PEGV7 SF369LEKT1 SF367LEMT0 SF377PEGW1 SF377PEGZ1 SF379LEMQ0 SF377PEGN1 SF369LEKQ1 SF357PEKV0 SF378LEPS1 SF369LEPT0 SF367LEKT3 SF367LEKQ3 YSF377PEGQ7 SF196LEMB1
---
Whirlpool Oven Control Board W11113908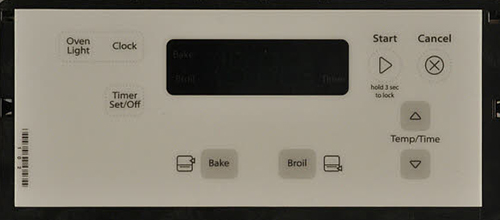 Part No: W11113908
Replacement Parts: AP6245884 W10841331 W10556709 PS12114208 WPW10556709 4547094 EAP12114208
Fits Brands: Whirlpool
Fits Types: Gas Freestanding Range
Fits Models: WFG505M0BB0 WFG320M0BW2 WFG505M0BB2 WFG320M0BB1 WFG505M0BW1 WFG505M0BS2 WFG320M0BS2 WFG505M0BB1 WFG320M0BW1 WFG505M0BW2 WFG505M0BW0 WFG320M0BB2 WFG320M0BW0
---
Whirlpool Oven Control Board W11122546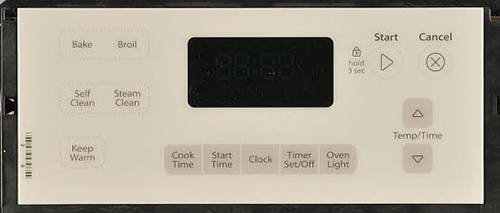 Part No: W11122546
Replacement Parts: W10887919 W10834006 W11043755
Fits Brands: Whirlpool, Amana, Maytag
Fits Types: Electric Range
Fits Models: WFE515S0EW2 YWFE515S0ES1 4KMER7685EW1 YWFE515S0ES0 YWFE515S0EB0 WFE515S0ET1 WFE515S0EW1 WFE515S0EB1 WFE515S0ED1 4KWFE7685ES0 YWFE515S0EW1 WFE515S0ET2 YWFE515S0EW0 YWFE515S0EB1 WFE515S0ES1 4KWFE7685EW0 4KMER7685ES1 WFE515S0EB2 WFE515S0EW0 4KWFE7685ES1 4KWFE7685EW1 4KAER7685EW1
---
Whirlpool Oven Control Board WPW10476684
Part No: WPW10476684
Replacement Parts: PS11755377 W10476684 EAP11755377 4447454 AP6022048 W10271746
Fits Brands: Whirlpool, Inglis
Fits Types: 30″ Electric Freestanding Range
Fits Models: YWFE301LVQ0 YRF115LXVB0 YRF115LXVQ0 IVE82303 WFE301LVS0 IVE32301 IVE32300 YWFE301LVB0 YWFE301LVS0 WFE301LVB0 IVE82301 IVE82300 YRF115LXVS0 WFE301LVQ0 IVE82302
---
Whirlpool Oven Control Board Panel WP8300428
Part No: WP8300428
Replacement Parts: 11745808 AP6012598 8300428 904489 EAP11745808 4451966
Fits Brands: Whirlpool
Fits Types: range/stove/oven
Fits Models: RBD245PDB11 RBD245PDQ12 RBD245PDB12 RBD245PDQ14 RBD245PDT15 RBD245PDB14 RBD245PDT14 RBD245PDS15 RBD245PDQ10 RBD245PDB15 RBD245PDQ15 RBD245PDT11 RBD245PDT9 RBD245PDT12 RBD245PDT10 RBD245PDQ9 RBD245PDB10 RBD245PDB9 RBD245PDS12 RBD245PDS14 RBD245PDQ11
---
How to Replace the Oven Control Board
Watch this video, created by the RepairClinic store. The video shows simple step-by-step instructions for replacing the electronic main control board on an oven.
Tools Required:
Flathead screwdriver
Phillips head screwdriver
Note: Please unplug the appliance before replacing the oven control board.
---
Other Oven Replacement Parts:
Not just the Whirlpool, we also offer repair parts in other brands, like Samsung, GE, KitchenAid, Kenmore, Maytag, and Frigidaire, covering all major home appliances, including washing machine, dishwasher, dryer, refrigerator, and microwave. Below are some of the oven popular parts.
---
Compare the Best Prices
There are many stores offering Whirlpool oven parts and a million of home appliance replacement parts in the Internet market. Please check your appliance model, search the right part number, and compare the lowest price on these popular marketplaces listed below.
==> Check Prices on eBay Market
Note: We will receive a commission if you make a purchase through our referral link at no extra cost to you. See Affiliate Disclosure for details.
---
More Information
In addition to the "Whirlpool Oven Parts – Main Control Board – White", in this site, you can find other oven replacement parts, including the oven control panel, oven door glass, oven door handle, and oven heating element.
If you have any problem with finding the correct part for your appliance, please do not hesitate to contact us at any time. You can leave your message in the comment box below and we will get back to you as soon as possible. Thank you very much.