Buy Oven Stove Control Board for Crosley Frigidaire Kenmore Tappan CRG3140GWBA CRGE3455TBA FFGF3015LWF FGF348KCK FLF337ECH Fast Shipping!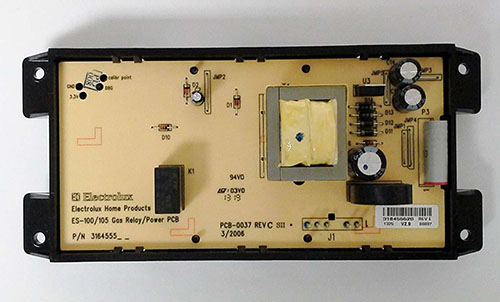 Oven Control Board
Product: Oven Range Stove Electronic Circuit Control Board
Part Number: 316455410
Replace Parts: 316222800 316222802 316222802R 316455410 5304427745
Fits Brands: Crosley Frigidaire Kenmore Tappan White-Westinghouse
Fits Oven Models:
The product 316455410 fits the following Crosley Frigidaire Kenmore Tappan White-Westinghouse oven stove models. Use Ctrl+F to find your appliance model below.
CRG3140GQQE CRG3140GWBG CRG3150LBE CRG3150LWB CRG3150PSA CRG3160GBBC CRG3160GQQB CRG3160GWWE CRP3160GWWB FFGF3052TWD CFGF337ESC CFGF337GSD FFGF3011LWC FFGF3012TBA FFGF3012TWC FFGF3015LBC FFGF3015LMF FFGF3015LWG FFGF3017LBD FFGF3017LSC FFGF3017LWH FFGF3019LBD FFGF3047LSB FFGF3051TBA FFLF3017LWA FFLF3047LSA FGF319KBA FGF326ASF FGF326AUB FGF326FSA FGF328GBA FGF328GBH FGF328GSE FGF328GSX FGF337ABE FGF337ASJ FGF337AUH FGF337BCD FGF337ECD FGF337EUC FGF337GCB FGF337GSA FGF337GUD FGF348KCA FGF348KCJ FGF348KSA FGFB337GCA FGFS36FUD FLF337AUC FLF337AUE FLF337AWG FLF337EUC FLF337EUJ FLF345HSA LFGF3052TFB 79071410404 79071420400 79071422403 79071451600 79071512401 79071513402 79071520401 79071522401 79071523405 79071533400 79075193301 TGF328GSE TGF336ASD TGF336AUD TGF336AWH TGF351RBB TGFS26CSB and more.
Compare Lowest Price
SHOP NOW! Your part number is 316455410. See more Range Oven 33003028 PCB Control Board part details, and Compare Lowest Prices on eBay HERE!