Compare Price Oven Range Circuit Board for Crosley Frigidaire Kenmore Tappan CRG3150LWB CRGE3455TBA FGF326AWF FLF337AUB 79071414400 and more.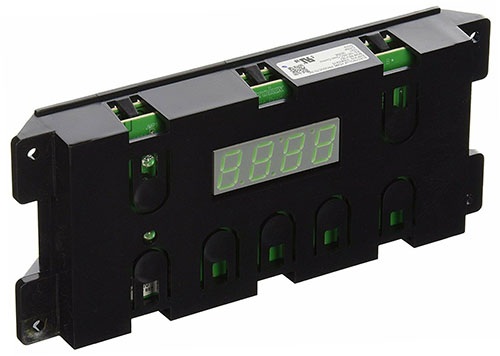 Oven Range Electronic Control Board
Product: Oven Range Stove Circuit Main Control Board PCB Assembly
Part Number: 316455410
Replace Parts: 316222800 316222802 316222802R 316455410 5304427745
Fits Brands: Crosley Frigidaire Kenmore Tappan White-Westinghouse
Fits Oven Models:
The item 316455410 fits the following Crosley Frigidaire Kenmore Tappan White-Westinghouse oven range models. Use Ctrl+F to find your particular model listed below.
CRG3140GBBE CRG3140GQQD CRG3140GWWA CRG3150LBD CRG3150LWB CRG3150PSB CRG3150SSB CRG3160GWWA CRGE3455TWA CRP3160GQQD FFGF3052TWD CFGF3017LWC FFGF3011LBC FFGF3011LWD FFGF3012TBA FFGF3013LWC FFGF3015LBF FFGF3015LWA FFGF3015LWE FFGF3017LBB FFGF3017LBG FFGF3017LWG FFGF3019LBD FFGF3047LSC FFGF3051TWA FFGF3052TWB FFLF3017LWB FGF319KSB FGF326ASH FGF326AUJ FGF326AWE FGF328FMB FGF328GMB FGF328GSB FGF337ABJ FGF337ASF FGF337AWC FGF337BCB FGF337BCL FGF337EWA FGF337GBE FGF337GSD FGF337GWE FGF348KBB FGF348KCC FGF348KSD FGFB337GCB FGFB337GCF FGFS36FWF FLF337AUD FLF337AWH FLF337EUC FLF337EUH LFGF3014LBB 79070419501 79071412400 79071420400 79071421403 79071441600 79071511401 79071513403 79071519400 79071522400 79071529404 79071533400 TGF320DUA TGF328GSA TGF336ASH TGF336AUC TGF336AWJ TGF336FWD and more.
Compare Lowest Price
The right part number is 316455410. Read more Stove Oven 33003028 Circuit Board product information, and Compare Prices on eBay HERE!