Great Price Oven Stove Control Board Replacement for Crosley Frigidaire Kenmore Tappan CRG3140GWWE CFGF337GSF FFGF3017LWB FGF337EBD TGF336AWC and more.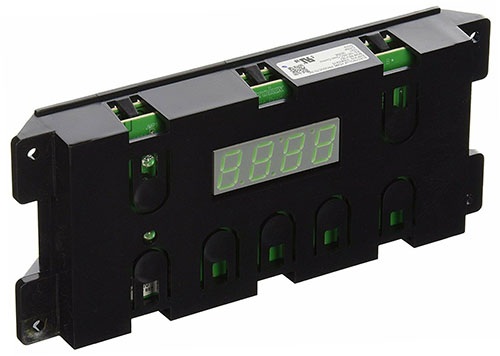 Oven Control Board
Product: Oven Range Stove Circuit Control Board
Part Number: 316455410
Replace Parts: 316222800 316222802 316222802R 316455410 5304427745
Fits Brands: Crosley Frigidaire Kenmore Tappan White-Westinghouse
Fits Oven Models:
The product 316455410 fits the following Crosley Frigidaire Kenmore Tappan White-Westinghouse oven range models. Use Ctrl+F to find your specific model listed below.
CRG3140GBBA CRG3140GQQG CRG3140GWWE CRG3150LBA CRG3150LQD CRG3150PBA CRG3150SSA CRG3160GQQC CRGE3455TBA CRP3160GBBC CRP3160GWWC CFGF3017LWD FFGF3011LBB FFGF3011LWB FFGF3011RSA FFGF3013LWC FFGF3013ZWA FFGF3015LME FFGF3015LWD FFGF3017LBE FFGF3017LSB FFGF3017LWE FFGF3019LWB FFGF3047LSA FFGF3052TBC FFLF3017LWA FFLF3047LSD FGF318GCA FGF326ASB FGF326AUJ FGF326KBB FGF326KSC FGF328GBF FGF328GSC FGF337ABF FGF337AUC FGF337AWD FGF337BCF FGF337ECC FGF337EUA FGF337GCJ FGF337GUA FGF337GWA FGF345GSB FGF348KCD FGF348KSA FGF348KSK FGFS36FWC FLF326ASA FLF337AUE FLF337ECC FLF337ECK FLF337EWD LFGF3014LBA LFGF3052TFA 79071411404 79071420403 79071421403 79071451600 79071512400 79071513400 79071521403 79071523402 79071529401 79071542600 79071554600 TGF328GSD TGF336ASC TGF336AUC TGF336AWF TGF336FWE WWGF3008TWB and more.
Compare Lowest Price
IMPORTANT! Your part number is 316455410. See more Range Oven 33003028 Electronic Control Board product information, return & warranty policy, and Compare Lowest Prices on eBay HERE!