Shop for Oven Range Control Board for Crosley Frigidaire Kenmore Tappan CRG3150LWC FFGF3011LBA FGF328GBD FGF337AUD TGF336AUE Free Shipping!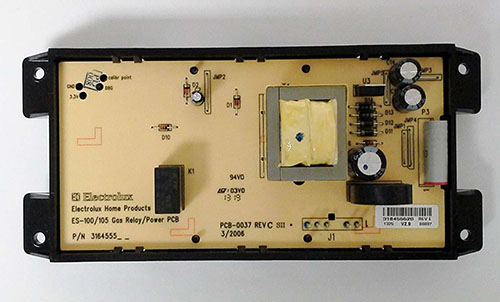 Oven Stove Electronic Circuit Board
Product: Oven Range Stove Circuit Main Control Board PCB Assembly
Part Number: 316455410
Replace Parts: 316222800 316222802 316222802R 316455410 5304427745
Fits Brands: Crosley Frigidaire Kenmore Tappan White-Westinghouse
Fits Oven Models:
This product 316455410 fits the following Crosley Frigidaire Kenmore Tappan White-Westinghouse oven models. Use Ctrl+F to find your particular model below.
CRG3140GQQE CRG3140GWWE CRG3150LBC CRG3150LQC CRG3150PBA CRG3150PWD CRG3160GQQD CRG3180LWA CRP3160GQQA FFGF3016TWC CFGF3017LWA FFGF3011LBA FFGF3011LWE FFGF3012TBC FFGF3012TWC FFGF3015LBA FFGF3015LMC FFGF3015LWE FFGF3017LBE FFGF3017LSG FFGF3019LBB FFGF3019LWC FFGF3047LSB FFGF3051TBA FFGF3052TWC FFLF3047LSD FGF318GCC FGF326ASD FGF326AUB FGF326FWA FGF328GBB FGF328GBH FGF328GSB FGF328GSK FGF337ABJ FGF337ASL FGF337AWC FGF337AWJ FGF337ESD FGF337EUA FGF337GCF FGF337GUA FGF337GUE FGF345GSD FGF348KCK FGF348KSA FGFB337GCE FGFB337GCG FLF337AUB FLF337AWC FLF337AWG FLF337EUD FLF337EUK LFGF3014LBA LFGF3052TFB 79071412403 79071420403 79071422400 79071429401 79071511400 79071513401 79071519403 79071523401 79071529400 79071549600 79071559600 TGF328GSA TGF336ASD TGF336AUG TGF336AWG TGF351RBA and more.
Compare Lowest Price
IMPORTANT! The right part number is 316455410. Read more Range Oven 33003028 Electronic Control Board product information, item condition, shipping & payment options, return & warranty services, and Compare Lowest Prices on eBay HERE!