Compare Price Oven Stove Electronic Control Board for Crosley Frigidaire Kenmore Tappan CRG3140GWWA FFGF3013ZWA FGF326KBC FGFS36FWF 79071544600 Buy Online Here!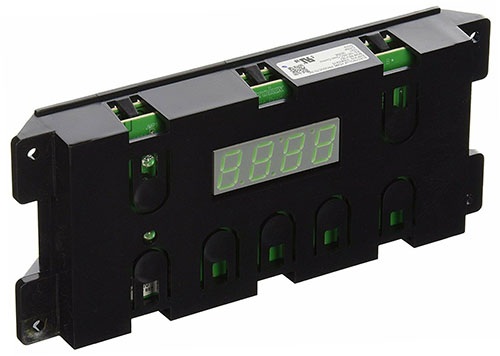 Oven Control Board Repair
Product: Oven Range Stove Electronic Circuit Main Control Board
Part Number: 316455410
Replace Parts: 316222800 316222802 316222802R 316455410 5304427745
Fits Brands: Crosley Frigidaire Kenmore Tappan White-Westinghouse
Fits Oven Models:
The item 316455410 fits the following Crosley Frigidaire Kenmore Tappan White-Westinghouse oven stove models. Use Ctrl+F to find your particular model listed below.
CRG3140GWBA CRG3140GWBD CRG3140GWWF CRG3150LQC CRG3150LWE CRG3150PWC CRG3160GBBE CRG3180LWA CRP3160GQQB FFGF3016TWC CFGF3017LWD FFGF3011LBA FFGF3011LWC FFGF3011LWH FFGF3013LWD FFGF3015LBE FFGF3015LMF FFGF3015LWF FFGF3017LBF FFGF3017LSB FFGF3017LWC FFGF3019LBD FFGF3047LSD FFGF3051TWA FFGF3052TWC FFLF3047LSB FGF319KSB FGF326ASB FGF326AWA FGF326FSA FGF328FSA FGF328GBH FGF328GSB FGF328GSY FGF337ABJ FGF337ASL FGF337AWE FGF337BCD FGF337ESD FGF337EWA FGF337GBF FGF337GSB FGF337GWC FGF348KBA FGF348KCF FGF348KSD FGFB337GCA FGFB337GCF FGFS36FWF FLF337AUH FLF337ECE FLF337ECP FLF337EUM FLF337EWK LFGF3052TFB 79071410404 79071419400 79071420404 79071429400 79071511400 79071513405 79071521401 79071523400 79071523405 79071543600 79071554600 TGF328GSE TGF336ASD TGF336AWD TGF336FSB TGF351RBC WWGF3008TWB and more.
Compare Lowest Price
Your correct part number is 316455410. See more Range Oven 33003028 Main Control Board item details, item condition, shipping & payment methods, return & warranty services, and Compare Lowest Prices on eBay HERE!