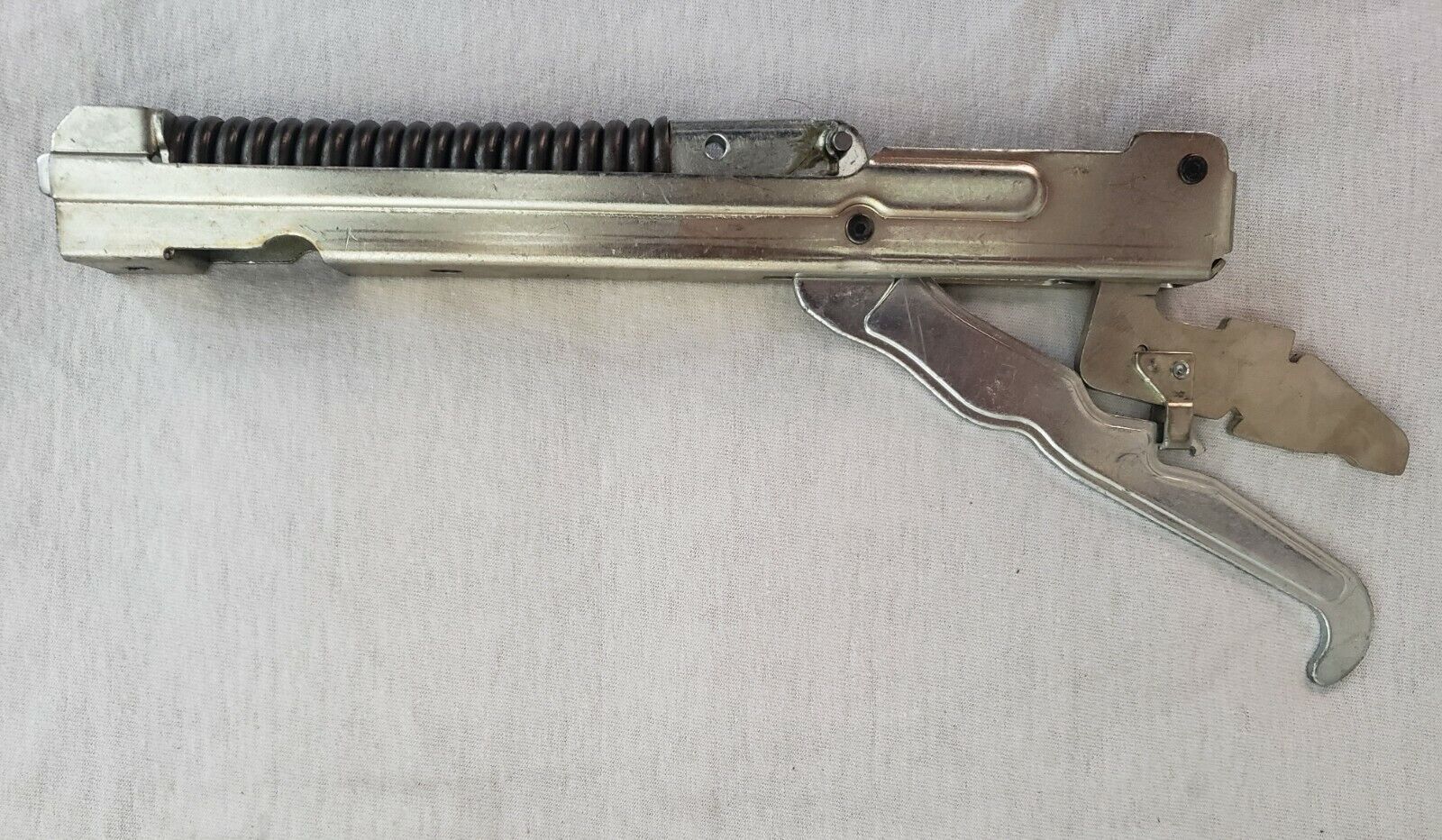 Range Oven Door Hinge 318024747
Product: NEW IMPROVED FRIGIDAIRE HINGE 318024747, 318024715 (ONE SINGLE HINGE)
Type: Range Oven Door Hinge
Part Number: 318024747
Replaces Parts: 318024714 318024715
Fits Brands: Frigidaire, Crosley
Location: San Jose, California, United States
Return Policy: 30 day returns. Buyer pays for return shipping
Condition: New
Price: Check Latest Price on eBay
Fits Models:
This range oven door hinge 318024747 product fits the following Frigidaire and Crosley models. Use Ctrl+F to find your appliance model listed below.
BES384EC1 BES384EC3 BES384EC4 BFEF374FC1 BFES368EC1 BFES368EC2 BFES368EC3 BFES368EC4 BFES368EC5 BFES368EC6 BFES368EC7
CFCS366EC1 CFCS366EC2 CFCS366EC3 CFCS366EC4 CFCS366EC5 CFCS367GC1 CFEB30S5DC1 CFEB30S5DC2 CFEB30S5DC3 CFEB30S5DC4 CFEB30S5GC1 CFEB30S5GC2 CFEB30S5GC3 CFEF358EC1 CFEF358EC2 CFEF358EC3 CFEF358EC4 CFEF372EC1 CFEF372EC2 CFEF372EC3 CFEF372EC4 CFEF372EC5 CFEF372EC6 CFES365EC1 CFES365EC2 CFES365EC4 CFES365EC5 CFES366FC1 CFES366FC3 CFES366FC4 CFGS365FC1 CFGS365FC3 CPCS389EC2 CPCS389EC3 CPCS389EC4 CPCS389EC5 CPCS389EC6 CPCS389EC7 CPEB30S9DC2 CPEB30S9FC1 CPEB30S9FC2 CPEB30S9FC3 CPEB30S9FC4 CPEB30T9DC2 CPEB30T9DC3 CPEB30T9FC1 CPEB30T9FC2 CPEB30T9FC3 CPGS389EC1 CPGS389EC2 CPGS389EC3 CPGS389EC4 CPGS389EC5 CPGS389EC6 CPGS389EC7 CPGS389EC9 CPGS389ECA CPLES399EC2 CPLES399EC3 CPLES399EC4 CPLES399EC5 CPLES399EC6 CPLES399EC7 CPLES399EC8 CPLES399EC9
FCS366ECB FCS366ECC FCS366ECD FCS366ECE FCS366ECF FCS367ECB FCS367ECC FCS367FCA FCS367FCB FEB30S5DCA FEB30S5DCB FEB30S5DCC FEB30S5DCD FEB30S5GCA FEB30S5GCB FEB30S5GCC FEB30S6DCA FEB30S6DCB FEB30S6DCC FEB30S6FCA FEB30S6FCB FEB30S6FCC FEB30S6FCD FEB30S7DCA FEB30S7DCB FEB30S7FCA FEB30S7FCB FEB30S7FCC FEB30S7FCD FEB30T5DCA FEB30T5DCB FEB30T5DCC FEB30T5DCD FEB30T5GCA FEB30T5GCB FEB30T6DCA FEB30T6DCB FEB30T6DCC FEB30T6FCA FEB30T6FCB FEB30T6FCC FEB30T7DCA FEB30T7DCB FEB30T7DCC FEB30T7FCA FEB30T7FCB FEB30T7FCC FES365ECA FES365ECB FES365ECD FES365ECE FES366ECA FES366ECB FES366ECC FES366ECD FES366ECE FES366ECF FES366ECG FES367ECA FES367ECB FES367ECC FES367FCA FES367FCB FES367FCC FGS365ECA FGS365ECB FGS365ECC FGS365ECD FGS365ECE FGS365ECF FGS365ECG FGS365ECH FGS366ECA FGS366ECB FGS366ECC FGS366ECD FGS366ECG FGS366ECH FGS367ECA FGS367ECB FGS367ECC FGS367FCA FGS367FCB FGS367FCC FGS367FCD LEEB30S9FEA LEEB30T9FEA LES389FEA LGS389FEA
PFEF374EC1 PFEF374EC2 PFEF374EC3 PFEF374EC4 PFEF374EC5 PGLEF365EC1 PGLEF365EC3 PGLEF365EC4 PGLEF375GC1 PGLEF375GC2 PGLEF375GC3 PGLEF385EC1 PGLEF385EC3 PGLEF385EC4 PGLEF385EC6 PGLEF385EC7 PLCS388ECA PLCS389ECB PLCS389ECC PLCS389ECD PLCS389ECE PLCS389ECF PLCS389ECG PLEB30M9ECA PLEB30M9ECC PLEB30M9ECD PLEB30M9ECE PLEB30S9DCA PLEB30S9DCB PLEB30S9FCA PLEB30S9FCB PLEB30S9FCC PLEB30S9FCD PLEB30T9DCA PLEB30T9DCB PLEB30T9DCC PLEB30T9FCA PLEB30T9FCB PLEB30T9FCC PLEB30T9FCD PLES389ECB PLES389ECC PLES389ECD PLES389ECE PLES389ECF PLES389ECG PLES389ECH PLES389ECI PLES399ECB PLES399ECC PLES399ECD PLES399ECE PLES399ECF PLES399ECG PLES399ECH PLGS389ECB PLGS389ECC PLGS389ECD PLGS389ECE PLGS389ECF PLGS389ECG PLGS389ECH PLGS389ECI and more.
Compare Lowest Price
Read more door hinge item description, return & refund policy, and Check Latest Price on eBay HERE!
If you need any help please leave your message in the comment below. Thank you very much.