Best Price Oven Range Control Board Replacement for Crosley Frigidaire Kenmore Tappan CRG3140GBBE CRG3180PBA FFGF3015LWE FGFB337GCF FLF337AUD and more. Fast Shipping Here!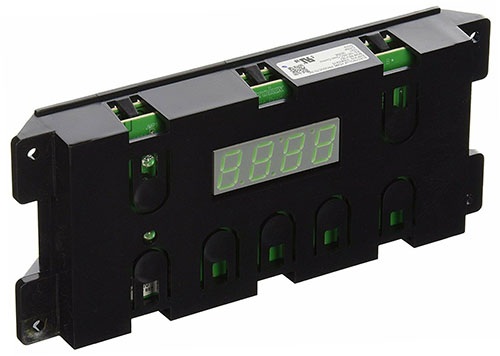 Oven Stove Control Board Replacement
Product: Oven Range Stove Circuit Main Control Board
Part Number: 316455410
Replace Parts: 316222800 316222802 316222802R 316455410 5304427745
Fits Brands: Crosley Frigidaire Kenmore Tappan White-Westinghouse
Fits Oven Models:
The Electronic Circuit Board 316455410 fits the following Crosley Frigidaire Kenmore Tappan oven models. Use Ctrl+F to find your appliance model listed below.
CRG3140GQQF CRG3140GWWA CRG3150LBD CRG3150LQE CRG3150PBA CRG3150PWC CRG3160GQQC CRG3160GWWE CRP3160GBBA FFGF3052TSD CFGF337ESC CFGF337GSE FFGF3011LWC FFGF3011RSC FFGF3013LWC FFGF3015LBF FFGF3015LMD FFGF3015LWE FFGF3017LBF FFGF3017LBG FFGF3017LWC FFGF3019LWF FFGF3047LSF FFGF3051TWA FFGF3052TSC FFLF3017LWB FGF319KBB FGF326ASA FGF326AWD FGF326KSA FGF328GBA FGF328GBG FGF328GSA FGF328GSK FGF337ASA FGF337ASL FGF337AWC FGF337AWJ
FGF337ESC FGF337EWD FGF337GCG FGF337GSB FGF337GWC FGF345GSB FGF348KCJ FGF348KSC FGF348KSJ FGFS36FUA FLF337AUC FLF337AUG FLF337ECD FLF337ECM FLF337EWJ LFGF3014LWC 79071410400 79071411400 79071412404 79071422400 79071429401 79071512404 79071514400 79071519401 79071522403 79071529404 79071543600 79071553600 TGF328GSD TGF336ASC TGF336AUE TGF336AWJ TGFS26CBA and more.
Compare Lowest Price
Please Check! Your correct part number is 316455410. View more Range Oven 33003028 Electronic Control Board item information, return & refund services, and Compare Lowest Prices on eBay HERE!
Other Appliance Replacement Parts:
If you have any problem with finding an appliance part for your model, please leave a message in the comment box below. We will get back soon. Thank you.