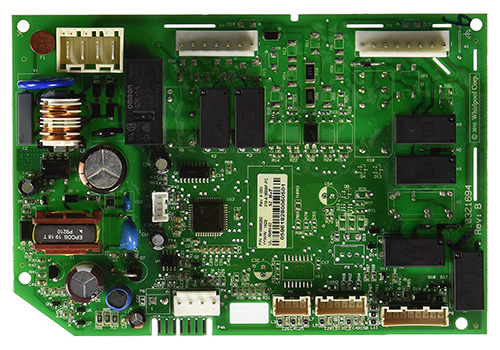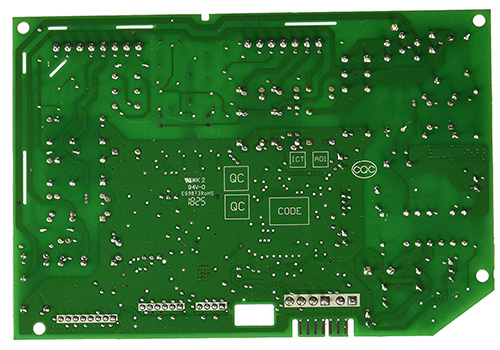 This is an electronic ice machine main control board, KitchenAid Ice Machine Control Board W11034363. This part fits ice cube maker and freestanding icemaker. It works for Kitchen-Aid KUIC15, KUIC18, KUID508, KUIS15, KUIS18, KUIX305, KUIX505, and more.
If your ice machine will not work at all, then replacing the main control board could solve the problem. Check your specific model, find the correct part, and compare lowest prices online.
Kitchen-Aid Ice Machine Control Board W11034363
Product: Main Control Board for Ice Machine
Appliance Part: Icemachine Electronic Replacement Parts
Part Number: W11034363
Compatible Brands: Jenn-Air KitchenAid Kenmore Maytag Whirlpool
Compatible Part Numbers: 4546004 AP6277975 PS12346592 EAP12346592 W10485960 W10886282 WPW10485960
Fits KitchenAid Ice Machine Models:
This part fits KitchenAid ice cube maker, and freestanding icemaker models as listed below. Use Ctrl+F to find your model.
KUIC15NHZS0 KUIC15PHZS0 KUIC15POZP0 KUIC15POZP1 KUIC15POZP2 KUIC18NNZS0 KUIC18PNZS0 KUID308ESS0 KUID308ESS1 KUID308ESS2 KUID508ESS0 KUID508ESS1 KUID508ESS2 KUIO18NNZS0 KUIO18NNZS1 KUIO18NNZS2
KUIS15NNZB0 KUIS15NNZW0 KUIS18NNZB0 KUIS18NNZW0 KUIS18PNZB0 KUIS18PNZB1 KUIS18PNZB2 KUIS18PNZW0 KUIS18PNZW1 KUIS18PNZW2 KUIX305EBL0 KUIX305EBL1 KUIX305ESS0 KUIX305ESS1 KUIX305ESS2 KUIX305EWH0 KUIX305EWH1 KUIX505EBS0 KUIX505EBS1 KUIX505ESS0 KUIX505ESS1 KUIX505ESS2
How To Replace Ice Machine Main Control Board
Watch this video, created by RepairClinic.com. This video shows you simple and easy step-by-step instructions on how to replace the electronic main control board on an ice machine.
This guide can be applied for the following brands, including Maytag, Amana, Magic Chef, Whirlpool, Tappan, Estate, and KitchenAid.
Compare Lowest Prices
Read more details of the Electronic Main Control Board W11034363 for Icemaker. View shipping information, customer service details, warranty & return policy, and compare lowest prices online.
More Information
In addition to the KitchenAid Ice Machine Control Board W11034363, you can search more parts for KitchenAid Ice Machine, electronic control boards for icemakers, and KitchenAid ice machine replacement parts.
You may need other appliance parts, such as dishwasher parts, washer parts, refrigerator parts, dryers parts, and freezer parts. A number of suppliers offer these products online. One of the best places for searching the appliance parts is eBay website.
If you are not sure of finding the appliance parts, please do not hesitate to contact us at any time.