Learn How to Replace Main Control Board Part WH12X10614 for GE Washer
Watch this video, created by PCApplianceRepair. If your washer is not working correctly or not at all, the electronic main control board should be replaced.
Warning: Completely Disconnect Appliance from Power Source.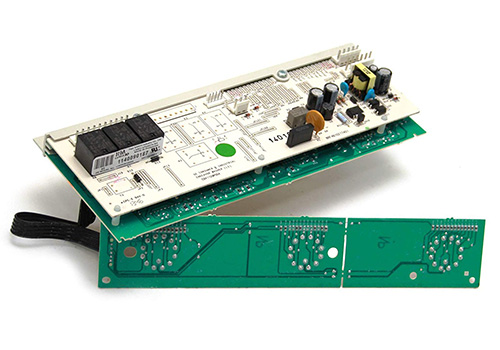 Simple Step-By-Step Instructions
Here are simple step-by-step instructions on how to replace the WH12X10614 main control assembly on GE, Hotpoint, or Kenmore washers.
Unplug your washing machine or washer from its power source.
Remove all the control knobs from the washer.
Turn the washer so we're facing the back of it giving us access to the main control panel.
Remove this panel using your quarter inch nutdriver.
Then, pull up on the control assembly and slide it out, pull up and place it flat on the washer.
Disconnect the power wires.
Handling your 5/16 nutdriver, unscrew the control board from the inside assembly.
Lift up and remove the electronic control assembly.
Grab your new replacement control assembly. and make sure it gets slid into position with the display assembly.
Once the electronic control assembly is secured back into the display assembly, screw it in using your 5/16 nutdriver.
Lift up onto the display assembly to make sure that all the switches fit through the holes correctly.
Then, reconnect the wires that we disconnected previously.
Slide the front display assembly back into position.
Screw in the display assembly.
Reattach all the knobs that we took off in the beginning.
Plug your washer back into its power source.
More Information
Learn more How-To Videos here.
View more details of the WH12X10614 Main Control Board. Check if this item fits with your model. And also compare prices on other stores online.
If you need more information, related to washer main control boards, washing machine parts, or other main appliance parts, please feel free to contact us by filling the comment below. We will back to you as soon as possible.