Check Price GE Replacement Parts Washer Drive Motor WH20X10058. Replaces PS2577719 EAP2577719 WH20X10045 WH20X10037 WH20X10041 1810190 WH20X10034 WH20X10052 AP4536552 home appliance parts and more. Buy Today!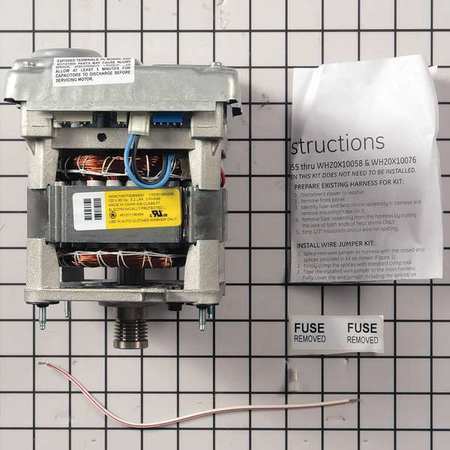 GE WH20X10058 Washing Machine Motor Parts
Item: GE WH20X10058 Washing Machine Drive Motor
Part Number: WH20X10058
Replacement Part Number: WH20X10041 1810190 AP4536552 WH20X10052 WH20X10034 WH20X10045 PS2577719 WH20X10037 EAP2577719
Compatible Brands: GE, General Electric
Type: Washing Machine Replacement Parts, Laundry Drive Motor Assembly Parts
Item Location: Buffalo Grove, Illinois, United States
Ship To: United States
Return Policy: Free 60 day returns
Condition: New
Product Price: US $257.62
See more descriptions and Compare the Lowest Prices Below.
==> Click Here to Compare the Lowest Prices on eBay! <==
Fits Models:
Recheck the correct replacement product. The WH20X10058 Washer Motor Replacement Parts can be used for the following GE models. Hit Ctrl-F to search your appliance model following.
WCRE6270H0CC WPRE8150H2WT WHRE5550H1WW WPRB8350H0WT WCRE6270H1CC WPRE6150H2WT WJRE5550H1WW WPRE6100G0WT GHDRE527H1WW GWSE5240H2WW WPRE8350H1WT WJRE5500G1WW GWSE5240H3WW WCRE6270H2CC WBB4500G3WW WCRE6270G0CC WPRE8100G1WT GHDRE527H0WW GWSE5240H1WW WWSE5240G0WW WBB4500G1WW GHDRE527H2WW WLRR4500G0WW WPRE8150H1WT WPRE8320H2WT WPRE8100G0WT WJRE5500G2WW GWSE5240H0WW WPRE8320H3WT 57751H3WW WPRE8150H0WT WPRE6100G3WT GWRE6270H0WW WCRE6270G0WW WPRE6100G1WT
WJRE5550H0WW GWRE6270H1WW WJRE5550H2WW WPRE6100G2WT WJRE5500G3WW WCRE6270G1WW WPRE8350H0WT WCRE6270G1CC WPRE6150H0WT WLRR5000G1WW EWA5600G3WW WWSE5240G1WW WPRE8350H2WT WBB4500G2WW EWA5600G0WW EWA5600G2WW GHDRE527H3WW WLRE4500G1WW WCRE6270H2WW GWRE6270H2WW WWSE5240G3WW WHRE5550H2WW WLRR5000G0WW WWSE5240G2WW WBB4500G0WW WHRE5550H0WW WCRE6270H0WW WLRE4500G0WW WLSE4000G0WW EWA5600G1WW WPRE6150H1WT
Compare Best Prices
Look at more WH20X10058 Washing Machine Motor Parts product details, customer reviews, item conditions, shipping options, exchange, return and money-back policy, and other information. There are a number of sellers promoting this new or used part online. You are able to compare the lowest prices below.
==> Click Here to Compare the Lowest Prices on eBay! <==
More Information
Furthermore the WH20X10058 Washer Drive Motor Parts, there are a number of home appliance parts promoted on the market, such as Refrigerator Compressor Cost, Maytag Range Control Panel, Kenmore 80 Series Dryer Control Board, Whirlpool Cabrio Washer Transmission Noise, and Washing Machine Transmission Seal Replacement parts.
For more big appliance brands, e.g. Samsung, you are able to view its products, parts, and services on the store online.
More Appliance Parts:
Do not wait! If you need any help with finding the correct part for your specific appliance model, please do not hesitate to contact us at any time. We will find the part and get back to you very soon. Fix-It Today!