Compare Best Prices GE WB56T10263 Oven Outer Door Glass Panel Assembly Parts. Replaces PT970DR1BB PT960BM1BB PT920DP1BB PT960DP2BB PT960BM2BB PT958DR2BB PCT916DR2BB PT970DR2BB replacement parts and others. Buy Today.
GE WB56T10263 Oven Outer Door Glass Panel
Part No: GE WB56T10263
Replaces Part No: n/a
Compatible Brands: GE, General Electric
Product or Service Type: Electric Wall Range/Oven Replacement Parts, Outer Door Glass Panel Assembly Replacement Parts
Product Price: View more product descriptions and Compare the Best Prices Below.
==> Click Here to Check the Lowest Prices Today! <==
Fits Range/Oven Models:
The GE WB56T10263 Oven Outer Door Glass Panel fits the following electric wall range models. Press Ctrl-F to check your appliance model as you see.
PT960DP1BB PCT920BM2BB PT916BM2BB PT960DR2BB PT970DR2BB PCT916DR2BB PT956BM3BB PT956BM2BB PT958DR1BB PT970BM3BB PT960DR1BB PCT916DR1BB PT920DR1BB PT916DR2BB PCT916BM2BB PT956DR2BB PT960DP2BB PT916DR1BB PT960BM2BB PT970DR1BB PT920BM2BB PT916BM1BB PT956DR1BB PT920DP2BB PT960BM1BB PT920DR2BB PT970BM1BB PT958DR2BB PCT920BM1BB PCT916BM1BB PT900DR2BB PT920BM1BB PT920DP1BB PT956BM1BB PT900DR1BB
Compare Best Prices
Study how to fix a replacement part for your appliance. See deals more product details, customer reviews, terms and conditions (new brand, pre-owned, or refurbished), shipping & handling information, return & customer satisfaction policy, and other important details. There are a number of sellers selling this part on the market. You can check the best prices below.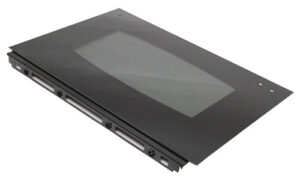 ==> Click Here to Compare the Lowest Prices on eBay Today! <==
More Appliance Information
Further the GE WB56T10263 Oven Outer Door Glass Panel, there are more home appliance parts offered on the market, including Hotpoint Oven Fan Motor Replacement, Main Control Board for Whirlpool Refrigerator, KitchenAid Double Oven Control Board, and Washer Machine Transmission Repair. For other leading appliance brands, like Inglis, you are able to see its products, parts, accessories, and services on its website.
Other Replacement Parts:
Don't give up! Please feel free to contact us if you have any problems with looking at the right part for your model. We will search for the part and respond to you ASAP. Thank you and all the best!