Looking for new refrigerator meat drawer fits GE Hotpoint Americana RCA GSS22WGPHCC GSH22JFXLBB GSS22IBPCWW GST22KGPABB GSS25SGPASS GSS25WGMACC RSG25IEMCFWW and more.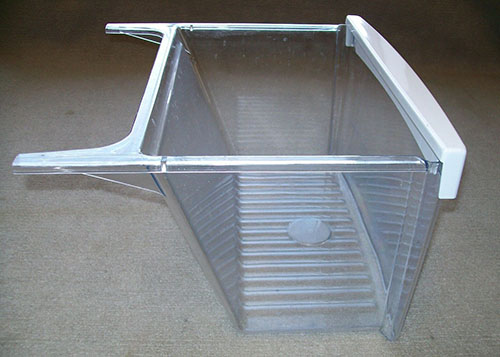 Refrigerator Meat Pan
Product: Refrigerator Fresh Meat Drawer Pan
Part Number: WR32X10835
Replace Parts: WR32X10131 1812381 AP4981597 EAP3487933
Fits Brands: GE Hotpoint Americana RCA
Fits Refrigerator Models
This refrigerator fresh meat pan drawer product works for the following GE Hotpoint Americana RCA models.
GSH25JGBBCC BSS25GFPCWW GSH25KGPCWW ESL22JFWABS ESS25XGMBWW GSE22KEBCFBB GSE22KEWPFSS GSF25IGXPBB GSG22KBSAFBB GSH22JFPBWW GSH22JFPHWW GSH22JGBBWW GSH22JSZBSS GSH25GGCBBB GSH25KGPDWW GSL22JFTDBS GSS22IBMBWW GSS22IFREBB GSS22JEPJCC GSS22JETJWW GSS22KGMBWW GSS22QGPDWW GSS22SGPABS GSS22VGMCWW GSS22WGMBBB GST22IBPACC GST22JEPDWW GST25KGMBCC ESL25XGPCBS GSH22JSTDSS GSH25JFXJBB GSH25SGPASS GSL25JFXLLB GSS25GFXHBB GSS25IFPJCC GSS25JETACC GSS25JETGCC GSS25KGMBBB GSS25KGMCAA GSS25QGPAWW GSS25UFMCCC GSS25UFPCBB GSS25VGMACC PSA25MIMDFBB PSG22SIPCFBS HSH25IFTDCC HSS22GFTJWW HSS25GFTGBB HSS25IFPCWW HST25IFMBWW HSS25GDMDWW and more.
Compare Lowest Prices
Best Deals! The correct product number is WR32X10835. View the refrigerator fresh meat pan drawer item information, item condition, delivery & checkout methods, and buy the part on eBay here.