Cheap Price – Bosch Oven Control Board 12022213 Parts. Fits HBL3560UC/09 HBL5620UC/04 HBL3560UC/08 HBN5650UC/08 HBN3550UC/09 HBL3550UC/10 HBL5660UC/06 HBN3550UC/06 HBL5650UC/06 models and others. Buy and Save.
Bosch Oven Control Board 12022213 Parts
Item: 12022213 00655323 Bosch Range Relay Board
Part No: 12022213
Replacement Parts: 648781 PS12368101 00650428 646640 659615 4920842 EAP12368101 00655323 AP6329525 655323 657432 00657432 650428 00659615 00646640 00648781
Compatible Brands: Bosch
Type: Stove Oven Range Replacement Parts, Electronic Circuit Main Control Board Assembly
Item Location: Chadds Ford, Pennsylvania, United States
Ship To: United States
Policy: Seller does not accept returns
Item Condition: New
Item Price: US $195.00
See more details and Compare the Lowest Prices Below.
Fits Models:
The oven control board 12022213 can be used for the following Bosch models. Use Ctrl-F to find your specific model listed as follows.
HBN3550UC/08 HBL3550UC/04 ME302EP01 HBN3550UC/09 HBL5620UC/08 HBL3560UC/05 HBL5660UC/08 HBL3560UC/08 HBL3560UC/07 HBL5660UC/06 HBL5650UC/05 HBL3550UC/06 HBL5650UC/06 HBL3550UC/10 HBL5650UC/04 HBL5620UC/04 HBN5650UC/10 HBL3550UC/05 HBN3550UC/06 HBN3550UC/05 HBL5660UC/04 HBL5650UC/08 HBN5650UC/05 HBN5650UC/09 HBN3550UC/11 HBL5620UC/06 HBN5650UC/08 HBL3560UC/04 HBN3550UC/10 HBL3560UC/09 HBL3550UC/08 HBN5650UC/06 HBL5660UC/09 HBL5620UC/09 HBL5650UC/09 HBL3550UC/09
Compare Lowest Prices
Check the Best Price! View features more 12022213 product description, terms and conditions, delivery information, exchange, return and money-back policy, and other details. There are a number of sellers offering this pre-owned part at the store online. Please compare the prices below.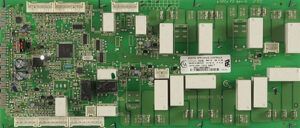 ==> Click Here to Compare Prices! <==
More Information
Further the Bosch Oven Control Board 12022213 Parts, there are many appliance replacement parts promoted on the market, covering refrigerator main control board, washer wash plate, washing machine electronic control board, range replacement parts, range surface element, and refrigerator control board. For other big home appliance brands, e.g. Samsung, you can find its products, parts, and services on the Internet.
Other Replacement Parts:
Need urgent help today? If you can not find the right part for your specific appliance model or have any information, please leave your content in the comment section below. We will search for the part and get back to you soon. Many Thanks.