Search for Oven Circuit Board for Crosley Frigidaire Kenmore Tappan CRG3150LWE CRG3150PWA FFGF3047LSD FGF337ASE TGFS26CQB Fast Shipping!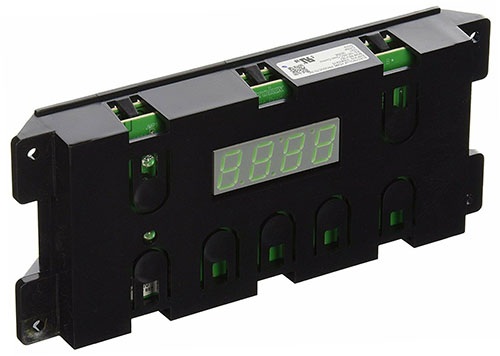 Oven Range Electronic Circuit Board
Product: Oven Range Stove Electronic Circuit Main Control Board
Part Number: 316455410
Replace Parts: 316222800 316222802 316222802R 316455410 5304427745
Fits Brands: Crosley Frigidaire Kenmore Tappan White-Westinghouse
Fits Oven Models:
This item 316455410 fits the following Crosley Frigidaire Kenmore Tappan White-Westinghouse oven models. Use Ctrl+F to find your specific model below.
CRG3140GQQC CRG3140GWWD CRG3150LBC CRG3150LWD CRG3150PSA CRG3160GBBD CRG3160GWWC CRG3160GWWF CRP3160GBBC LFGF3052TFC CFGF3017LWC FFGF3011LBD FFGF3011LBH FFGF3011RSA FFGF3012TWC FFGF3015LBE FFGF3015LWA FFGF3015LWF FFGF3017LBA FFGF3017LBH FFGF3017LWB FFGF3019LWF FFGF3047LSA FFGF3051TSB FFLF3017LWA FFLF3047LSF FFLF3049SSB FGF326ASF FGF326AWD FGF326KSA FGF328FMB FGF328GBD FGF328GSD FGF328GSG FGF337ABC FGF337ASH FGF337AUE FGF337AWH FGF337ECC FGF337EWA FGF337GBE FGF337GUA FGF337GUB FGF345GSA FGF348KCE FGF348KMA FGF348KSG FGFB337GCG FLF326ASA FLF337AUH FLF337ECC FLF337EUC FLF337EUJ LFGF3014LBB NGSG3PMASA 79071410403 79071414401 79071421401 79071451600 79071511401 79071513402 79071519403 79071522403 79071523405 79071541600 79075193301 TGF328GSC TGF336ASD TGF336AWA TGF336FWC TGFS26CBA and more.
Compare Lowest Price
Your part number is 316455410. See more Oven 33003028 Electronic Control Board product description, item location, shipping & payment methods, return & refund policy, and Compare Best Prices on eBay HERE!