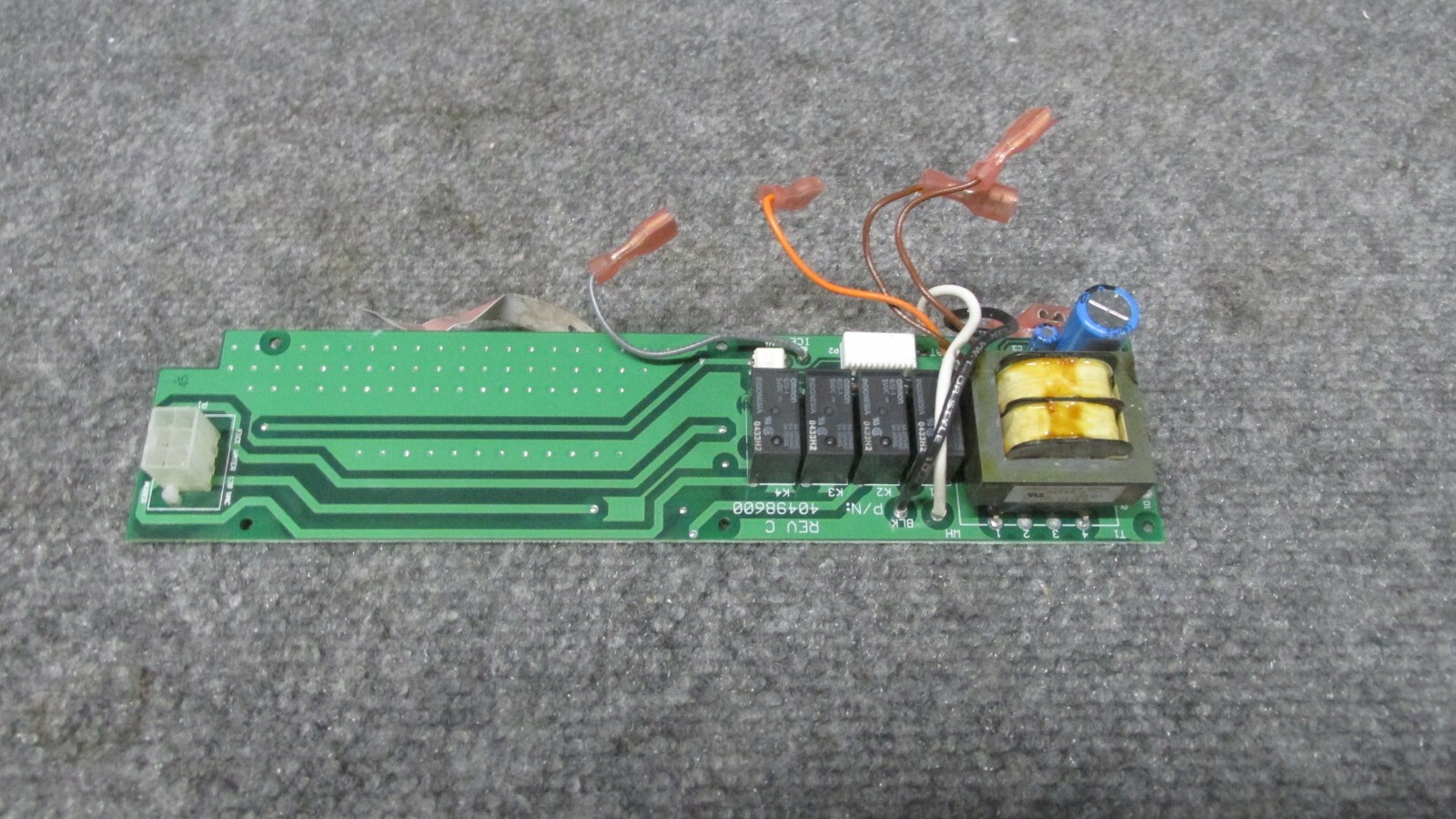 241708202 FRIGIDAIRE KENMORE REFRIGERATOR DISPENSER CONTROL BOARD
Product: Refrigerator Dispenser Electronic Circuit Control Board
Part Number: 241708202
Replaces Parts: 5304431764 1196732 AP3960035 EAP1526487 PS1526487
Brand: Genuine Frigidaire
Fits Brands: Crosley Frigidaire Kenmore White Westinghouse
Fits Frigidaire Models:
This part fits the following Frigidaire refrigerator models. Use Ctrl+F to find your specific model below.
FRS6HF55KB0 FRSHT5EFSB2 GLHS35EHSB6 GLHS38EJB0 FRS6LF7JW0 FRS6LF7JS2 FRS6LF7FW6 FRS6LF7JM3 PHS66EJSB0 FRS6LF7JB3 FRS6LF7JM0 GLHS66EEQ9 FRSHB5EHPW1 GLHS38EJB1 GLHS66EJB0 GLHS68EJSB0 FRS6LF7JS3 FRS6LF7FBA FRS6HF55KB1 FRS6LF7JS0 FRS6LF7FB3 FRS6LF7FB4 FRS6LF7FB5 FRS6LF7FB6 FRS6LF7FB7 FRS6LF7FB8 FRS6LF7FB9 FRS6LF7FBC FRS6LF7JS5 FRS6LF7JS6 FRS6LF7JS7 FRS6LF7JS8 FRS6LF7JW3 FRS6LF7FW9 FRS6LF7FW0 FRS6LF7FW2 FRS6LF7FW3 FRS6LF7FW4 FRS6LF7FW7 FRS6LF7FW8 FRS6LF7FWA FRS6LF7FWC FRS6LF7JW2 FRS6LF8FS2 GLRS267ZCQ1 FRS3HF55KB0 FRS3HF55KB1 FRS3HF55KB2 FRS3HF55KM0 FRS3HF55KM1 FRS3HF55KM2 FRS3HF55KQ0 FRS3HF55KQ1 FRS3HF55KQ2 FRS3HF55KS0 FRS3HF55KS1 FRS3HF55KS2 FRS3HF55KW0 FRS3HF55KW1 FRS3HF55KW2 FRS6B5EEQ1 FRS6B5EEQ2 FRS6B5EEQ3 FRS6B5EEQ5 FRS6B5EEQ7 FRS6B5EEW1 FRS6B5EEW2 FRS6B5EEW3 FRS6B5EEW5 FRS6B5EEW7 FRS6HF55KM0 FRS6HF55KM1 FRS6HF55KQ0 FRS6HF55KQ1 FRS6HF55KS0 FRS6HF55KS1 FRS6HF55KW0 FRS6HF55KW1 FRS6LF7FM0 FRS6LF7FM2 FRS6LF7FM3 FRS6LF7FM4 FRS6LF7FM6 FRS6LF7FM7 FRS6LF7FM8 FRS6LF7FM9 FRS6LF7FMA FRS6LF7FQ3 FRS6LF7FQ4 FRS6LF7FQ6 FRS6LF7FQ7 FRS6LF7FQ8 FRS6LF7FQ9 FRS6LF7FQA FRS6LF7FQB FRS6LF7FQC FRS6LF7FS2 FRS6LF7FS3 FRS6LF7FS4 FRS6LF7FS6 FRS6LF7FS7 FRS6LF7FS8 FRS6LF7FS9 FRS6LF7FSA FRS6LF7FSB FRS6LF7FSC FRS6LF7GS0 FRS6LF7GS1 FRS6LF7GS2 FRS6LF7GS3 FRS6LF7GS4 FRS6LF7GS5 FRS6LF7JB1 FRS6LF7JB2 FRS6LF7JB5 FRS6LF7JB6 FRS6LF7JM1 FRS6LF7JM2 FRS6LF7JM5 FRS6LF7JM6 FRS6LF7JQ0 FRS6LF7JW6 FRS6LF8FS0 FRS6LF8FS1 FRSHB5EHPB1 FRSHB5EHPB2 FRSHB5EHPB3 FRSHB5EHPB4 FRSHB5EHPW2 FRSHB5EHPW3 FRSHB5EHPW4 FRSHB5EHSB1 FRSHB5EHSB2 FRSHB5EHSB3 FRSHB5EHSB4 FRSHT5EFB0 FRSHT5EFB2 FRSHT5EFB3 FRSHT5EFB4 FRSHT5EFSB0 FRSHT5EFSB3 FRSHT5EFSB4 FRSHT5EFW0 FRSHT5EFW2 FRSHT5EFW3 FRSHT5EFW4
GLHS237ZAB6 GLHS237ZAQ6 GLHS237ZAW6 GLHS237ZCB0 GLHS237ZCB1 GLHS237ZCB2 GLHS237ZCQ0 GLHS237ZCQ1 GLHS237ZCQ2 GLHS237ZCW0 GLHS237ZCW1 GLHS237ZCW2 GLHS267ZAB5 GLHS267ZAQ5 GLHS267ZAW5 GLHS280ZAB6 GLHS280ZAQ6 GLHS280ZAW6 GLHS35EHB1 GLHS35EHB3 GLHS35EHB4 GLHS35EHB5 GLHS35EHB6 GLHS35EHSB1 GLHS35EHSB3 GLHS35EHSB4 GLHS35EHSB5 GLHS35EHW1 GLHS35EHW3 GLHS35EHW4 GLHS35EHW5 GLHS35EHW6 GLHS36EEB0 GLHS36EEB1 GLHS36EEB2 GLHS36EEB5 GLHS36EEB6 GLHS36EEB7 GLHS36EEB8 GLHS36EEQ0 GLHS36EEQ1 GLHS36EEQ2 GLHS36EEQ3 GLHS36EEQ5 GLHS36EEQ6 GLHS36EEQ7 GLHS36EEQ8 GLHS36EESB0 GLHS36EESB1 GLHS36EESB2 GLHS36EESB3 GLHS36EESB4 GLHS36EESB5 GLHS36EESB7 GLHS36EEW0 GLHS36EEW1 GLHS36EEW3 GLHS36EEW5 GLHS36EEW6 GLHS36EEW7 GLHS36EEW8 GLHS36EFSB0 GLHS36EFSB1 GLHS36EFSB2 GLHS36EFSB4 GLHS36EJB0 GLHS36EJB1 GLHS36EJSB0 GLHS36EJSB1 GLHS36EJW0 GLHS36EJW1 GLHS38EJPB0 GLHS38EJPB1 GLHS38EJPW0 GLHS38EJPW1 GLHS38EJQ0 GLHS38EJQ1 GLHS38EJW0 GLHS38EJW1 GLHS65EHB0 GLHS65EHB1 GLHS65EHB2 GLHS65EHB3 GLHS65EHB4 GLHS65EHB5 GLHS65EHB6 GLHS65EHB7 GLHS65EHQ0 GLHS65EHQ1 GLHS65EHQ2 GLHS65EHQ3 GLHS65EHQ4 GLHS65EHQ5 GLHS65EHQ6 GLHS65EHSB0 GLHS65EHSB1 GLHS65EHSB2 GLHS65EHSB3 GLHS65EHSB4 GLHS65EHSB5 GLHS65EHSB7 GLHS65EHW0 GLHS65EHW1 GLHS65EHW2 GLHS65EHW3 GLHS65EHW4 GLHS65EHW5 GLHS65EHW6 GLHS66EEB0 GLHS66EEB1 GLHS66EEB2 GLHS66EEB3 GLHS66EEB4 GLHS66EEB5 GLHS66EEB7 GLHS66EEB8 GLHS66EEB9 GLHS66EEBA GLHS66EEBB GLHS66EEBC GLHS66EEQ0 GLHS66EEQ1 GLHS66EEQ4 GLHS66EEQ5 GLHS66EEQ7 GLHS66EEQA GLHS66EEQB GLHS66EEQC GLHS66EESB0 GLHS66EESB1 GLHS66EESB5 GLHS66EESB7 GLHS66EESB8 GLHS66EESB9 GLHS66EESBA GLHS66EESBC GLHS66EEW0 GLHS66EEW1 GLHS66EEW3 GLHS66EEW4 GLHS66EEW5 GLHS66EEW9 GLHS66EEWB GLHS66EEWC GLHS66EFSB0 GLHS66EFSB1 GLHS66EFSB2 GLHS66EFSB3 GLHS66EFSB4 GLHS66EFSB5 GLHS66EFSB6 GLHS66EJB1 GLHS67EHB0 GLHS67EHB1 GLHS67EHB2 GLHS67EHB3 GLHS67EHB4 GLHS67EHB5 GLHS67EHB6 GLHS67EHQ0 GLHS67EHQ1 GLHS67EHQ2 GLHS67EHQ3 GLHS67EHQ4 GLHS67EHQ5 GLHS67EHQ6 GLHS67EHSB0 GLHS67EHSB1 GLHS67EHSB2 GLHS67EHSB3 GLHS67EHSB4 GLHS67EHSB5 GLHS67EHSB6 GLHS67EHSB7 GLHS67EHW0 GLHS67EHW1 GLHS67EHW2 GLHS67EHW3 GLHS67EHW4 GLHS67EHW5 GLHS67EHW6 GLHS68EJB0 GLHS68EJB1 GLHS68EJPB0 GLHS68EJPB1 GLHS68EJPW0 GLHS68EJPW1 GLHS68EJQ0 GLHS68EJSB1 GLHS68EJW0 GLHS68EJW1 GLRS237ZCB0 GLRS237ZCB2 GLRS237ZCB3 GLRS237ZCB4 GLRS237ZCB5 GLRS237ZCB7 GLRS237ZCQ0 GLRS237ZCQ2 GLRS237ZCQ3 GLRS237ZCQ4 GLRS237ZCQ5 GLRS237ZCQ7 GLRS237ZCW0 GLRS237ZCW2 GLRS237ZCW3 GLRS237ZCW4 GLRS237ZCW5 GLRS237ZCW7 GLRS267ZAB6 GLRS267ZAQ6 GLRS267ZAW6 GLRS267ZCB0 GLRS267ZCB1 GLRS267ZCB2 GLRS267ZCQ0 GLRS267ZCQ2 GLRS267ZCQ3 FRS6LF7JB0 FRS6LF7FMC FRS6LF7FQ0 FRS6LF7FQ2 FRS23BH5CQ1 FRS23BH6CB0 FRS23BH6CS1 FRS23BH6CW0 GLHS66EJW0 GLHS66EESB4 GLRS267ZCB3 GLHS66EJSB0 GLHS66EJSB1 FRS6LF7FBB FRS6LF7FWB GLHS37EHW1 GLHS37EHB1 GLHS37EHB2 GLHS37EHB3 GLHS37EHB4 GLHS37EHB5 GLHS37EHQ1 GLHS37EHQ2 GLHS37EHQ3 GLHS37EHQ4 GLHS37EHQ5 GLHS37EHSB1 GLHS37EHSB2 GLHS37EHSB3 GLHS37EHSB4 GLHS37EHSB5 GLHS37EHSB6 GLHS37EHSB7 GLHS37EHSB8 GLHS37EHSB9 GLHS37EHW2 GLHS37EHW3 GLHS37EHW4 GLHS37EHW5 GLRS267ZCW0 GLRS267ZCW1 GLRS267ZCW2 GLRS267ZCW3 GLHS65EHSB6 PLHS267ZCB1 GLRS237ZAB7 GLRS237ZAQ7 GLRS237ZAW7
FRS6LF7JW5 PLHS267ZCB2 PLHS267ZCB4 PLHS268ZCB3 PHS6LE6HSB0 PHS6LE6HSB1 PHS6LE6HSB2 PHS6LE6HSB3 PHS6LE6HSB4 PHS6LE6HSB5 PHS6LE6HSB6 PLHS268ZCB2 PLHS268ZCB4 FRS23BH5CB0 FRS23BH5CB1 FRS23BH5CQ0 FRS23BH5CW0 FRS23BH5CW1 FRS23BH6CB1 FRS23BH6CQ0 FRS23BH6CS0 FRS23BH6CS2 FRS23KF6CB0 FRS23KF6CB1 FRS23KF6CB2 FRS23KF6CQ0 FRS23KF6CQ1 FRS23KF6CQ2 FRS23KF6CW0 FRS23KF6CW1 FRS23KF6CW2 FRS23KF6DB0 FRS23KF6DB1 FRS23KF6DB2 FRS23KF6DB5 FRS23KF6DB8 FRS23KF6DQ0 FRS23KF6DQ1 FRS23KF6DQ2 FRS23KF6DQ8 FRS23KF6DW0 FRS23KF6DW1 FRS23KF6DW2 FRS23KF6DW4 FRS23KF6DW8 FRS26BH5CB0 FRS26BH5CB2 FRS26BH5CQ0 FRS26BH5CQ2 FRS26BH5CW0 FRS26BH5CW2 FRS26BH6CB0 FRS26BH6CB1 FRS26BH6CB2 FRS26BH6CB3 FRS26BH6CB4 FRS26BH6CQ0 FRS26BH6CQ2 FRS26BH6CQ3 FRS26BH6CQ4 FRS26BH6CS0 FRS26BH6CS1 FRS26BH6CS2 FRS26BH6CS3 FRS26BH6CS4 FRS26BH6CS5 FRS26BH6CW0 FRS26BH6CW2 FRS26BH6CW3 FRS26BH6CW4 FRS26HF6BB2 FRS26HF6BB3 FRS26HF6BB4 FRS26HF6BB6 FRS26HF6BQ2 FRS26HF6BQ3 FRS26HF6BQ4 FRS26HF6BQ6 FRS26HF6BW2 FRS26HF6BW3 FRS26HF6BW4 FRS26HF6BW6 FRS26HF7BB2 FRS26HF7BB3 FRS26HF7BB4 FRS26HF7BQ2 FRS26HF7BQ3 FRS26HF7BQ4 FRS26HF7BW2 FRS26HF7BW3 FRS26HF7BW4 FRS26KF6CB0 FRS26KF6CB1 FRS26KF6CB2 FRS26KF6CB3 FRS26KF6CB4 FRS26KF6CQ0 FRS26KF6CQ1 FRS26KF6CQ2 FRS26KF6CQ3 FRS26KF6CQ4 FRS26KF6CW0 FRS26KF6CW1 FRS26KF6CW2 FRS26KF6CW3 FRS26KF6CW4 FRS26KF6DB0 FRS26KF6DB1 FRS26KF6DB2 FRS26KF6DB3 FRS26KF6DB5 FRS26KF6DB7 FRS26KF6DB9 FRS26KF6DQ0 FRS26KF6DQ1 FRS26KF6DQ2 FRS26KF6DQ3 FRS26KF6DQ5 FRS26KF6DW0 FRS26KF6DW1 FRS26KF6DW2 FRS26KF6DW3 FRS26KF6DW5 FRS26LF7DS0 FRS26LF7DS1 FRS26LF7DS2 FRS26LF7DS4 FRS26LF7DS5 FRS26LF7DS6 FRS26LF7DS7 FRS26LF7DS9 FRS26LF7DSA FRS26LF7DSB FRS26LF7DSN FRS26LF7DSP FRS26LF7DSR FRS26TS6DW1 FRS26TS6DW2 FRS26TS6DW3 FRS26TS6DW5 FRS6LF7FB0 FRS6LF7FB2 FRS6LF7FS0 GLHS36EEW2 GLHS66EEW7 PLHS237ZCB0 PLHS237ZCB1 PLHS237ZCB2 PLHS267ZAB6 PLHS267ZCB0 PLHS268ZCB1 PLRS267ZAB8
Compare Lowest Prices
Read more product details – Frigidaire Refrigerator Control Board 241708202, view shipping information, return & refund policy, compare the lowest prices, and Check Price on eBay HERE!
If you can not find the correct part for your appliance, please do not hesitate to contact us at any time.